Former blood donor cat finds a forever home
Image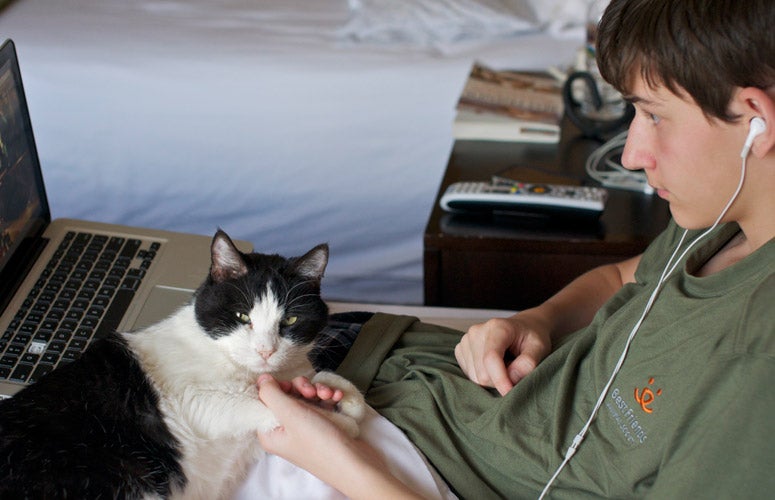 Deserving senior cat finds a family to dote on him.
By  Christelle L. Del Prete
Surprisingly, the very handsome Oliver is 15 years old. He looks like a much younger cat, or at least a well-preserved older one. And his health issues are minor. He gets some fluids now and then for dehydration, which is quite common in older cats. He's got a heart murmur, which makes him a little tired and sleepy at times, and he's a bit hard of hearing. But, after a life spent in a vet's office serving as a blood donor cat, he's come away looking pretty shiny.
A life-changing sleepover
When the vet clinic that Oliver was living in merged with another, the super-friendly cat came to Best Friends, where he quickly endeared himself to volunteers, visitors and staff members. During his time at the Sanctuary, he enjoyed literally hanging out on the shoulders of DeLynn Brainerd, one of his caregivers. And he went for walks and sleepovers too - a few of which would change his life.
Back in March, the Douglas family, who was visiting from New York City, took Oliver on a walk, during which he curled up on a bench to nap with Lisa Douglas' then-13-year-old son, Henry. Charmed, Lisa and Henry took Oliver on three sleepovers during their stay. They reported that he was "the sweetest and gentlest cat," and said goodbye to him and went back to New York to care for their own cats at home, plus the ones in a cat rescue they volunteered for. In April, the family lost one of their cats to intestinal cancer and then received devastating news when another was diagnosed with mammary tumors.
A gentle new life
They had never been able to stop thinking about sweet Oliver, so Lisa and Henry decided to adopt him, and welcomed him home to Manhattan on May 17. They slowly introduced Oliver to their remaining three cats, and helped the senior guy settle gently into his new life.
Now, Oliver enjoys daily strolls down a path in an enclosed community garden. He likes to meet new people, though his favorite activities include lounging on Henry's lap in front of the computer, or on Lisa's lap while she is reading. And he spent some time vacationing with his new family in Massachusetts this summer, curled up in a chair and basking in the sun.
The perfect match
Lisa says that Oliver is an incredibly agreeable cat - he's even amenable to wearing a hooded sweatshirt that the Douglas' other three cats politely refused to wear, and one that happens to perfectly match Henry's favorite article of clothing. It seems that Oliver and the Douglases have also turned out to be the perfect match.
Check out adoptable cats at the Sanctuary.
Photos by Best Friends staff and courtesy of the Douglas family