Foster family takes a chance on a dog in need
For a long time, Kiwi was in and out of adoptive homes due to behavior challenges, but she finally landed with a foster family that never gave up on her.
By Kim Staiti
"However many chances you get in life, you deserve it." This heartfelt sentiment from Kiwi's adoptive mom, Zenzi, sums up this quirky, wonderful story about a very loving dog. It's a story of the magic of fostering, the patience of a human and the resilience of a dog.
Kiwi has been in and out of many homes and her history was unknown when she first came to Best Friends in Los Angeles from Los Angeles Animal Services. But the cute, four-year-old, 50-pound black-and-white dog was friendly, sweet, playful and loving. And she was adopted right away, but after just a week in her home it was apparent that she was a special case.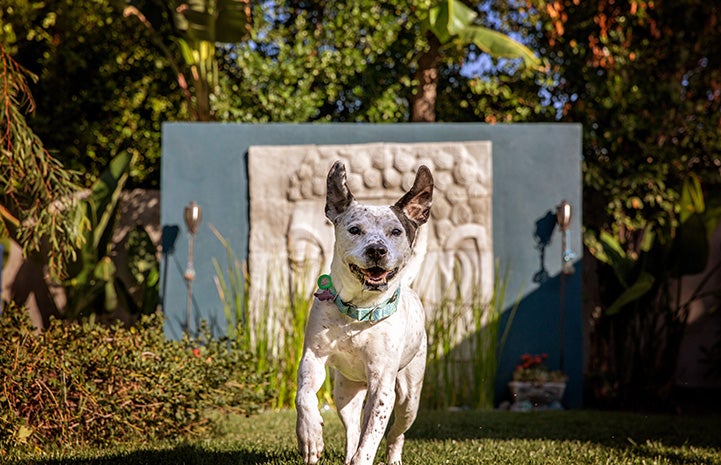 Sensitive dog seeks savvy home
Along with all her good qualities, Kiwi is a sensitive dog. Some things terrify her, and she can quickly flip between fear and reactivity. She can be happily playing with a toy and then become possessive, feeling someone might take it away. Plus, she really, really doesn't like other animals. She needed a home with dog-savvy people happy to accommodate her quirks and help her overcome her fears.
The adoption team at Best Friends in Los Angeles launched a search for a match that would include a place where Kiwi could thrive. But each time she was adopted, she was returned. Staff and volunteers became familiar with her quirks ― one of which was a severe phobia about going through doorways ― and it would take a lot of patience and care to help her overcome them.
[Senior Chihuahua gets well-deserved second chance after ending up in a city shelter]
Though it's not easy to find the right fit for a dog with multiple challenges who must be the only pet in the home, it's not impossible. For Kiwi, that right fit was the home of Zenzi Poindexter.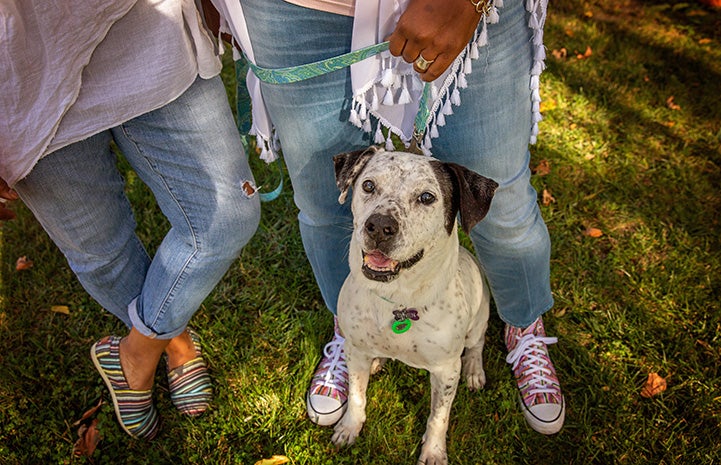 Dog gets another chance to go home
Zenzi had been thinking about fostering and finally decided to go forward with it. When she contacted Best Friends in February, the staff knew just the dog for her. Zenzi and her wife, Adrienne, have no children or other pets, but they both have experience with dogs. And since Zenzi is retired, she had plenty of time to devote to Kiwi.
For two months several times a week, Zenzi picked up Kiwi and took her for a few hours at her home. Initially, she focused on getting the dog comfortable with her, which included spending time outside in the yard. "I wanted to build that trust with her," she says, adding that she wanted Kiwi to know that she would always be there for her. "We would just hang out in my yard, and slowly, she got more relaxed with me."
Zenzi then started working on Kiwi's fear of doorways. She talked with the staff at Best Friends and did a lot of research.
"I needed to find out what her $100 bill was," Zenzi says, referencing an article she read about high value rewards to help offset fears. That $100 bill turned out to be bologna and hot dogs. She also discovered that putting her hand gently on Kiwi's back and using the leash helped Kiwi get through doors. But it still took a long time.
"It would take her 45 minutes to an hour to get through a doorway," Zenzi says. "I am not a patient person and I had to learn to be patient. She taught me that."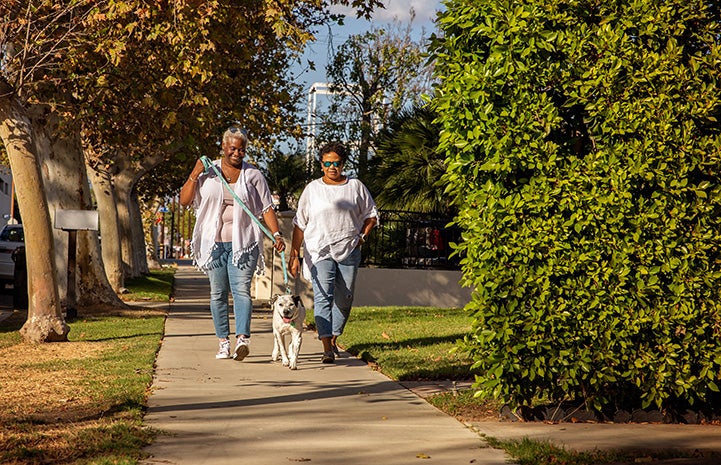 A permanent home and a new name
Once everyone was confident that Kiwi was ready, she stayed overnight with Zenzi and Adrienne ― a foster arrangement at first. But after spending so much time getting to know Kiwi and helping her acclimate to their home, they decided to adopt her.
They knew her past, how many times she had to start over in a new home and how many times she was returned to Best Friends. And they wanted to give her the stability she needed.
"My hope is that sharing this story will encourage others to consider fostering," Zenzi says, the tone of her voice reflecting her love for Kiwi (now called Seven) and their life together. "She's very simple, really."
Now eight years old, Seven is described as friendly, loving and getting more and more comfortable and trusting every day.
[How one of the least adoptable dogs finally found her people]
Zenzi is amazed at Kiwi's progress and knows they will continue on that path. "There is nothing that could happen that would make us return her," she says. "We are so lucky to have her."
Seven's human friends at Best Friends were thrilled that she finally found her home. And Zenzi was very impressed with the staff's matchmaking skills. "It was the mismatch that was the perfect match," she says.
Zenzi pauses for a moment when asked what she has learned from Seven. "So many things," she says. "She taught me that everything is not going to be perfect, and that's OK. I'm learning to accept things and be OK with it ― that this is her process and mine."
Zenzi, Adrienne and Seven: They're all in it together. "She's quirky, and we're quirky," says Zenzi. "We are this happy little trio and we are just as happy as can be."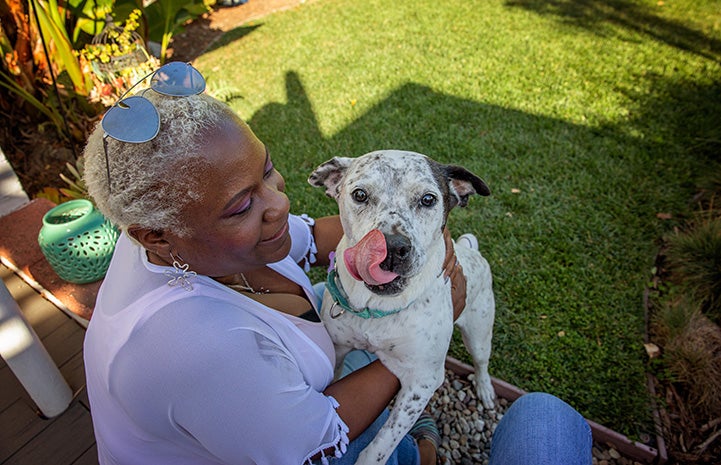 Give a homeless pet another chance
There are pets at a shelter near you waiting for their second chance. Could it be at home with you?
Read more:
Championing a dog you can't have
5 dogs who changed their adopters' lives
First a dog found confidence, then she found a home
Photos by Lori Fusaro