Full speed ahead to help pets and people in Salt Lake City
Image
Pet adoptions, fostering and giving out pet food are all going strong during the COVID-19 pandemic.
By Kelli Harmon
Virtual meet-and-greets with dogs and cats, curbside paperless adoptions, a drive-through pet food bank and no-contact, free food delivery to people and pets in need: It's all new in Salt Lake City and it's saving animals' lives. COVID-19 concerns made it necessary to close the Best Friends Lifesaving Center to the public on March 18. But the work hasn't stopped or slowed down. In fact, it's speeding up in new, unexpected and incredible ways.
Best Friends is adapting to the local situation at each of our lifesaving centers, at the Sanctuary and with our regional programs around the country. In each unique community, we're finding innovative ways to keep saving pets' lives, while keeping people safe, too. In Salt Lake City, there's so much good news that even during this serious time it just has to be shared. Why is the news so good? It's because the community has come forward en masse to help.
Lydia LaSalle, executive director of Best Friends in Salt Lake City says, "I don't know if it's just something special about our community, but so many people are reaching out to help."
That influx of people offering help made it clear that there is capacity to get homeless pets out of area shelters and into homes. But how? With the challenges of shuttered businesses, social distancing and real concerns about safety, nothing is normal. Well, they've found a way ― rather, lots of ways.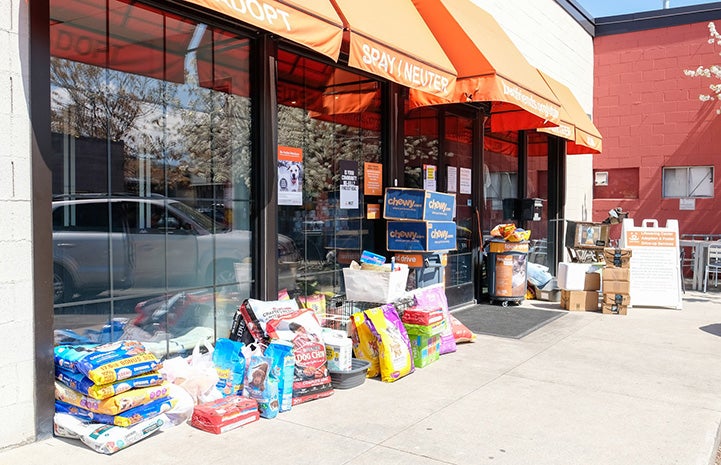 Supporting people and their pets
In addition to new protocols that keep staff members safe when they come to work, the team in Salt Lake City found that it had much-needed supplies to share. Lydia says, "Since our veterinary services are currently on hold in order to preserve masks, gloves and other protective equipment for medical professionals assisting in the fight against COVID-19, we searched through our storage unit to find surgery supplies that will go unused during this time." The team then donated 4,000 new protective gowns and delivered them to a collection site run by the American Red Cross for eventual distribution by the Utah Department of Health.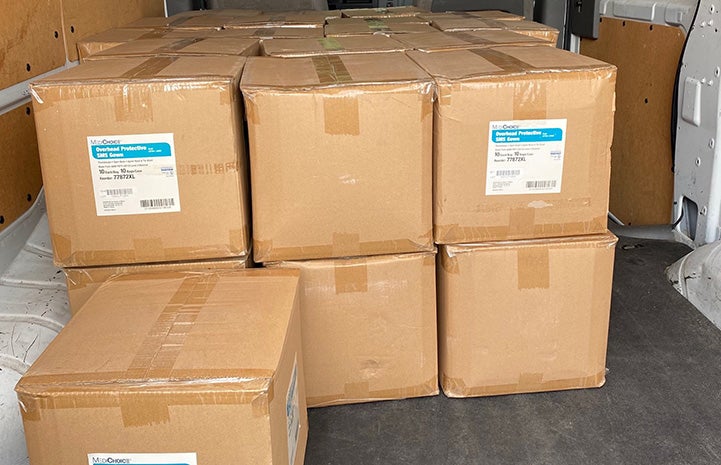 Meanwhile, the lifesaving center's pet food pantry is meeting the needs of an increased number of people struggling to feed their pets. Over the course of a weekend, staff filled nearly three times the typical number of requests, which completely emptied out the food pantry. But it didn't stay empty for long. After putting out a call, the response was immediate and overwhelming: The community brought in boxes and bags of food to replenish the supply, and then some.
"Now we have a mountain of food," Lydia says. "The food pantry is completely drive-through. People stay in their cars and we just pop out and put it into their car." Food is being distributed at a faster-than-ever pace, with new safety steps in place that follow CDC guidelines on wearing masks and wiping down bags after handling.
The center has also started a "meals on wheels" program to deliver pet food to people who are a higher risk of contracting COVID-19. Lydia says the people receiving food have been "incredibly grateful." One thankful person who cares for community cats wanted to hug staff members, but instead hand-signed "I love you."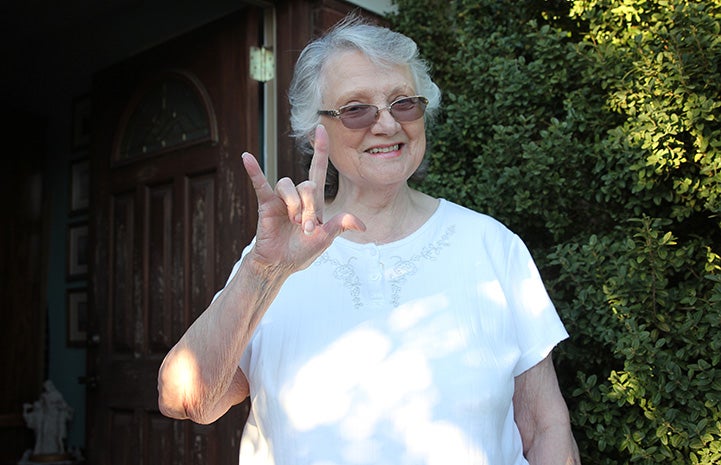 Since March 18, the pet food pantry has filled more than 195 requests and given out more than 21,000 pounds of dog and cat food.
Let's get virtual (with pet adoptions)
The flurry of activity during the pandemic has required that the team be flexible and adapt to constantly changing conditions. One particular area of increased activity is the tremendous interest shown by people who want to bring home a pet in need. "We're getting about 200 emails a day from people wanting to foster or adopt pets," says Lydia. So, Best Friends in Salt Lake City is helping them do just that.
"Since we closed the center, we've taken in close to 300 animals ― and counting," says Lydia. Dogs and cats come from Utah shelters and after a short stop at the center, they go straight into foster homes. With the increase in adoption requests, the team started working in new ways to meet the demand. For example, the use of video chats has helped streamline the adoption process during this unusual time of social distancing, and it's all going better than anyone predicted.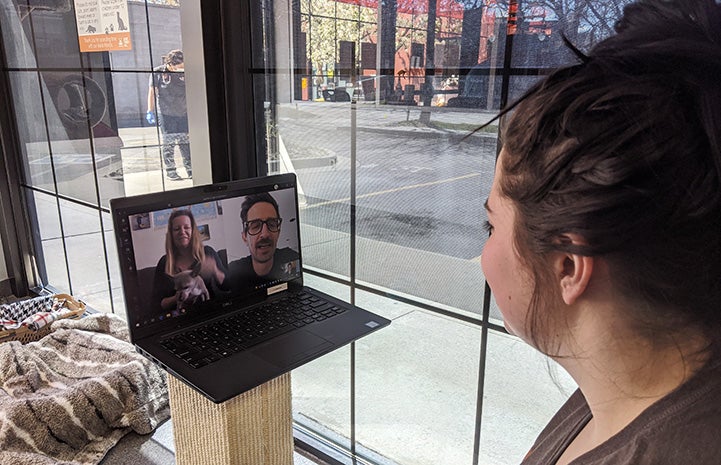 "We're averaging 15-20 adoptions a day, which is kind of crazy," says Megan McCloud, lifesaving programs support lead. Lydia says adoptions have increased during this time period, compared to last year. And even though video meet-and-greets aren't the same as meeting a pet in person, it turns out this new process has yielded unexpected benefits.
When someone fills out a pet adoption survey online, a staff person sets up a three-way video call. Then a Best Friends staff person, the potential adopter and the pet's foster person all log in and have a chat. "We've found that by allowing the foster to lead the conversation and highlight the cool things about their foster pet, we're seeing more animals get adopted faster," says Megan.
And really, it makes sense, because it can be overwhelming to walk into a room filled with dozens of cats and try to choose just one. But considering one pet at a time — plus having the luxury of talking to the person who lives with the pet ― is a great way of making sure pets needing a home are matched with the right adopter.
Once the match is made, the adopter goes online to fill out necessary paperwork, and the foster volunteer drops off the pet at the center. Then the adopter comes in and picks up the new pet via curbside service, which makes going into the center unnecessary.
All of this is all new and different, but the result is that both people and the pets they care about are getting help during a challenging time. "The community has shown up in the most amazing way for the animals and people in need," says Lydia. "During these uncertain times, seeing a such a positive response from the community is truly inspiring."
Join Best Friends to support pets and their people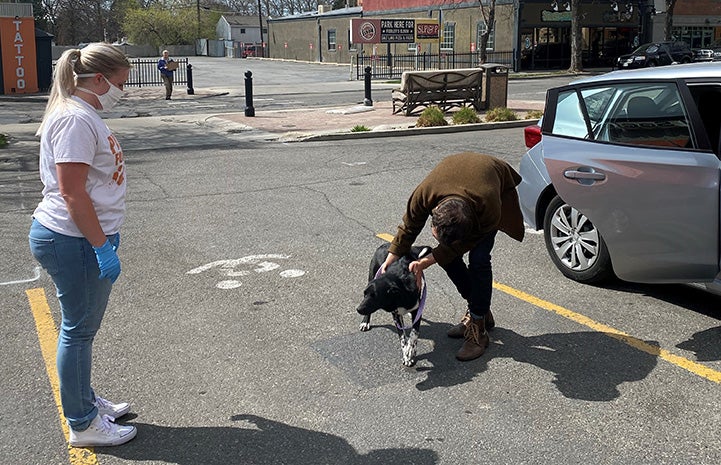 Best Friends in Utah works collaboratively with animal rescue groups, city shelters and passionate individuals who are all dedicated to the mission of making Utah a no-kill state. As part of this mission, Best Friends hosts adoption and fundraising events, runs the Best Friends Lifesaving Center in Salt Lake City, operates a spay/neuter clinic and leads the No-Kill Utah (NKUT) initiative. Together, we will Save Them All.
Photos by Best Friends staff