Geriatric cat finds love in a brand new home
Image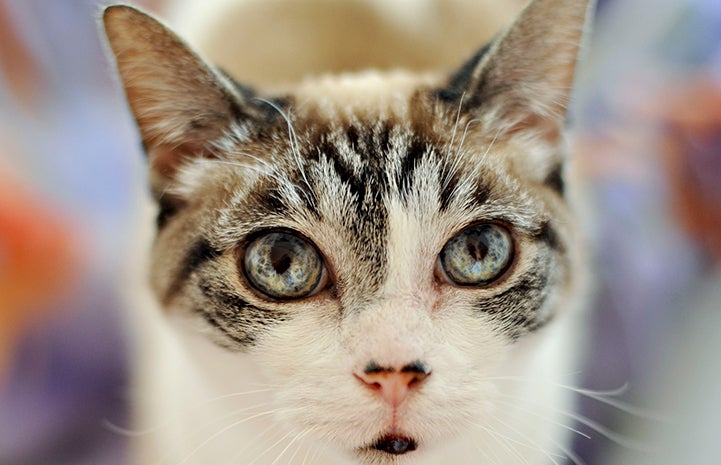 Geriatric cat who is 16 years old is adopted. She is now living the high life as an old house cat.
By Christelle L. Del Prete
Birdie was once one of the oldest cats in Cat World. Before that, she'd lost her lifelong home when her person fell ill with cancer and could no longer care for her. Already 16 at the time, it could have been the end of the road for the tabby cat. Birdie might have spent the rest of her golden years homeless, or worse.
Luckily, Birdie came to the Sanctuary, where people truly believe that every animal (including a cat who is along in years) deserves a chance to find a loving home. At Best Friends, age was no obstacle in helping Birdie, who is now 18 and a half, find exactly that.
Geriatric cat captures woman's heart
Though Birdie was a cover model for the January/February 2014 Best Friends magazine, it was an online photo that got her noticed by someone special. Birdie was part of the 12 Pets of Christmas adoption promotion. That meant that her adoption and transportation fees would be waived for the holidays. But it was Birdie's photo more than anything else that captured Terry Mendez's heart and convinced her to adopt.
Terry hadn't heard of Best Friends before, and she wasn't necessarily looking to adopt another cat. But all that changed the moment she saw Birdie's face. The fact that Birdie was 18 didn't faze Terry in the least, especially because the pretty, blue-eyed cat doesn't even look her age. "I saw the picture of her and said 'She's not 18,' and 'She's so pretty,'" Terry explains. "So I filled out the application."
Aged cat finds a place amongst other rescued pets
Since Terry and her family have other rescued pets in their home (a six-year-old cat, a 16-year old Siamese cat and a 100-pound pit bull terrier-bull mastiff mix), the biggest question was how an aged cat would fit in. During her time in Cat World, Birdie was mainly a quiet, peaceful pet who spent most of her time curled in a cozy cat bed in the lobby of the building she lived in, watching a family of wild turkeys stroll by her window.
But Birdie was also kind of a loner in Cat World. She preferred the company of people to that of the other cats, and she let all the younger cats know she wasn't going to tolerate any antics from them. She would walk confidently through a roomful of cats grumbling to let them know she wanted her space, and then jump up on a cat tree and take a nap. She demanded her space, and she got it.
The perfect old house cat
In her new home, however, Birdie has become much more social and willing to make four-legged friends in addition to human pals. Terry's Siamese cat — a big boy at more than 20 pounds — cuddles right up against Birdie, who doesn't mind it at all. And she even allows the dog to give her kisses from time to time. "She gets along great with our other animals," Terry says. "We are one big happy family."
It didn't take Birdie long to make that transition. She settled into her new household so quickly and happily that Terry says, "It's like she's always been here." In less than a month, Birdie became the perfect old house cat. She found a favorite sleeping spot in a little fleece bed and a favorite person in Terry's 16-year-old daughter, Toni.
Of course, had Birdie not found a forever home she would have been more than welcome to live out the rest of her life at the Sanctuary. But the fact that she found her perfect family and got her second chance this late in life is proof that there's love out there for everyone, no matter how young or old they may be.
Help more cats like Birdie get their second chance. Here's how:
Photos by Molly Wald, Ann Hepworth and Terry Mendez