German shepherd adoption finally sticks
Hanz and his endless energy were too much for most people, but he found his niche in a family with two young kids.
By Nicole Hamilton
Amanda and Garrett Safford were over the moon when they started fostering a German shepherd from a local rescue organization in Nashville. And even though their plan to eventually adopt the dog didn't work out, you know what they say — when one door closes another door opens. In this case, another door swung open in the most wonderful way for the Saffords, their two young kids and a young German shepherd named Hanz.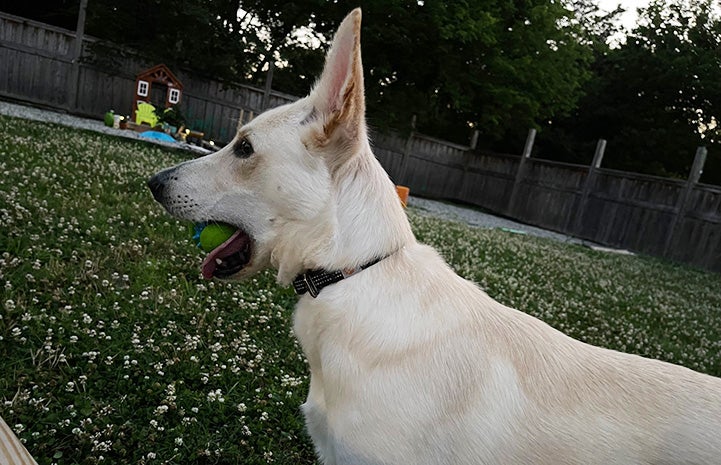 Finding the right home for an energetic dog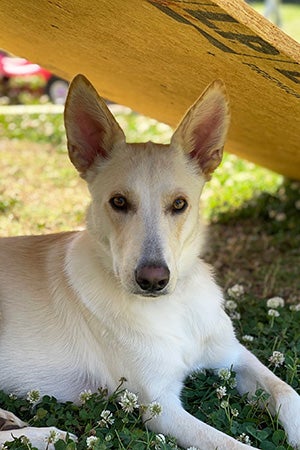 Hanz came to Best Friends from a shelter outside of Atlanta. A fun-loving, energetic pup, he also had heartworm disease, so the team started him on treatment and found him a great foster home where he could get a little extra TLC until he was adopted.
On a scale of 1-10, Hanz's energy level was a solid 11 and he showed limitless enthusiasm and love for everyone he met. Soon after coming to Best Friends he was adopted; however, through no fault of his own, he was returned — a couple of times. But there was a family out there for the young Hanz. The Best Friends adoption team in Atlanta just knew it.
Just as they were rolling up their sleeves and getting down to the business of finding Hanz a home that would stick, the Safford family was coming around to the idea of trying one more time to adopt a German shepherd.
[Connecting Florida cats with families across eastern U.S.]
With zero expectations, Amanda decided to search online for German shepherds available for adoption. It was supposed to be a casual search, but then she saw a photo of Hanz, read his story and decided to take a chance on opening her family's hearts to a dog again. Even though Hanz was four hours away from Nashville, she took a chance.
Long shot becomes a sure thing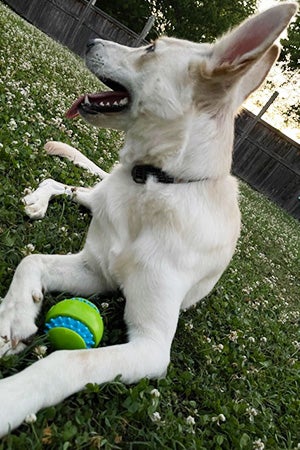 Amanda sent an inquiry to Best Friends that included some information on her family and best wishes to Hanz for his heartworm treatment. The staff person who responded suggested a meet-and-greet with Hanz, but before she could schedule it, someone else adopted Hanz — again.
"I told myself, if it was the right dog, it would happen," says Amanda. Then, about a week later, Sidney Spear, Best Friends lifesaving operations specialist in Atlanta, called to tell Amanda that Hanz had been returned — again. It seems the adopting family wasn't ready for such a high-energy pup. Maybe it was a sign that he was meant to be with the Saffords.
[After a mom dog's puppies were safe and adopted, it was her turn to shine]
Still, they would need to meet him to be sure, so Amanda got the ball rolling with a virtual meet-and-greet. By the end of the meeting, she could envision the adoption going smoothly, even with Hanz four hours away and still in heartworm treatment. The only thing left to do was for Amanda, Garrett and the kids to head to Atlanta.
A diamond in the rough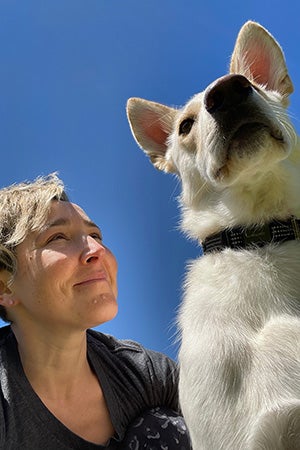 You might be thinking this is where we say Hanz lived happily ever after. But most great love stories take time and the obstacles along the way just make the ending sweeter. In this case, when Amanda met Hanz for the first time in person, it wasn't exactly love at first sight. In the fenced-in area where the meeting took place, he was, as Amanda says, "A wild man."
Truth is, her two kids, aged four and six, hadn't slept well the night before and weren't on their best behavior, perhaps because they were excited about meeting Hanz. All this was a little much for Amanda — that is, until Garrett helped her see that Hanz was merely a diamond in the rough.
[Visiting pooches a big hit at Navy base]
"Here is where the tables turned," says Amanda. "Garrett has spent tons of time around working dogs and could tell that Hanz was smart and very trainable. He helped me remember that I was looking to put time into a smart dog."
Garrett, who serves in the Air National Guard, also reminded Amanda how important it was to her that the dog they adopted be good with their kids (which Hanz absolutely was) and that once Hanz was treated for heartworm and could exercise and play more, he'd grow into his frame and be a beautiful dog.
"Hanz needed someone who would be the leader of his pack, and I knew that (someone with military experience) would be able to provide that to him," says Sidney, who was also thrilled that Hanz would have two young children to play with.
Garrett and Amanda talked it over and decided to make plans to bring Hanz back to Nashville. There was just one last thing: They'd have to make a return trip to Atlanta so Hanz could get the last part of his heartworm treatment. Then, he would have to rest for about 45 days under their watchful eyes back in Music City.
The Saffords didn't see this as an obstacle, though, and they were right. Not long after Hanz arrived in Nashville for the first time, he returned to Atlanta to finish his heartworm treatment then headed back home — this time for good.
Dog energy a welcome challenge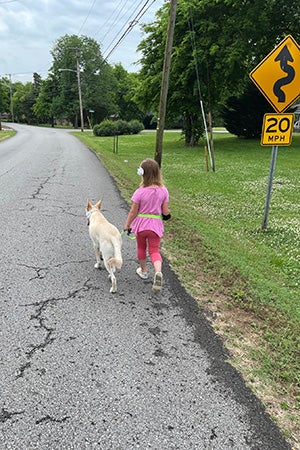 Hanz easily took to his role as the newest member of the Safford family. Amanda made sure he followed the required 45 days of rest, but once that period was over, he was ready for action. Today, the Saffords' favorite saying about Hanz is that he's living his best dog life. He's a hoot, a bundle of energy, loving and kind.
"He loves playing fetch and going running," says Amanda. "He is a counter surfer, but we are working on that. And he's not a couch snuggler, but he's always asking for loves. He is just too busy."
Hanz has brought a healthy dose of happiness to the Safford household, and when family and friends come by, they can't help but smile when they're around him. And it seems Garrett was right: After his heartworm treatment, a little rest and a lot of love, he's getting stronger and healthier every day.
As for his energy and intelligence, the Safford family doesn't see them as obstacles. Amanda says it's all in how you look at it. "On the flip side, it can be infectious," she says. "When I see him in the morning, I am instantly reminded to be happy to be up and alive, to be able to run and jump and laugh and love."
It just goes to show you: Sometimes when things don't work out, it's because something even better is up the road ahead.
Be a light for pets
Foster or adopt a pet from your local shelter and make the next chapter of life the best one yet.
Read more
5 acts of kindness from animal-loving heroes
Senior Chihuahua struts his best self on the Upper West Side
Film student's dream about adopting an orange tabby comes true
Photos courtesy of Amanda Safford