Giant polar bear of a dog inspires so many people to help him find a home
Pit bull and mastiff mix dog, who looks like a polar bear, is helped by so many people to get healthy (he was positive for heartworm) and find a home.
By Nicole Hamilton
These words are often attributed to the German poet Goethe: "Whatever you can do, or dream you can, begin it. Boldness has genius, power and magic in it." They're words Melissa Lipani just might have taken to heart the day she first saw Walter's face.
How could she not? In one photo the pit bull and mastiff mix (who resembles a polar bear) looks tired and sad. That was taken the day he arrived at Animal Services Center of the Mesilla Valley (ASCMV) in Las Cruces, New Mexico. In the other, he looks happier. A kind smile lights up his face and his eyes reveal wisdom, along with a little playfulness.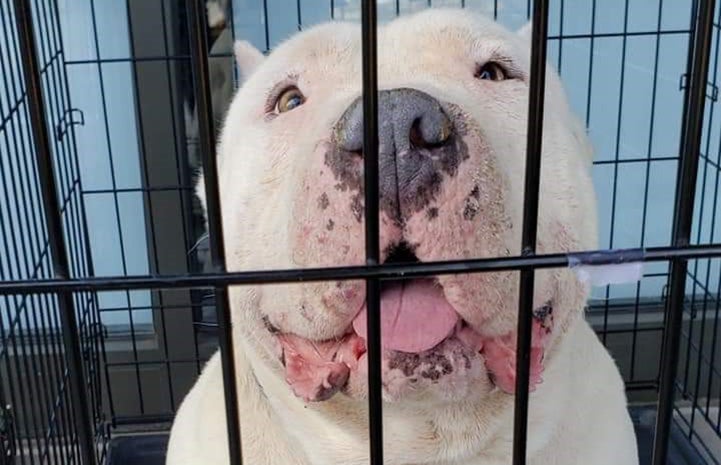 Melissa wanted to help Walter, and the shelter needed someone to help Walter, too. He's a really big dog, and really big dogs aren't a good fit for just any home. Plus, it wasn't just his size that posed problems. Walter also had heartworm disease.
One big hurdle standing in the way of Melissa's plan to help Walter was distance. You see, Melissa lives in Salt Lake City, Utah, more than 800 miles away from Las Cruces. But here's the thing about making a bold decision: Once you do, obstacles have a way of disappearing to clear the way for success.
Coming together to help a dog in need
Melissa, a regional engagement manager for Best Friends Animal Society, posted a photo of Walter on her Facebook page to see if a pet transport for dogs might be leaving the Las Cruces area and heading toward Salt Lake City. An instant response from Idaho Humane Society indicated that Walter might be able to hitch a ride with Dog Is My CoPilot, an air transport service that each month moves dogs from Las Cruces and surrounding communities to receiving groups such as Idaho Humane Society.
The timing was perfect. A transport of more than 60 dogs from City of El Paso Animal Services (not far from Las Cruces) was headed to Boise, Idaho, the very next day. This was just the opportunity Melissa was looking for, but to pull it off she'd need to work fast. She contacted Kara Pollard, executive director of Dog Is My CoPilot, to ask if there was any way they could squeeze Walter onto the flight. (Since Walter weighs around 100 pounds, this was a big if.)
Kara fell in love with Walter. And Dr. Peter Rork, the company's chief pilot and president, immediately said they'd make it work. "We were happy to do whatever we could to help Walter, and (we were) grateful to play a part in his lifesaving journey," he says. (The captain wasn't kidding, because he made a special stop in Salt Lake City just for Walter).
Melissa then got in touch with Paul Richardson, ASCMV kennel supervisor, to let him know that Walter had a ticket to ride. Though Paul wasn't technically working that day, he made sure to arrange for the veterinarian to see Walter, so that a health certificate to fly could be issued.
Melissa also contacted Community Animal Welfare Society (CAWS), a Best Friends Network partner organization in Salt Lake City where Melissa regularly fosters dogs. She hoped CAWS would agree to receive Walter and that she could foster him and work with CAWS to get him adopted. Without hesitation, CAWS gave the green light.
Now came the scramble to get Walter ready for his flight. Donnie King, ASCMV adoption and rescue coordinator, offered to wake up at 5 a.m. to drive Walter to the airport. They made it on time and Dr. Rork was there to greet them and help Walter onto the plane.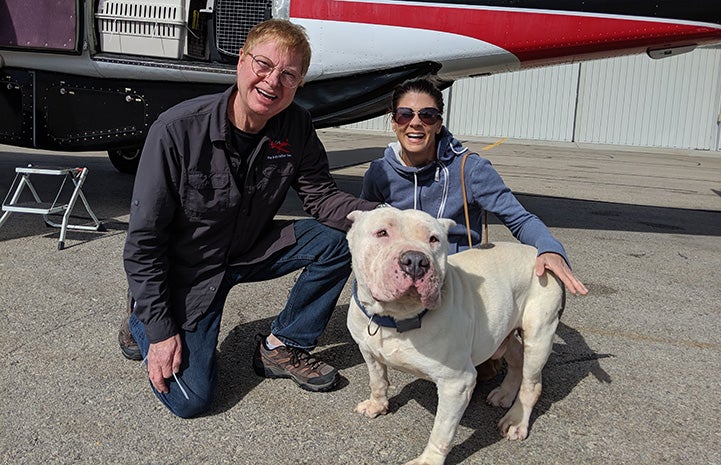 Foster dog helps a family heal
When the plane touched down in Salt Lake City, Melissa was waiting and when she finally got to open the door to Walter's crate, he took a swan dive into her arms. Luckily, Melissa is pretty strong, so she was able to catch him and place him on the ground. At first, Walter seemed scared, quiet, and a little intimidating. "Little did I know yet what a big sensitive marshmallow baby he was," she says.
Over the next week, Walter made himself at home at Melissa's place. He connected quickly with her husband, Adam, and was good (at first) with Melissa's dog, Tuggy. Later, they'd see that Walter would rather be an only-dog. "And that's OK," says Melissa. "That's what fostering does. It helps us see those things that will be key in finding the perfect match in an adoptive home."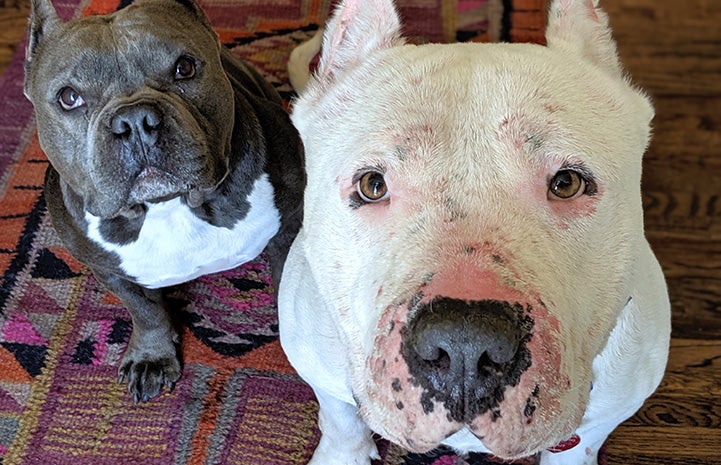 Time and time again, Walter showed Melissa and Adam what a gentle, kind soul he has. This was a hard time for Melissa, Adam and for Tuggy, too, because their dog, Ollie, was very sick, and they were still feeling the recent loss of another dog, Captain Cowpants.
In a way, it was Cappy who made Walter's journey to Melissa's place (and heart) possible. "I just felt that calm, big-headed energy radiate through his photos and he reminded me of Cappy," says Melissa.
Walter also helped them navigate their grief from Ollie passing away. "Having him here brought purpose and joy to us during some big losses. That we could help him really just helped mend our hearts," says Melissa.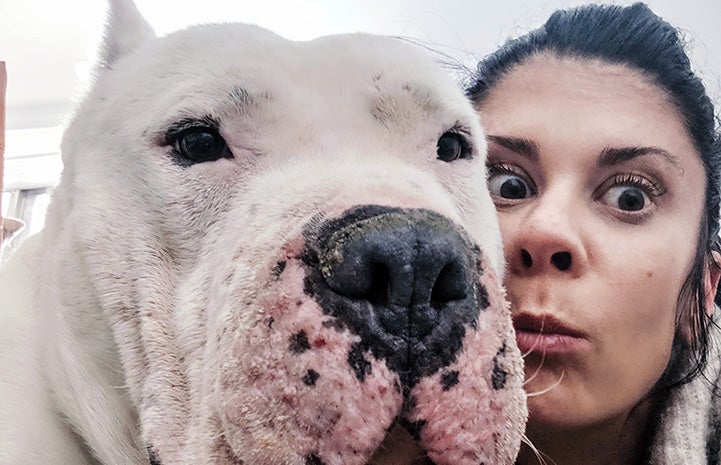 Creative efforts include managing heartworm treatment
Once Walter really started to make himself comfortable in his foster home, it was time to begin his heartworm treatment. The key to success in the treatment of heartworm is keeping a dog's heart rate down. This usually isn't easy when you've got a high-energy pup on your hands, but that's not Walter's style. He just doesn't do energetic.
"Luckily, Walter was the calmest, most chill foster we've ever had," says Melissa. "He just wanted to lie on the sofa with us, so he handled the treatment very well."
As the model patient neared the end of the treatment, Melissa knew what she had to do next — help him get adopted. She started by crafting an interesting bio. "I've learned a lot about how to market dogs for adoption," she says. "You have to strike that balance of honesty without throwing up unintentional stop signs. I tried to make his bio funny, and yet real."
Melissa has also learned that amazing photos can help, too, as they did when she documented Tuggy's journey on Instagram. In Walter's case, he even landed on the local news, but Melissa says it wasn't the news or Instagram fame that got him into a new home — just a good ol' internet search. Teneille Brown fell in love when she saw Walter's bio on the CAWS website.
About the Best Friends Network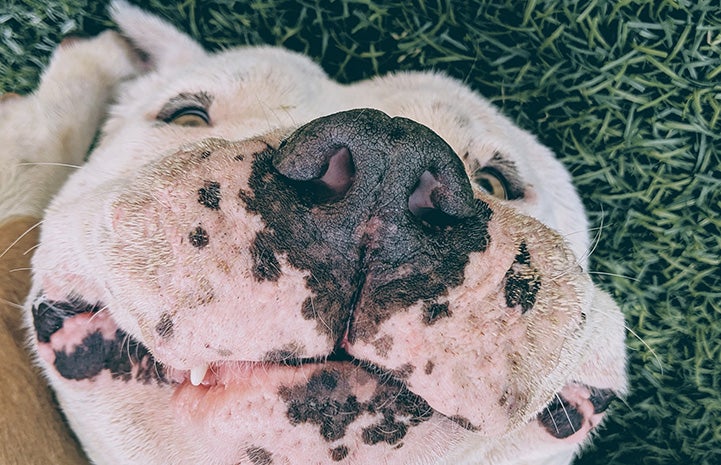 Seeking: gentle dog, must love kids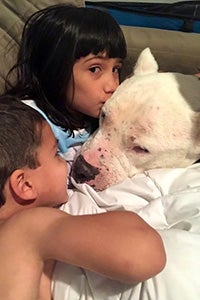 Dogs have always been in the Brown household. In fact, Teneille says, her children said the word "dog" before they said mom or dad. When the Browns lost both of their dogs in the same year, they were heartbroken and decided to wait before adopting again. But eventually they started searching the internet for a dog who would fit the family's needs.
The search lasted months until the day Teneille saw Walter's photo and read the bio. "The feeling I got when I saw Walter's profile was indescribable," she says. "I just knew he was our dog. His silly, goofy, loving face made my heart melt. And the way that Melissa described him was so helpful."
Teneille had been looking for a dog who didn't require a lot of exercise and who would be OK on his own during the workday. "We really wanted a dog who would hang out and watch TV with us and get belly rubs," she says, "and that's how Melissa described him."
Walter lands a home
Teneille set up a time for the family to visit Melissa's home, and as soon as she walked in and met Walter, she was able to get close to give him love. "He wasn't nervous at all," says Tenielle. "Our kids were so excited at the prospect of adopting him, and they were jumping around and being unusually loud. I was worried we were freaking him out." But Walter remained calm.
"I was so impressed by his temperament," she says. "He was happy to get belly rubs from anyone, and I wouldn't have blamed him if he were a little apprehensive about us."
The Browns decided to give Walter a trial run by staying in their home for a weekend. It went off without a hitch and helped them make up their minds.
Melissa was over the moon about the Browns' decision, but her joy was bittersweet. "Walter was so special for us," she says. "He really helped us with our grief of Cappy and then Ollie. He was so Zen. It was hard to think of letting him go."
Melissa cried, of course, but mostly tears of joy because she knew Walter was in the perfect spot. Plus, there was another bonus: She gained a friend in Teneille along the way.
Home is wherever the family is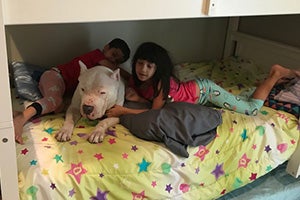 Today, Walter's favorite place is whatever part of the house family members are in, and he'll seek out a specific room to be near them. He prefers sleep and cuddle time over long walks, and the house is filled with the sound of his snores, which the family loves.
When they take Walter to the dog park or out for a casual stroll, people smile because they recognize him from TV, which makes Teneille and her kids chuckle. "He's more popular than we are," she says.
Walter has sensitive skin, so Teneille routinely gives him oatmeal baths. And soon he'll have treatment for his broken, damaged teeth. His heartworm treatment is complete, but Walter is still taking it easy. Turns out his easygoing manner has had a positive impact on Teneille's health, too. "Walter lowers my blood pressure," she says. "When you snuggle him, you can't help but relax. He's just such a wonderful, special dog."
All it takes is one bold decision to help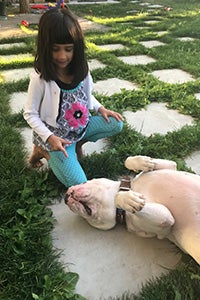 Teneille sends regular updates and photos of Walter to Melissa, who on occasion stops by to visit. They've even brainstormed on ways to help Walter with his new fear of thunder.
Having Melissa so close by and willing to help has been a blessing, says Teneille. As for Melissa, she says knowing that Walter is in a wonderful home has filled her with a sense of completeness. Walter's life has truly come full circle.
"Walter is a once-in-a-lifetime dog. He's so soulful, and incredibly special. He's just a big lovable marshmallow," says Melissa. "I'm so happy I could play a role in his story. He'll always have a special place in my heart."
Melissa points out that there are so many Walters out there who need a chance. All it takes is one bold decision to step up and help. Once you do, she says, you'll find help along the way, make new friends and you might just save a life.
Photos courtesy of Melissa Lipani and Teneille Brown