Great Dane can finally stretch his long, long legs
When Marmaduke arrived, he had pressure sores and very little muscle in his back legs, but with room to move now, he's getting stronger every day.
By Sarah Thornton
Marmaduke is a very large dog. As a Great Dane, he's almost as big as some of his caregivers — and sometimes bigger. Though he's an imposing presence, Marmaduke is such a lovebug. His giant paws might get a little unruly when he's feeling playful, but Marmaduke just wants to have fun and spend quality time with his friends.
At Best Friends Animal Sanctuary, he is catching up on lost time by sticking as close to his new human friends as possible, even snuggling up with them on his luxurious mattress when there's some downtime.
Great Dane stretches his long (long, long) legs
Before Marmaduke came to Best Friends Animal Sanctuary, he spent most of his time in a small pen outside, where he wasn't able to get a lot of exercise. And as a growing puppy (especially one who was growing as much as he was), space and exercise were what he really needed.
When he arrived at Dogtown, Marmaduke was underweight and had pressure sores from sitting for so long in one spot. His hind legs were especially weak, lacking both muscle and strong sensation. It was hard for him to walk because his back legs swayed and gave out beneath him. "I think he gets a little frustrated sometimes with his back legs because he wants to do all these things," says Janna Kruse, one of Marmaduke's caregivers. "He just wants to walk and walk and walk forever, but he gets tired and his legs start dragging."
In the month that he's been at the Sanctuary, though, Marmaduke has started healing. Calluses are forming on his sores and he's gaining muscle. Plus, he's putting on some weight. He is, after all, eating nine cups of food a day and enjoying snacks, too.
[143-pound mastiff becomes daddy's girl]
Janna reports: "He can run the length of his yard now pretty easily. In just a few strides, he makes it to the other end." In fact, he's gotten so good at moving that now his caregivers are careful that he doesn't exercise too much and lose weight. For that reason, and to help keep him cool and off the hot sand, he spends a good part of the day inside.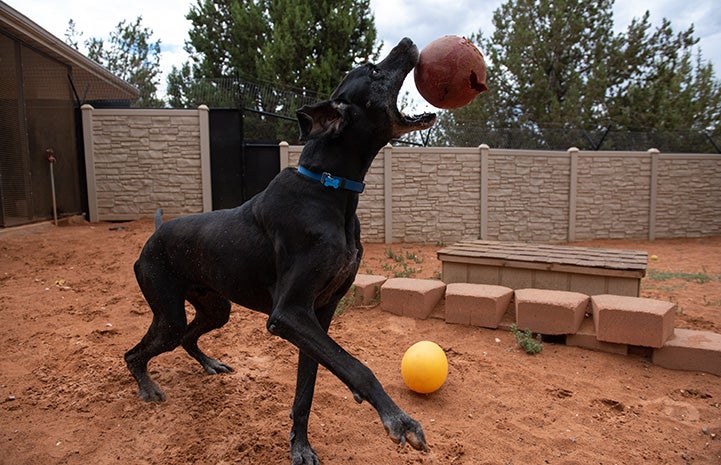 Relaxing in style
Marmaduke's room is pretty luxurious. It has been set up to make the big boy as comfortable as possible. Foam puzzle pieces cushion the floor and provide traction, so he doesn't slip if his legs get unsteady. And when it's time to settle down for a rest, he has his choice of beds. One is a dog bed for extra-large breeds and the other is a twin-size human mattress that was donated by a caring individual.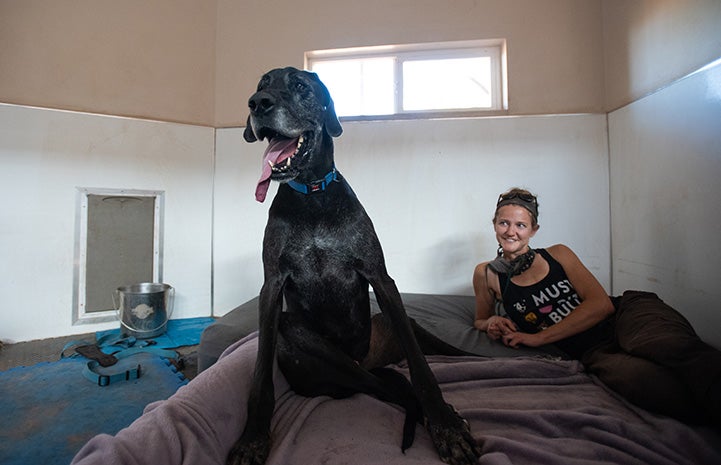 "The twin mattress he has is nicer than my mattress at home," Janna says. "It's super cozy, which is good because Marmaduke's favorite thing is to lie with you. I try to make time every day to go in and just lie with him, and he falls right asleep. He just curls up and passes out."
Marmaduke loves spending time with people, whether curled up in bed or sticking close to them on walks. And as he starts to feel better, his goofy, playful side is coming out — along with his long limbs and giant paws — when he play-bows and flails around. But no matter how wild he may look when he's excited, this gentle giant is always careful not to knock someone over accidentally.
[High-energy dog meets his match]
Besides zooming around his yard and snuggling up with someone on his bed, Marmaduke loves car rides with Janna. And with his whole face flapping in the wind, he gets a lot of attention from people they pass on the road. "I've had people look back," Janna says, "as he sticks his head out the window. They'll pull over, get out of their car and, as I pass them, take pictures. I want to get a banner on my car that says, 'Follow me to adopt this dog.'"
Marmaduke is well on his way to recovery. Once his pressure sores are completely healed, he'll start hydrotherapy to help build up the strength in his hind end. He might walk a little funny, but nothing can stop him from being his goofy, oversized self. And he is very ready to find a home with a dedicated snuggle buddy.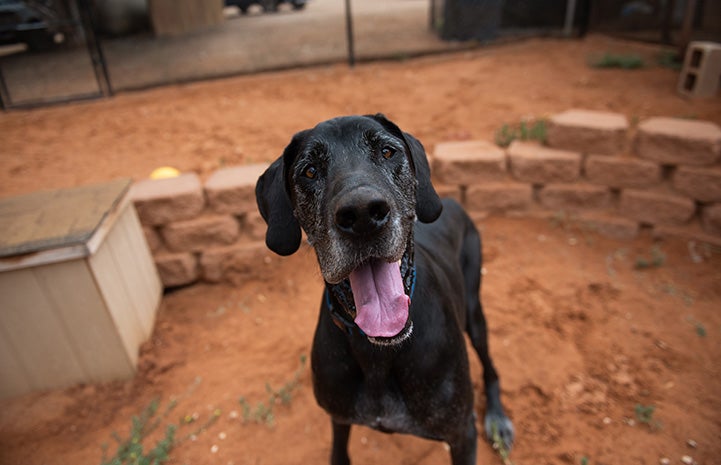 "Follow me to adopt this dog"
Marmaduke and many other pets like him are waiting to go home. Find a snuggle buddy of your very own at a shelter near you.
Adopt a pet from a shelter near you
Read more:
What's cuter than a preschool for puppies? Nothing!
People thought this cute little dog was mean, but he was just afraid of everyone
How one of the least adoptable dogs finally found her people
Photos by Molly Wald