A happy new home for a once unsocialized dog
With training and patience, unsociable, introverted, loner senior terrier dog learns to trust people and is adopted into a forever home.
By Christelle L. Del Prete
In the two years that Ando spent at Best Friends, the once distant and unsocialized terrier mix changed dramatically. Ando proved that the right kind of care could bring out the brave, friendly personality that had been hiding inside of him for the first 10 years of his life. He also proved that patience and love could help an incredibly introverted senior dog turn his life around and find the perfect home.
Because Ando was so nervous around people, it took a long time for him to get comfortable with his caregivers when he arrived at Dogtown. "I see a lot of potential in shy dogs but if you told me when I first met Ando that he would become a social butterfly, I would have had a hard time believing it," says Jess Cieplinski, who was one of Ando's caregivers at the Sanctuary.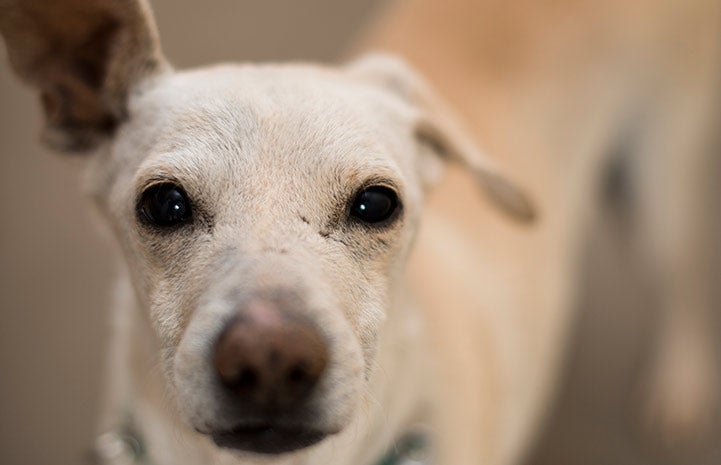 Hand-feeding and handling an unsocialized dog
Ando had to be sure that he could trust people before he would offer his friendship to them, and his trust was hard-won. But soon he learned to take food from people's hands, and that became the key to opening up his world. Once he realized that none of his new friends would hurt him and that just about every new person had a tasty treat for him, he would eagerly accept a treat from anyone. That was a good first step that would help him in other areas, too.
During his time at the Sanctuary, Ando was diagnosed with an autoimmune disease. In order to feel his best, he needed regular veterinary exams and treatments at the Best Friends Animal Clinic.
At first, Ando had a hard time with medical handling and accepting affection; however, gradually he became less sensitive about being touched by the people he came to trust. Trips to the clinic became less stressful and he could finally accept ― and even enjoy ― chin or ear rubs and scratches on his backside.
Another bonus for Ando, once he was no longer so reserved, getting leashed up to go for walks wasn't so scary anymore. Pretty soon Ando was trotting happily along on the Dogtown trails alongside his caregivers and volunteers.
Learn more about helping shy dogs
From scared dog to social butterfly
Over time, Ando transformed from a shy dog to a social butterfly who happily greeted Dogtown tours and enjoyed spending one day a week in an office at the Sanctuary. That's where he got to meet new people, see new sights, smell new scents and delight everyone around him by just being himself.
By the time he turned 12 years old, Ando had finally come into his own. And just when it seemed like life couldn't get any better for the newly social senior, it happened: He found a forever home. Samantha Bedard's heart melted the moment she saw Ando's picture on the Best Friends website.
"As I read his story, I fell more and more for him, (and) I already pictured him here with me," Samantha says. Soon, he was home with her in Ontario, Canada.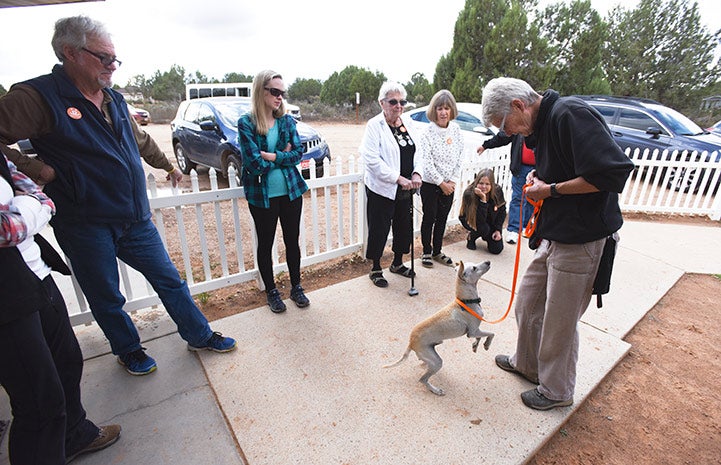 Happy dog in a new home
Within days of his adoption, Ando was settling in and showing that he's ready to embrace all of life's adventures.
Now, just two months after his adoption, Samantha says: "Ando has continued to amaze me with how well he's adjusting. He comes everywhere with me now, and all my friends and family adore his visits. Out on walks, people have stopped to pet him. I always tell: them to go for ear scratches, and he always seems to enjoy it. He and I do half hugs now, and he will bring his cheek to mine when I kneel down with him. He even has moments where he gets excited and runs around barking and wagging his tail. I am so proud of him!"
People may have had to work hard to earn Ando's friendship, but in the end he made an amazing change, and in so doing has made everyone proud. Jess says, "My heart is bursting for this kid. He's going to have a great life!"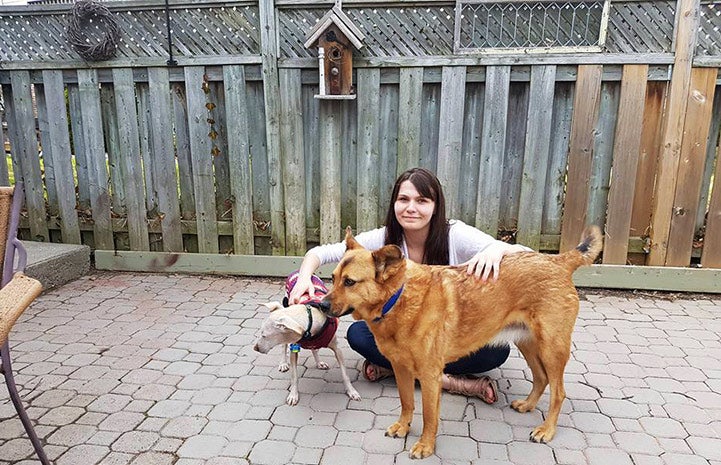 Photos by Molly Wald and courtesy of Samantha Bedard