Healing a heartbroken, blind potbellied pig
Overweight, depressed and blind when she arrived, one pot belly pig gets the care and nourishing diet she needs to live a happy, healthy life.
By Christelle L. Del Prete
On a warm spring day at the Sanctuary, Molly watched her caregivers turn on the hose and start making a mud puddle in her yard. Suddenly, she started playing and splashing around in the water, spraying cool droplets all around and making mud puddles of her own. While the playful behavior isn't unusual for potbellied pigs (sometimes called potbelly pigs), it was the first time Molly had ever let loose in front of her caregivers. Considering how down in the dumps she used to be, it was a pretty big deal.
"We didn't know if we could ever break through with her," says Marti Stoffel, office coordinator for Horse Haven and Marshall's Piggy Paradise. That's because Molly was incredibly fearful and shut down when she came to the Sanctuary last July.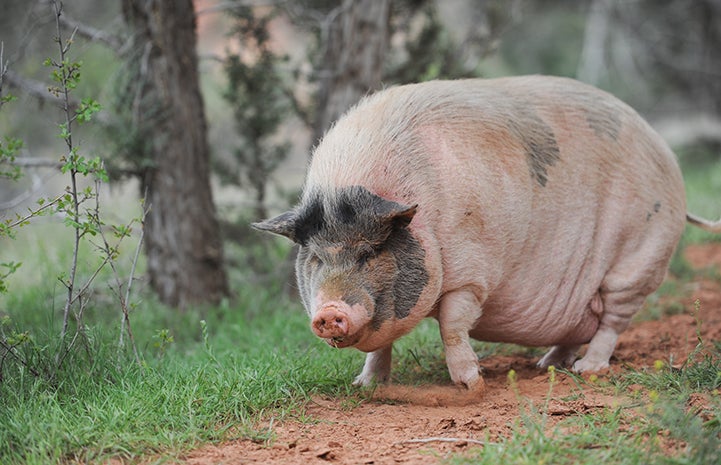 When pigs as pets are loved too much
The then three-year-old pig hadn't been neglected or abused. In fact, she had a loving home. She was just a bit sheltered. She didn't meet many people outside of her home or see other pigs, so she didn't have a chance to practice good social skills.
Molly had also been loved a little too much when it came to treats. Because she enjoyed them so much and her people didn't want to deny her, she became an obese pig. She was so overweight that she was mechanically blind, which means that she couldn't see because of the fat rolls covering her eyes. Since her legs could barely hold her up, she could only waddle a few slow steps at a time. She was also terrified of strangers — both human and porcine.
Learn about caring for potbellied pigs
Facing the outside world
Molly might have continued living happily with the elderly couple for years to come. But when one of her people became sick, they could no longer care for her. Molly needed to find a new home. Of course, being blind, overweight and afraid of everyone made that rather difficult. First, she had to get healthy and learn how to be a pig.
Since there's no better place to do that than at Marshall's Piggy Paradise at Best Friends, Molly was brought to the Sanctuary. But she made it clear from the get-go that she didn't want to make friends or to start an exercise program. It wasn't that she was ornery or uncooperative. Sadly, Molly was depressed. She had just been sent away from the only safe place she'd ever known, and the outside world seemed confusing and scary.
Keeping a distance
Even taking treats from her caregivers was terrifying to her — so she would make a barking, grunting noise to warn them to keep their distance. She was also extremely uncomfortable around other pigs and had no interest in meeting them face to face. She retreated into one of the cozy piggy houses and refused to come out — except for food. Even then, she'd wait for her caregivers to leave her bowl outside. Then she'd step out just long enough to grab it and pull it inside.
No one wanted Molly to be a shut-in. She was missing all the fun things about being a pig: rooting around in the dirt, taking mud baths, getting love from people and, above all, interacting with other pigs. Pigs are social creatures by nature. In the wild, they live in communities called sounders. The pig communities at Best Friends are modeled on these natural living arrangements. And Molly deserved to experience that.
Stepping out
To ease her transition from being an "only pig," caregivers moved Molly in with some easygoing, senior pigs. These peaceful pigs were happy to either give Molly her space or to offer their friendship at her pace. While it may take a while for Molly to make a real friend of her own kind, she's getting used to having piggy company as she slowly becomes part of the community at Marshall's Piggy Paradise.  
Molly's friendships with people are coming around, too. At first, her caregivers had to wait and watch for the rare moments she ventured outside to sun herself. Then they would go and sit by her, talking to her softly and telling her it was all going to be OK. Over time, as she realized there was nothing scary outside her house, she started stepping out more often.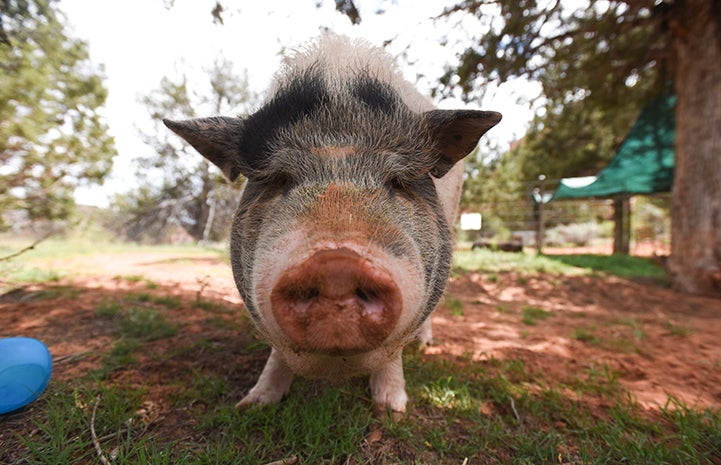 "Active and bright"
After three or four months of this, Molly was comfortable enough with her caregivers to follow them on short walks to one of the horse pastures. Gradually, as she began to lose some weight and walk more comfortably, they picked up the pace and increased the distance.
"Molly's diet and exercise program now include long walks all the way around the horse pastures and munching a few bites of grass along the way. It's great to see her so active and bright," says Jen Reid, who manages both Horse Haven and Marshall's Piggy Paradise. The fat rolls around Molly's eyes have melted away, and she can see again.
Leaving her sheltered life behind
Though the weight has been easier to shed than her shyness, Molly is learning to leave her sheltered life and her comfort zone behind. And she keeps showing signs of progress — like the first time she followed Marti around her yard and then flopped down in front of her for belly rubs or the day she splashed around in the water. "That was the first time I saw her act like a pig," says Marti.
It won't be the last. At just under four years old, Molly is now happy, healthy and looking forward to many years of being one happy, healthy pig.
Help bring hope and healing to more animals like Molly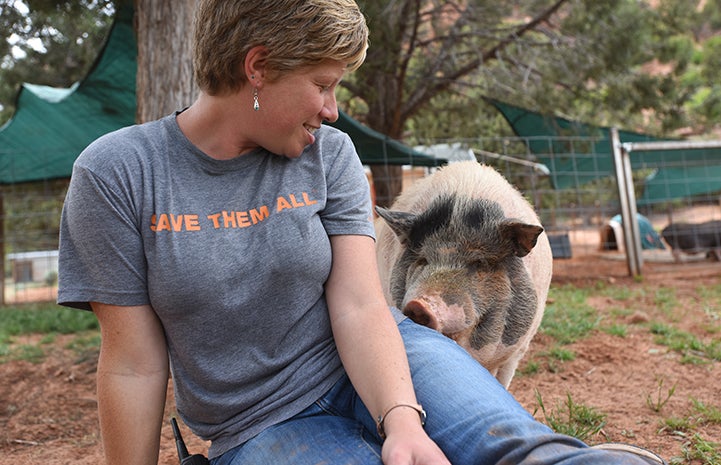 Photos by Molly Wald