Heavily pregnant dog was almost out of time in a shelter, but a tiny rescue group stepped in to save her
Bottle Pups and Mama Dog Rescue in Moab, Utah, steps up to save a heavily pregnant dog and her nine soon-to-be-born puppies.
By Nicole Hamilton
Frannie loves exploring the iconic red rock landscape in Moab, Utah, with Loraine Fullmer, her adopter, who can't help chuckling a little when she talks about her. You see, Frannie is a sweet dog, but she's also a bit mischievous — in the very best of ways.
In fact, sometimes Frannie's explorations around the property are self-guided. She's got a little wanderlust, and if she decides it's time to step out on her own, she's apt to give it a good try — that is until Loraine catches up with her and walks her back.
Who can blame Frannie if she just likes to have a little fun? There's so much to see and sniff at her new home and besides, her life wasn't always filled with love and fun. In fact, back when she landed at a Houston shelter, she was at risk of never seeing the world outside the shelter again.
Perfect timing
When Frannie was brought to the Harris County Animal Shelter, one of biggest and busiest shelters in Houston, she was hugely pregnant. Unfortunately, space at the shelter is limited and it's nearly always full. With more pets flooding into the shelter every day, even healthy, sweet, adoptable pets end up on the euthanasia list. And that's what happened to Frannie.
Since Best Friends works alongside the team at Harris County, together they started looking for a solution for Frannie and her unborn pups. They were in the process of reaching out to rescue groups in Texas and across the Southwest when Kim McDaniel, senior manager of regional marketing for Best Friends, visited the shelter.
In the meantime, Marnie Anderson, executive director of Bottle Pups and Mama Dog Rescue, a Best Friends Network partner based in Moab, Utah, learned about Frannie on the shelter's Facebook page and wanted to help her. Having worked with Best Friends before and knowing that it had staff at the shelter, she contacted Best Friends in Utah to see if someone could recommend a contact in Houston.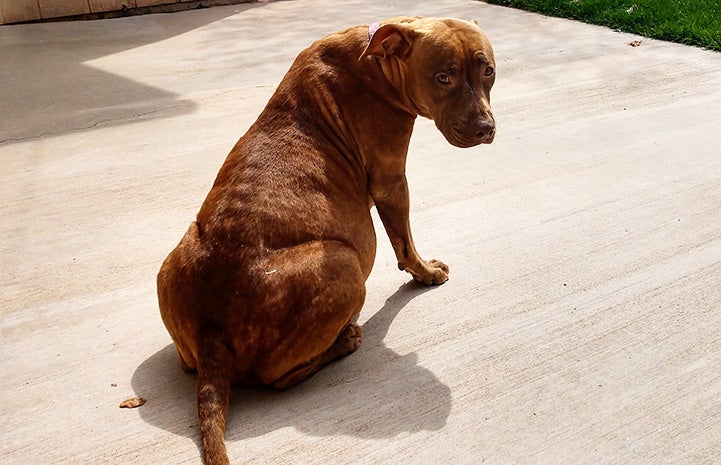 Talk about perfect timing: The Salt Lake City team reached out to Kim. If she could cancel her flight, drive home to Salt Lake City, and on the way make a pit stop in Moab to drop off Frannie at Bottle Pups and Mama Dog Rescue, she and her babies would be saved. The answer from Kim — an immediate and resounding yes — opened a whole new world of possibilities for Frannie and her unborn pups.
"I knew I had to make it happen," says Kim. "Basically, the decision was solidified in the time it took to pull up Google maps, see how long the drive was and notice that Amarillo would make a perfect overnight rest stop at nine hours away."
Getting ready for a trip of a lifetime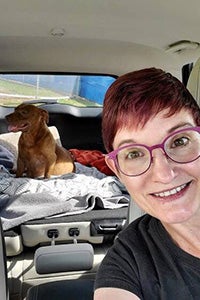 Since Frannie was set to give birth any day, Kim made sure she was prepared, just in case everything happened while they were rolling down the highway. She lined the entire interior of the car with plastic, sheets, towels and blankets, while her colleagues made a list of every Best Friends network partner organization and emergency vet clinic between Houston and Moab. Frannie stretched out in the back of the car and the two hit the road.
"I think Frannie was so relieved to be out of the shelter that she just took in the view from the back of the car," says Kim, who stopped every few hours to let Frannie stretch her legs. When they reached Amarillo, they stopped for the night at a dog-friendly hotel. Kim made a comfy bed for Frannie on the floor, and they got a good night's sleep before the big day ahead.
About the Best Friends Network
Smiling through very happy tears
By the next morning when Kim and Frannie headed out for the final leg of their journey, Frannie had grown more relaxed and comfortable with Kim. She waited for Kim to help her out of the car at each stop. "That day I really fell in love with her and her sweet nature," says Kim.
Kim says she felt herself tear up a bit as they crossed the border into Utah, but by the time they arrived at Bottle Pups and Mama Dog Rescue, she was smiling through her tears. And when Marnie came out to greet them, Kim noticed Marnie doing the same.
These emotions were to be expected, though, because Kim, Marnie and an entire team of people had come together to save Frannie and her unborn puppies.
Refusing to give up on newborn puppies
Three days later, Frannie gave birth to nine puppies, and having already been through so much, the birthing process was almost too much for her body. So Marnie took the new mom to an emergency veterinary hospital to spend a few days receiving fluids and antibiotics.
While Frannie was in the hospital, several of her puppies went downhill quickly. One of them, Laredo, was rushed to the same hospital where Fannie was being treated and diagnosed with fading puppy syndrome, a potentially life-threatening condition. Over the next two days, two more puppies developed the same symptoms.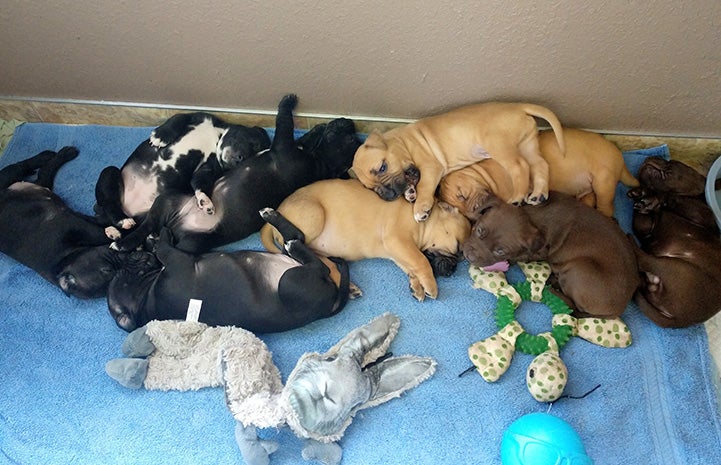 Refusing to accept that the puppies might not live, Marnie stayed up to syringe-feed them. And after a week with very little sleep and a few tears, all nine puppies were healthy again — just in time for Frannie to take over their care.
From the start it was clear that Frannie had passed along her sweet personality to the puppies. Visitors could not avoid getting licked and loved by all nine of them, and Frannie, too. "They were all the sweetest most outgoing litter," says Marnie. "Let me tell you, nine puppies and their mama do not fit easily in a human's lap, but they would sure try."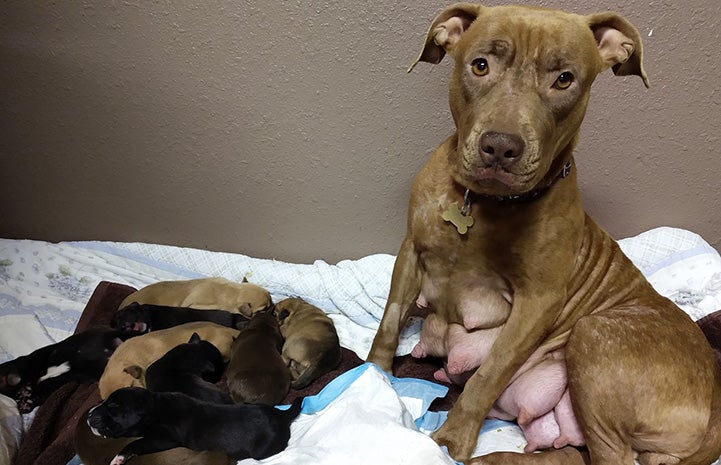 The next stop: forever homes for a mom and her pups
Over the next couple of months, the puppies grew healthy and strong. Soon, it was time to talk adoption — not just for the nine pups but Frannie, too. By then, the sweet mama had done her job, and Marnie could see she was ready for a break. Nine puppies are a lot for a mama dog to handle, especially after they get big and rambunctious.
Since the day Frannie left Houston, her journey was chronicled on social media by Bottle Pups and Mama Dog Rescue. The little family had a fan club, and Marnie was confident they all would quickly find homes.
Frannie was adopted first, but it wouldn't be long until all of her puppies found families. They just had to wait a bit until they were ready to be spayed and neutered. As it turned out, two of the puppies were eventually adopted by families in Texas, the place where it all began.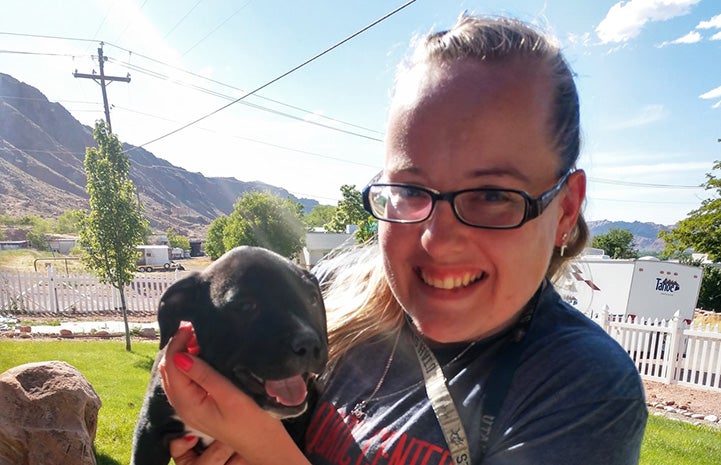 From shelter life to one with rhinestone collars
Loraine had been looking for a hiking buddy for a few months when she first learned about Frannie. She liked that Frannie wasn't a puppy, but was still young enough to go on outdoor adventures.
When Frannie first met Loraine, she walked right up and leaned in so Loraine could give her a little massage behind her ears. Then, Marnie, Loraine and Frannie went on a walk together, and Frannie showed how well she could walk on a leash. Loraine was smitten. She agreed to foster Frannie for a couple of weeks to make sure that adoption was the best next step, and so that Frannie's milk could dry so she could be spayed.
During that time, Frannie stayed with Marnie and was ecstatic when Loraine came back to get her. The feeling was mutual with Loraine, who had purchased a pink rhinestone name tag for Frannie. "That was the moment I knew Frannie had found her forever family," says Marnie.
Saving a life isn't as hard as you might think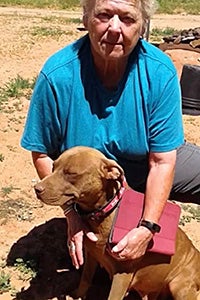 Today, Frannie is loving life with her new family, which includes Loraine and her husband, two dogs and a cat (who she's learned to get along with). "She has lots of energy and loves to run," says Loraine. "She's a character."
Frannie is smart and enjoys learning new skills that Loraine teaches her, but from time to time likes to take herself for a little run around the property. Loraine puts it all in perspective. When she recalls the long journey Frannie endured, just to be able to feel the sun on her back again, she has to resist the urge to let Frannie run just a little longer. Frannie's just relishing her freedom.
Now Marnie loves getting Loraine's updates on Frannie. "They make all the struggles, late nights, no sleep and tears worth it," says Marnie. "Her story is a perfect example of how, if we all work together, amazing feats can be accomplished."
Kim agrees and says that while not everyone can take a last-minute road trip to save a life, everyone can make a difference. "There are sweet dogs and cats like Frannie in shelters all across the country, and all it takes to save them is for someone to step up," says Kim. "Make that decision. Don't overthink it. You can do it, and it's not as hard as you think to save a life."
Volunteer and help pets where you live
Best Friends in Houston is working collaboratively with city shelters, local animal welfare organizations and passionate individuals to save the lives of pets in shelters in Houston and the surrounding areas. To help Houston become a no-kill city for cats and dogs, Best Friends launched the Coalition to Save Houston's Pets in April of 2018 followed by a community cat program, foster programs for dogs and cats, local adoption programs and an out of state transport program. Currently, Best Friends has fulltime staff embedded at the Harris County Animal Shelter, one of Houston's largest shelters. Together, we will Save Them All.
Photos courtesy of Kim McDaniel