Helping a cocker spaniel with medical challenges
Image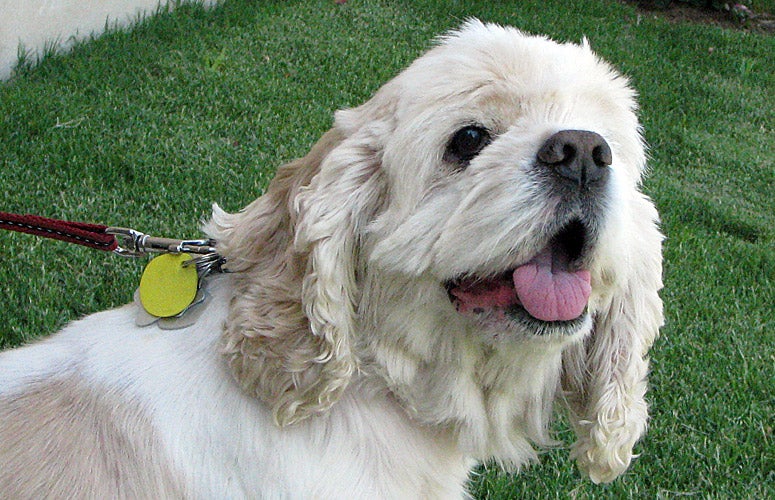 Cocker Spaniel Rescue of Austin and San Antonio, with funding from Best Friends, helps a cocker spaniel with mammary tumors and other medical issues.
By Denise LeBeau
We hear it a lot in animal welfare - we're all working together to make a difference. Everyone in the field is concerned about the animals being killed in the shelter system and looking for ways to increase the save rate. Butterscotch the cocker spaniel doesn't know anything about any of this, but she is alive today because of lifesaving teamwork.
Cocker spaniel with mammary mass and other medical challenges
Butterscotch was pulled by Cocker Spaniel Rescue of Austin and San Antonio (CSRA) from Williamson County Regional Animal Shelter (WCRAS). Many of the animals from WCRAS come from animal control agencies, but the shelter is unable to re-home any animal who is medically challenged beyond their ability to rehabilitate. Butterscotch had a mammary mass, in addition to other medical issues, which put her at risk for being killed.
CSRA gets most of their dogs from shelters. In 2012, over 72 percent were in danger of being killed before they took them in. Since CSRA's inception in 2002, they have helped over 1,000 cocker spaniels, and Butterscotch is one of them.
"Ideally, we do try our best to help every cocker spaniel in need in our local shelters," shares Peggy Kipping of CSRA. "Butterscotch, in particular, has a wonderful and happy temperament (but) didn't have any chance of adoption from the shelter because of her multiple health issues."
Peggy contacted Paul and Linette Baker to foster her. They saw the potential in the little girl with an itchy skin infection. Her ears were so swollen it was difficult to see her ear canals. She also had mammary gland tumors and blistered little paw pads.
"We viewed Butterscotch's profile with her photo, and she appeared to be a cute little girl with a good personality," says Linette. "When we retrieved her from the shelter, we found her to be all that and more. … From her first day with us, she acted as though she was happier than she had been in a very long time. Her physical challenges aside, she loves and wants to be loved. She deserves that chance, so we are glad to help her transition to her future forever home."
No More Homeless Pet Network partner funding
CSRA is a Best Friends' No More Homeless Pets Network partner - and as such, they were eligible to apply for funding by providing us with spay/neuter and adoption statistics. They won $500, which turned out to be beneficial for their latest charge.
"We expect that Butterscotch's rehab costs will run upwards of $1,000, and the funding from Best Friends helped us move quickly to stabilize her skin/ear/allergy issues to be healthy enough to undergo surgery, and the funding will also help defray the surgical expense," says Peggy.
Best Friends staffer Dori Jeurink says, "CSRA has been a No More Homeless Pets Network partner for less than a year, and they have proven to be a responsive group that participates in our opportunities as much as possible."
The organization has taken advantage of the chances to network with other rescue groups, training opportunities, and invitations to participate in events like Strut Your Mutt in Austin - all designed to help our Network partners efficiently save more animals, just like Butterscotch.
Peggy says, "Our rescue allows sweet dogs like Butterscotch to get the extra help they need to restore them to health and ready them for homes of their very own."
Get involved to help animals
Foster, adopt or donate to Cocker Spaniel Rescue of Austin and San Antonio.
You can support your favorite local No More Homeless Pets Network partner via the Strut Your Mutt fundraiser.
Best Friends Animal Society believes strongly that collaboration with shelters and other animal welfare organizations is key to achieving No More Homeless Pets®. When we work together, we save more lives. The No More Homeless Pets Network is a Best Friends program which brings together high-quality 501(c)(3) nonprofit animal welfare groups and municipal shelters from all across the nation, so that together, we can work smarter and more effectively, and end the tragedy of pets dying in our nation's animal shelters.
Photos courtesy of Linette Baker