Helping New York City's pets who lost families during the COVID-19 pandemic
How a partnership between Best Friends in New York and Animal Care Centers of NYC helps pets find homes again after their people became ill or died from COVID-19
By Nicole Hamilton and Christelle Del Prete
Zena is a senior pittie mix who loves few things as much as a slow stroll the park to get in a good game of squirrel watching. It's in these moments ― when she's mesmerized by the squirrels — that Amy, her new adopter, calls Zena her warrior princess.
It's a fitting name for the resilient Zena, who ended up at Animal Care Centers of NYC (ACC) after her person died as a result of the COVID-19 virus. From ACC, Zena was brought to Best Friends in New York City and eventually she went into foster at Amy's place, where she had all the space and time needed to heal in order to find joy in the little things ─ like watching squirrels.
Zena isn't alone. Other pets (including a blind Chihuahua named Richie and two young feline brothers named Abra and Cadabra) share a similar past and are also happy in new homes, thanks to the work of Best Friends and ACC.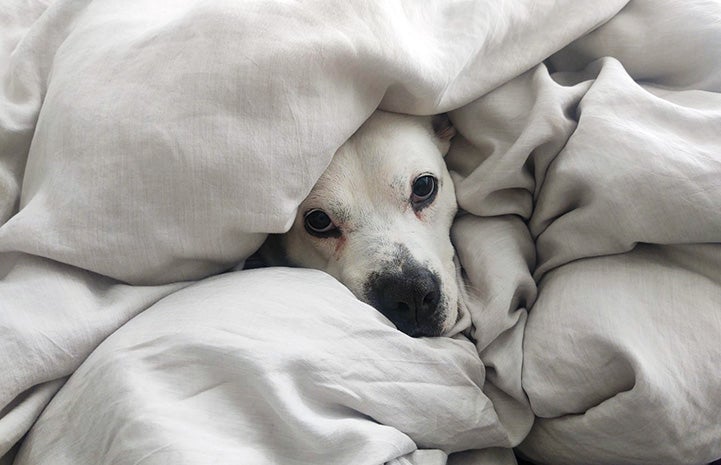 The power of partnerships during the COVID-19 pandemic
When New York City became the U.S. epicenter of COVID-19, ACC became the primary resource for cats and dogs surrendered by family members who got sick or died as a result of the virus. While it was an undeniably tragic situation for pets and their families, many New York City animal welfare organizations that partner with ACC, including Best Friends in New York, committed to doing everything possible to help the city shelter.
"Best Friends and ACC have been partners in lifesaving for quite some time, so helping the ACC during COVID-19 was an extension of the local program work Best Friends has been doing all along," says Elizabeth Jensen, northeast regional manager for Best Friends. "Supporting ACC's success is an integral function of our local program."
A senior Chihuahua gets to retire
R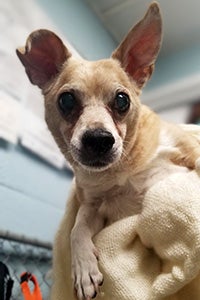 ichie is a visually impaired senior Chihuahua who, like Zena, was sent to ACC after his person died. Richie needed some special care, TLC and (because of his sensitive nature) delicate handling.
Working in partnership to coordinate logistics with ACC, Best Friends arranged for Richie to spend his quarantine period with a local veterinarian. As soon as he was cleared, he was on his way to Vintage Pet Rescue, a Best Friends Network partner organization in Rhode Island that offers senior dogs a perfect retirement home.
About the Best Friends Network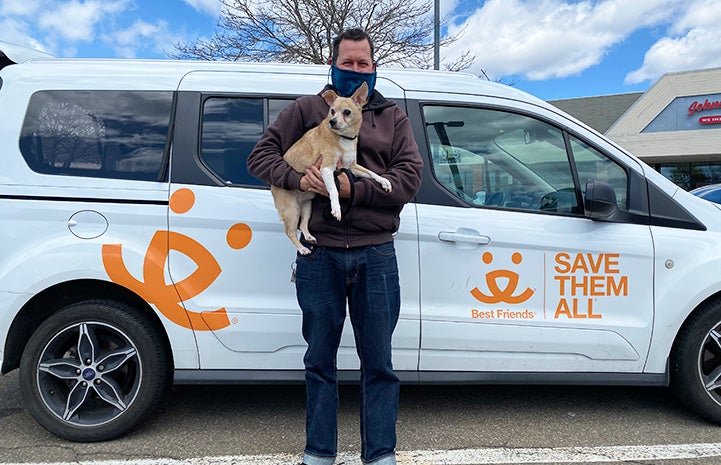 Two young cats, one loving home
After brothers Abra and Cadabra lost their person and home, they were sent to ACC. Today, the young cats are in a new home with adopter Kevin Johnson, who is very proud of how well they've adjusted to their new life. "They're so well-behaved," he says. "They don't seem traumatized by anything."
Life is starting to settle into a routine again for the two cats. They're both affectionate and playful, says Kevin, who loves watching their personalities unfold. Abra likes to perch up high, while Cadabra prefers to stay on the ground, preferably wherever Kevin is. "I love my boys already so much," he says.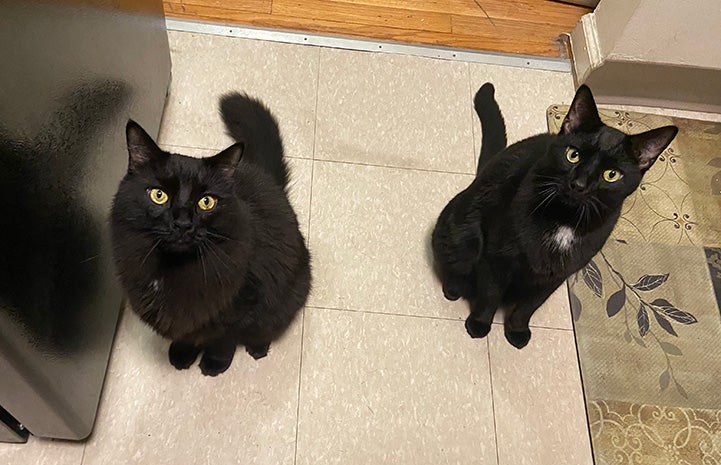 Healing in a foster home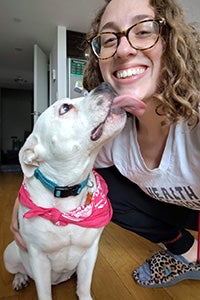 During Zena's first days in Amy's foster home, a longtime Best Friends volunteer who has fostered about a dozen dogs could sense that Zena was sad and mourning the loss of her person and the life she once had. To help Zena heal, Amy remained patient and gave her plenty of space to grieve.
Slowly, she introduced Zena to new things, beginning with quiet walks to the park each day so she could watch the squirrels. Eventually, Zena started to feel better. Her appetite got better and her energy level increased.
Today, there's a spring in her step and her tail wags a lot more, too. And Zena won't be settling into a new home anytime soon because Amy decided to adopt her.
Zena is helping Amy feel better during what's turning out to be a challenging year for many people. "We are enjoying walks and nature together," says Amy. "She helps me stay grounded mentally and keeps me physically active. I'm so lucky to have her in my life."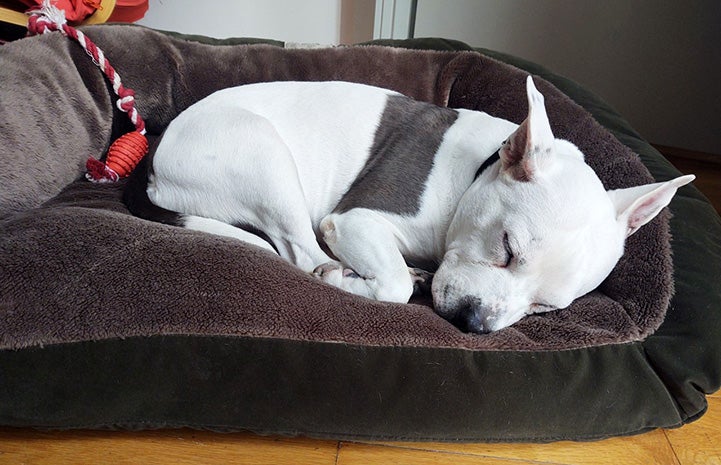 Best Friends in New York works collaboratively with city shelters, local animal welfare organizations and individuals to save the lives of pets in shelters in New York City and the surrounding tri-state area. As part of this work, Best Friends has a national lifesaving concept space and pet adoption center in SoHo, hosts adoption and fundraising events, and runs a foster program in partnership with Animal Care Centers of New York City. Together, we will Save Them All.
Photos by Amy Dorfman and Kevin Johnson