Helping pit bull terriers in Louisville, Kentucky
Image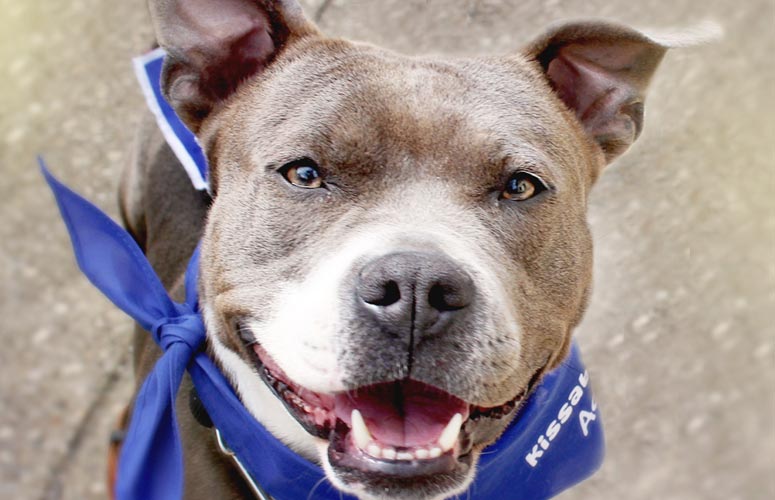 Saving Sunny, which focuses on helping pit bulls, receives funding for a Dog Community Resource Center to provide free services and supplies.
By Denise LeBeau
Jack and Bailey could be a handful for anyone. The two adolescent American bulldog and pit bull terrier mixes came from similar unwanted litters in Louisville, Kentucky. Adopting them was a no-brainer for Patricia, the caring woman who took in Bailey from a neighbor and rescued Jack from a flea market. A senior on a fixed income, she was able to manage them as puppies, but as they grew, the rambunctious dogs became harder to handle and expensive to feed. She needed help, like many people with pets in her underserved, urban enclave.
The closest veterinarian was a car ride away, but low-cost services weren't offered. However, thanks to Saving Sunny and a $10,000 grant from Best Friends, Patricia's ability to keep Jack and Bailey safe and healthy turned out to be just a few steps away.
Saving Sunny in Louisville, Kentucky
Saving Sunny, a Louisville organization founded in 2010, became a rescuer of pit bull terriers by default because pit bull terriers were the major cause of overcrowding in Louisville's municipal shelters. "We were one of the only organizations taking in pit bull terriers, but we didn't start out as a breed-specific rescue," says Kelsey Westbrook, co-founder of Saving Sunny.
Last year, Best Friends' pit bull terrier initiatives provided sponsorship funding so that Saving Sunny personnel could attend the No More Homeless Pets Conference in Jacksonville, Florida. Attending the conference helped change the organization's trajectory and outlook.
Kelsey recalled a conference session about helping underserved communities that included a slideshow showing animals who looked, at first glance, to be abused. "One slide showed a dog being bathed at a fire hydrant, with open sores all over his body; it looked like the dog was severely neglected," she says. As it turned out, the scene couldn't have been further from the truth. "The person had rescued the stray with what looked like mange and, without the resources to get the dog to a veterinarian, took the advice of neighbors." (The urban myth about mange is that you treat it topically with motor oil.) The slide proved to be an "aha" moment for Saving Sunny. Helping the people in need would exponentially help the pets.
Dog Community Resource Center
With funding from Best Friends, Saving Sunny is able to have a Dog Community Resource Center once a month at a local community center. Saving Sunny works with local agencies to secure the building and offer free services and supplies: spay/neuter, pet food, training, no-pull harnesses, vaccinations, identification tags, collars and more. The first day of the resource center, 54 dogs received immediate help, and since then, the grant has paid for 45 spay/neuter surgeries and 114 training sessions. And they're just getting started.
The center, centrally located in the Louisville neighborhood of Portland, is just across the street from Patricia's residence. She attended their inaugural event looking for dog food, but found a whole lot more. "Jack and Bailey need a lot of exercise and training, which we found out about during the interview process. People go through an initial screening to determine their pets' needs," says Kelsey. The two dogs have since become part of a training program and to help Patricia out further, Saving Sunny gave her tools to help exercise them safely.
"Saving Sunny is a pioneer in Louisville," says Laura Handzel, Best Friends legislative lawyer and programming analyst. "Staff members are addressing issues that lead to people giving up their animals, in an area that is a resource desert. Their work not only makes a real difference by helping dogs stay out of the shelter, it also creates an environment of trust in a community that desperately needs it. The result is sustainable lifesaving work."
Get involved to help pit bull terriers
Learn more about how Best Friends helps pit bull terriers across the country through our pit bull terrier initiatives.
Photos by Jessica Amburgey