Helping stray cats in San Antonio, Texas
San Antonio Community Cats Project, a TNR program, helps stray and feral felines of the Texas city, providing spay, neuter and vaccination services.
By Denise LeBeau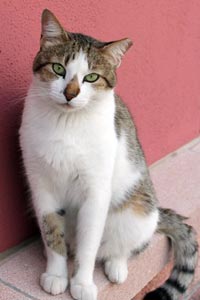 Handsome, an elusive and striking cat, has patchwork tabby markings on his mostly white coat. He was abandoned in a dirty carrier at City of San Antonio Animal Care Services (ACS) without a word from his person as to why. The staff of ACS brought him to the adoption floor, where they assumed he'd be adopted immediately, since he's so gorgeous. But Handsome made it clear that he wasn't interested in being a snuggly house cat.
At many municipal shelters, harder-to-adopt-out cats can face an uncertain future, but Handsome's fate was secure because of a progressive partnership with Best Friends. With the help of compassionate animal control officers, Handsome would not become a sad statistic, but instead a shining reminder of the lifesaving work being done on behalf of community (unsocial or feral) cats in San Antonio, Texas.
All-in for feral felines
Thanks to the San Antonio Community Cats Project, a collaboration between Best Friends Animal Society and PetSmart Charities®, the majority of community cats in the area are bypassing shelter cages. The program brings together Best Friends, City of San Antonio Animal Care Services, San Antonio Humane Society,  and the San Antonio Feral Cat Coalition to trap, neuter and return (TNR) the community's cats.
When the program began in 2012, the save rate (the percentage of animals who enter a shelter and are not killed) for cats at ACS was 35.5 percent, with the vast majority of cats who entered the shelter dying there. By March of 2014, two years into the partnership, the save rate reached nearly 80 percent, and it's still climbing.
In the service of good for San Antonio's cats
To assist San Antonio's cats, Best Friends hires and pays the salary of an expert community cat coordinator. The coordinator's days are filled with making sure the TNR program is running smoothly by working closely with animal control officers, the folks on the frontlines. The officers of ACS come from a variety of companion animal career backgrounds and they make it clear they are in it for the animals.
Officer Liz Martinez loves helping the underserved. When a woman noticed that a cat in her neighborhood was being picked on by other cats, she called ACS. Liz came out and picked up the cat (named Kitty), had her spayed and vaccinated, and then returned her to the place where she'd been picked up. Later, she followed up and learned that Kitty was now best friends with the woman's dog and living in safety with her new family.
While Kitty is not exactly a lap cat, she has the run of the house —  inside and out. "The woman has so much joy with these animals; it makes me so happy," says Liz. "TNR impacts pets and people."
Community cat colony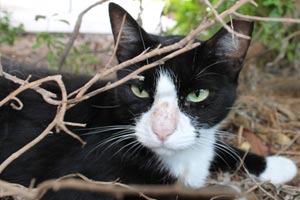 ACS also cares for a community cat colony near its offices on State Highway 51. Handsome lives there now among a dozen other community cats, doted on by the officers. "People constantly come into the shelter to report 'loose' cats," says Liz. "That's when we have an opportunity to educate the public about TNR, community cats and the work we do."
"Best Friends is thrilled with the work being done via the San Antonio Community Cats Project," says Shelly Kotter, Best Friends community cat program manager. "They are doing great work with the resources we've supplied and enhancing the city's ability to Save Them All."
Learn more about community cats
Learn more about the Best Friends cat initiatives.
To learn more about how Best Friends is helping San Antonio, including a grant of $550,000 to San Antonio Pets Alive to bring the entire community closer to no-kill, click here.
Photos by Lisa Norwood