High-energy dog meets his match
High-energy, rambunctious dog meets his perfect match: an active adopter who takes him for long walks and to play fetch in the park.
By Nicole Hamilton
Take a peek at Wayne's Instagram page, and the first thing that'll probably make you smile is the look of his fabulous ears. One flops down while the other stands at high alert, taking in everything. But take a closer look and you'll see this is one loved pup, who's having lots of fun these days alongside his adopter.
All it takes to change the life of a homeless dog is one person deciding to adopt. And in Wayne's case, that person was Lauren Rounds, who met Wayne the day she dropped off some donated supplies at the Best Friends Lifesaving Center in New York City.
Lauren made an instant connection with the young dog. "He saw me from the window and cocked his head to one side," says Lauren. "It hit my soul."
Wayne is a high-energy dog, and while some potential adopters found this daunting, Lauren saw it as a good thing. In fact, when she isn't working as a nanny, Lauren is at the gym powerlifting. Talk about a perfect fit: Wayne was her kind of dog.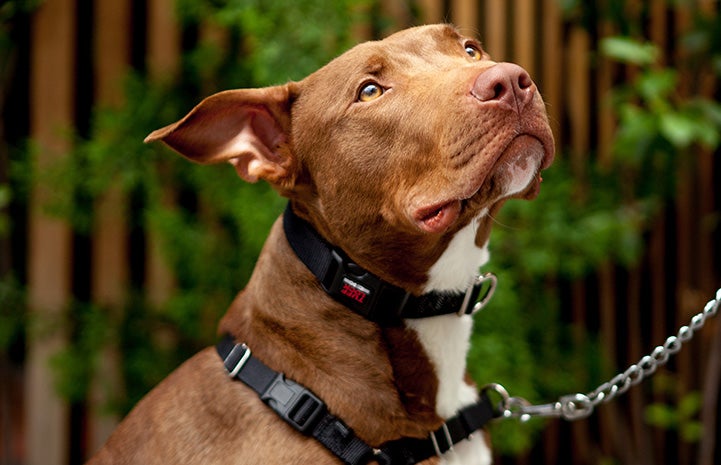 Young dog, social butterfly
Wayne was brought to Best Friends Lifesaving Center from Animal Care Centers of NYC, where he was having a difficult time fitting all his enthusiasm and energy into his kennel space. It was at the center where he met his perfect match — Lauren.
Lauren knows all about having more energy than most people, but unlike Wayne, she already knew how to channel it for good through her career and athletic pursuits. For Wayne, it was still a work in progress, which is understandable when you consider that Wayne was then just two years old. He had a whole lifetime to master new skills.
A tough decision
It would be great if the story ended here, with two kindred spirits meeting each other and walking into the sunset to live happily ever after. But the truth is, Lauren was about to embark on a lot of work-related travel and just couldn't adopt a dog at the time. It broke Lauren's heart, but there was no helping the situation. And though she left the center that day without Wayne, it wasn't the end — just a little delay in their soon-to-be friendship.
Training an excitable dog
Over the next couple of months, Wayne got training at Best Friends, plus additional help at a training facility in Harlem. "He was a silly, bubbly boy," says Sarah Aitken, a center adoption specialist who spent a lot of time with Wayne. "He would always get very excited to see people, with special devotion to his favorites. He was so excited to see them that he would lose himself a bit and become what we would call jumpy-mouthy."
When meeting potential adopters, Wayne expressed his excitement by jumping up to greet them because he didn't quite get that people aren't fellow dogs. He couldn't use his mouth to play with them like he could his canine friends.
Well-mannered dog: Tips for training, play, and socialization
Wayne was an eager learner during his training sessions, and while he was busy learning new behavior patterns, life was settling down for Lauren, who was finally ready to adopt a dog. She had never stopped thinking about Wayne, but figured he'd already found a home. Then, as she was checking out Best Friends in New York's Instagram page, she saw a pair of floppy ears she'd recognize anywhere. It was Wayne.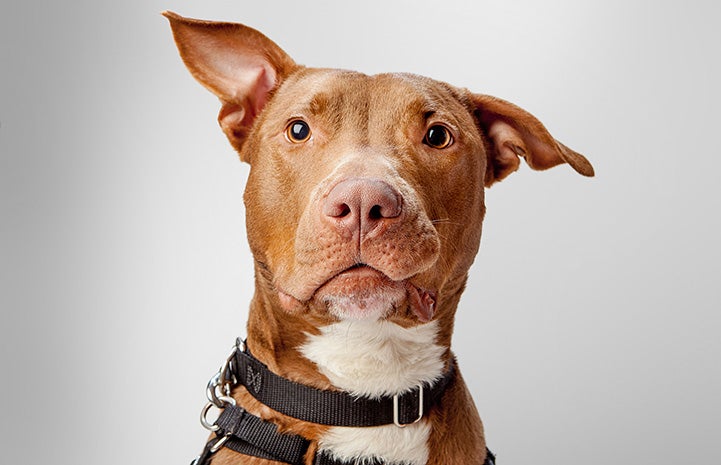 High-energy dog meets his match
Lauren returned to the center, excited to be reunited with Wayne. He was just the same as she'd remembered, except he now had much better manners.
The center team reminded Lauren that Wayne needed a home with someone who could match his energy level, not to mention his strength. This was something Lauren knew she could provide in spades. In fact, a cuddly couch potato-type dog wouldn't have been very happy in Lauren's home. She needed a dog like Wayne, who was always up for adventure. They were a perfect fit.
The makings of a well-mannered goofball
You may be thinking that now is when we say Wayne and Lauren lived happily ever. Not so fast. "We had a few rough weeks," says Lauren.
At first it seemed that Wayne had forgotten all his training. But that was to be expected because, after all, he was in a new place and like many pets (and people), it would take time for him to feel like Lauren's place was his home, too.
Lauren would have to be patient with Wayne while he adjusted to his new life. And when his training seemed to go out the window, she gave him plenty of encouragement and compassion. "I knew that in his heart he wanted to do the right thing," she says.
Compassion is always the way to go. With time and consistency, Wayne's training began to click again, and he and Lauren have settled into a busy routine. Now almost every night, the two play fetch or go to a park with an enclosed area where Wayne can have fun while learning even more new skills.
Wayne still gets to show his silly side, but Lauren is teaching him that there's a time and a place to be a goofball. "He can lose himself when he gets excited," she says, "and it's my job to bring him back."
There's a person out there for every dog
In a city of millions, Wayne has definitely met his perfect match. A typical day for him involves long walks around the city. On Saturdays he and Lauren go to Prospect Park in Brooklyn to get in a good game of fetch. Wayne is also working on building a relationship with Lauren's cat, and so far, it's going well.
Wayne is having the time of his life with Lauren, who you could say has become his human soul mate. And yes, he's still a bit of a goofball.
"He's just a super silly dog who wants to do the right thing and thinks he's the size of his head," says Lauren. "I credit Best Friends (staffers) for making sure we were a good match. It was evident to me that they loved this dog as much as I knew I was going to. I found my best friend because of them."
Adopt your canine match at a shelter near you
Best Friends in New York works collaboratively with city shelters, local animal welfare organizations and individuals to save the lives of pets in shelters in New York City and the surrounding tri-state area. As part of this work, Best Friends has a national lifesaving concept space and pet adoption center in SoHo, hosts adoption and fundraising events, and runs a foster program in partnership with Animal Care Centers of NYC. Together, we will Save Them All.
Photos Robert Stoetzel and courtesy Lauren Rounds