Hob's happy home
Woman educated about the feline immunodeficiency virus, and how positive cats can live long, happy lives, adopts a cat with an FIV infection.
By Christelle L. Del Prete
Gallagher, Hobgoblin, Hobster the Mobster and Gobby are all names for a cool-and-confident brown tabby cat, but his family usually just calls him Hob. Hob has been in his home now for two years, which is twice as long as his stay at the Sanctuary. And while he has feline immunodeficiency virus (FIV), and he's been up, down and all around medically, today he's a very happy and well-loved cat.
Helping a street cat with FIV
In the winter of 2013, Hob was found outside in an Ohio snowstorm. He'd been living on the streets as a community cat (sometimes called a stray or feral cat), but he wasn't faring well. At five years old, Hob had significant dental disease, ear mites and an upper respiratory illness. He'd also tested positive for FIV, a virus that weakens a cat's immune system and makes him more susceptible to dental disease and other infections.
While many cats with FIV can live long and healthy lives, they do need to be monitored more closely than cats not infected with the virus. And to remain in good health, they also may need more frequent veterinary checkups, as well as prompt treatment for any illnesses or infections.
That's why Hob's rescuer and veterinarian agreed that returning to life on the streets (especially in sub-zero temperatures and two feet of snow) would not work for him. Instead, the Ohio Humane Society, where Hob's rescuer volunteered, helped get him to Best Friends.
At the Sanctuary, Hob was treated for the ear mites and respiratory infection, and he had a much-needed dental surgery. Then, exactly one day shy of a year of living at Cat World at Best Friends, the best thing possible happened. He was adopted by Melissa Carlson, who lives in Maryland.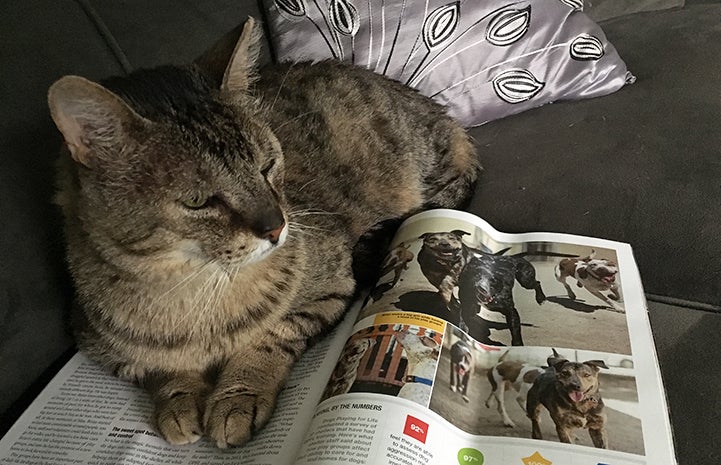 Adopting an FIV-positive cat
Melissa had been a member of Best Friends for years and had volunteered at Strut Your Mutt events. After her last cat passed away, her house was missing "that unique feline energy," so Melissa decided to adopt a special needs cat from Best Friends. "I didn't specifically go looking for a cat with FIV, but it was on my list of special needs I could consider," Melissa says. "I am a veterinarian, and, though I practice on horses almost exclusively, I was educated about FIV in cats. But I gained most of my confidence in FIV-positive cats having a decent life and the realities about low transmission risk to other cats from Best Friends magazine and website articles."
So when Melissa started searching on the Best Friends website for an adult male cat who would get along with her cat-loving son and peaceful pit bull terrier mix, Hob's picture came up. She didn't hesitate.
"I loved how regal, confident and self-possessed he looked. He was a king and he knew it. The adoption specialist said they called him the 'King of Cat World' because he ruled there. He is definitely a ruler, though a benevolent one."
Hob was soon on his way to Maryland, where he became best buddies with Melissa's -10-year-old son. "Hob is especially fond of my son, Griffin, which warms my heart," Melissa says. "I think Hob knows how much Griffin needs that connection with him. Hob will sit next to him — upright, as though overseeing him — and purr loudly with closed eyes."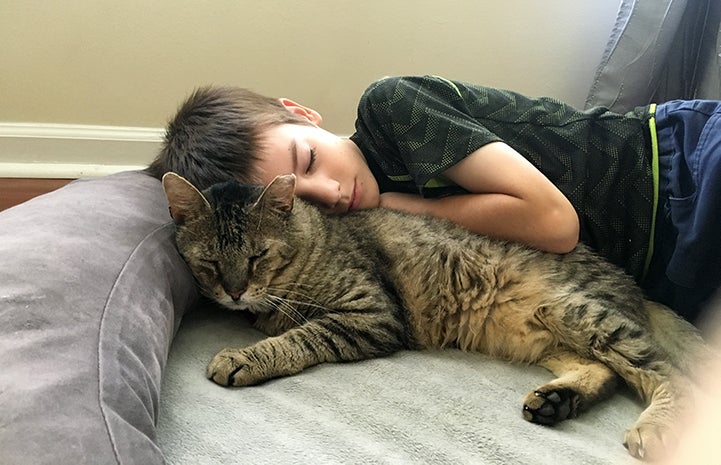 While Hob has had a bumpy road medically, Melissa doesn't think much of it can be blamed directly on FIV. Hob also has liver disease and recently developed a food allergy. He has a weepy eye, for which he takes supplements, and he recently had another dental surgery to extract a tooth that became painful and began affecting his ability to eat and his desire to play.
After the dental, with his regular balance of high quality food and supplements to support his liver and immune system, Hob has returned to his old, friendly, playful self. He's even feeling so energetic these days that Melissa affectionately says: "He even chases his tail — the goofball."
The good life
Studies have shown that it is safe for an FIV cat to live with another cat not infected with the virus, as long as there isn't any serious fighting between them. (Infection is most commonly spread through a deep bite wound from an FIV-positive cat to an FIV-negative cat.)
Melissa decided to adopt another cat last summer. The young tortoiseshell kitty does not have FIV. But since Hob gets along with his "little sister" and tolerates her kitten antics quite well, Melissa isn't worried that she'll get the FIV infection from him.
In spite of the challenges Hob has faced over the years, he is now content and living the good life. "I feel good knowing that Hob is happy and that he is a valued member of our family," Melissa says.
"He has clearly been through a lot in his life, but his spirit is strong and beautiful. There is no reason for him, or cats like him with FIV, not to have the same chance at a good life in a loving home. I am grateful to Best Friends for educating me and others about the joy of having cats with FIV as pets, for rescuing those cats from shelters and for sending Hob to me and my family."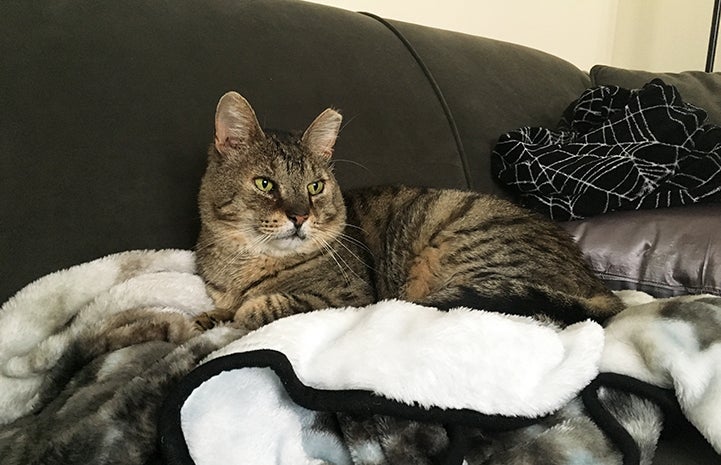 Photos courtesy of Melissa Carlson