Homes for pets by the hundreds
Image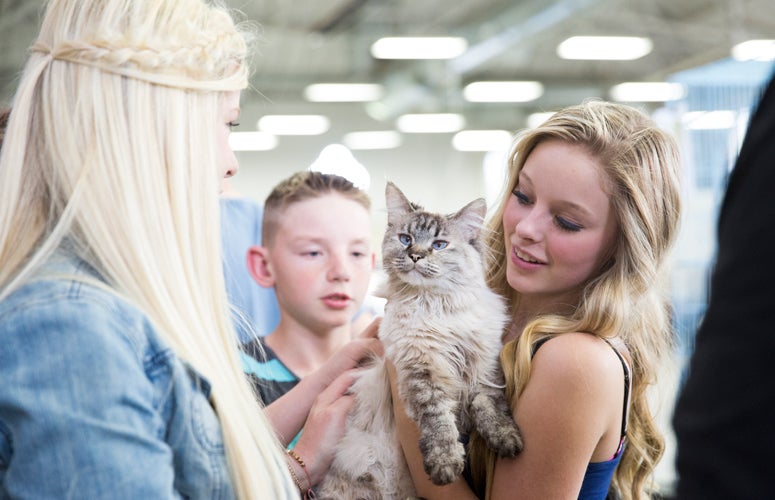 Three Best Friends animal adoption events in Salt Lake City, New York City and Los Angeles, result in nearly 1,300 dog and cat adoptions.
By Kelli Harmon
"I'm a mother again!" said Barbara Cardinelli as she and her husband walked through the busy pet adoption event site last Sunday in Los Angeles. Barbara held the cutest Chihuahua, named Raisin, who she first noticed because of her brindle-striped coat and frosted face. And you can't overlook the underbite, which gives the super sweet little dog a permanent and adorably frowny face, even on the best day of her life — the day Barbara adopted her.
Now take that happiness and double it. Then double it again, over and over until stories like the one about Barbara and Raisin exceed 1,000. And that's what happened at three Best Friends spring adoption events, held this past week in Los Angeles, Salt Lake City and New York. Nearly 1,300 once-homeless dogs and cats (plus a few rabbits and one pig) are now happy with their new families.
NKUT Adoption Weekend: Salt Lake City
Groups from all over Utah brought pets to NKUT Adoption Weekend as part of Best Friends' No-Kill Utah (NKUT) initiative, the goal of which is to bring Utah to no-kill status by 2019. When a cat rescue group from a small town in rural Utah can find homes for 25 cats in two days, it's a big deal.
That's what happened for Ashley Valley Community Cats, based in Vernal, Utah. Melissa Jones, Best Friends event specialist in Utah says, "This year more groups attended than ever, and they did great. We're very excited about the number of pets who found homes, especially for groups in small towns where the number of adopters is limited." By the event's end, nearly 470 Utah pets were home with new families.
Best Friends Pet Super Adoption: New York City
Best Friends has been holding super adoption events in New York for several years, always outside the city. But this spring, the big event arrived in Manhattan. "There was a line down the block of people waiting each day when we opened," says Jess Bergeron, Best Friends event specialist in New York. Inside were hundreds of pets from nearly 30 rescue groups and shelters, each of them waiting for homes.
Best Friends–New York had brought in pets from Animal Care & Control of New York City. One was a sweet tan dog named Pikachu, who made her best puppy dog eyes at just the right moment, and got to go home with Barry Gleitman. Barry's cardiologist had recommended he get a dog because dogs increase a person's activity and reduce stress. In looking after his own health this particular day, Barry also saved a life.
By the end of the event, nearly 290 dogs and cats had gone home.
NKLA adoption weekend: Los Angeles
In Los Angeles, the adoption weekend is part of the Best Friends No-Kill Los Angeles (NKLA) initiative, which is designed to make Los Angeles a no-kill city by 2017. While Barbara was falling in love with Raisin at the L.A. event, her husband John was drawn to Kirby, another little dog sharing the same enclosure. There was only one thing to do — adopt them both.
More than 520 pets found homes at the event, many from groups attending for the first time. Bridget McDonald, Best Friends events and outreach coordinator in Los Angeles says, "We had so many new groups participating this year, as well as the largest number of people attending ever."
Though the three adoption events were in different states, the goal was the same — to get more pets out of shelters and into homes. The great success of all three spring adoption weekend events is proof that whether you live on the east coast, west coast or in the mountains, as Bridget says, "More and more people want to rescue, and they know where to go to adopt."
Help bring more events like these to the animals by donating to Best Friends.
Check out more Best Friends events.
Photos by Sarah Ause-Kichas, Lori Fusaro, and GC Photo Booth