How a dog helped her adopter love life again
Image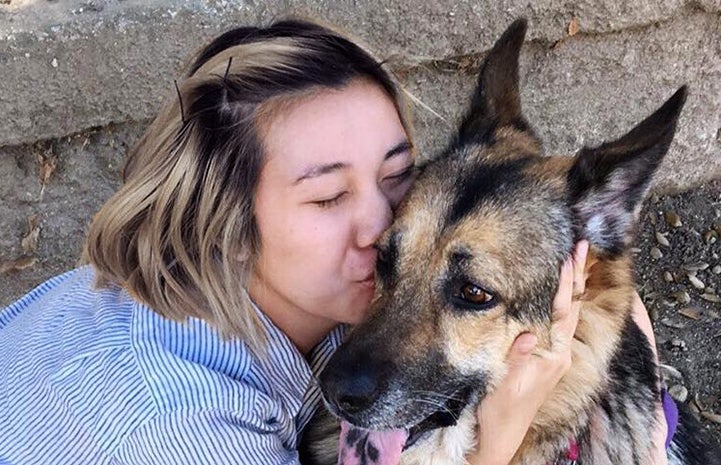 Survivor of sexual assault adopts a shelter dog who helps her recover from her trauma. Read the story of the experiences of two survivors.
By Nicole Hamilton
Best Friends in Los Angeles works collaboratively with animal rescue groups, city shelters and passionate individuals who are all dedicated to the mission of making Los Angeles a no-kill city. As part of this mission, Best Friends hosts adoption and fundraising events, manages two pet adoption centers, and leads the No-Kill Los Angeles (NKLA) initiative. Together, we will Save Them All.
When you first meet seven-year-old Harriet, you're likely to notice how the German shepherd is gentle and playful, laid back and curious. But ask Cheryl, Harriet's adopter, about the tattoo of her dog on her arm, and you'll learn more about Harriet and how this formerly homeless dog helped heal Cheryl's heart and mind.
It hasn't always been easy for Cheryl, a survivor of sexual assault, to trust others and the world around her. But then she met Harriet at the Best Friends NKLA Pet Adoption Center and felt an immediate connection. She could sense that Harriet had faced some big challenges, too, and that together they could get back to enjoying life again.
A mellow, gentle German shepherd
Harriet came to the adoption center after being surrendered to an L.A. city shelter. Her mellow and gentle nature made her a volunteer and staff favorite, but they also noticed that she tended to get too excited around other dogs.
Since Harriet's excitable nature (coupled with her size) was apt to intimidate potential adopters, the team taught her to remain calm around other dogs. Slowly, Harriet began to keep her cool around her canine friends for a longer period, but the staff knew she'd still need an adopter who would be patient while she kept learning.
That person was out there, all right. In fact, she'd been preparing for decades to adopt a dog like Harriet.
Learn about Best Friends' lifesaving initiatives
A lifesaving dog adoption in more ways than one
Ever since she was a child, Cheryl had wanted to adopt a dog. Back before the days of PowerPoint, she'd do research and create picture books, so her parents could see how much work she was willing to put in for one. But after every presentation, no matter how convincing, Cheryl got a firm parental "No."
As an adult, she still dreamed of adopting a dog, but she wanted to wait until she had enough time to devote to a pet. Then, Cheryl endured abuse that left her spirit shattered, made the world a very scary place and caused her to withdraw from things that made her happy.
Animals have a way of reaching us the way humans sometimes can't, and Cheryl knew if there was ever going to be a good time to adopt a dog, this was it. But adopting a dog wouldn't just help her get her life back, but it would also help save other lives. Every time a dog is adopted from either of Best Friends' two L. A. pet adoption centers, space opens so that another dog from one of the city's six shelters gets a second chance.
Two survivors
When Cheryl arrived at the NKLA center, the adoption team had a feeling she might forge a connection with Harriet. "I came in with an open mind, and when they told me about Harriet," says Cheryl. "I said: 'Sure, why not?'"
She'll never forget the first time she saw the dog who would become her most faithful companion. "In walks Harriet with a pink flower in her collar," says Cheryl. "I remember feeling like I'd already known this dog for my entire life. This little girl was waiting for me, and she made it known by walking straight over and sitting down for a hug."
Still, there was a logistical issue. Cheryl was set to visit New York City a few days after her visit to the center. Would Harriet still be there when she returned? And, if she brought Harriet home before she left, would Harriet adjust without her?
Cheryl went home to think things over and returned the next day with her entire family in tow. When Harriet saw Cheryl, the dog cried out, ran into Cheryl's arms and went home that day.
Birthday parties and matching Halloween costumes
Cheryl wanted to make up for all the years she and Harriet hadn't been together, so she made sure that the days before she left for New York were packed full of adventures. Harriet adjusted to her new life, like the calm and gentle dog she is. In fact, Cheryl says it really wasn't much of an adjustment at all.
Today, Harriet loves tennis balls, chasing Cheryl around, snuggling with her toys and begging for belly rubs. "She is also a natural model," says Cheryl. "I think I have about 9,000 photos of her on my phone."
Recently when Harriet turned seven, Cheryl threw her a birthday party, complete with a birthday cake and presents. The two even dressed up in matching costumes for Halloween.
Misunderstanding a big dog
Sometimes Cheryl notices Harriet becoming tense around other dogs when they are out on walks. Other people notice it as well, and because they don't know Harriet or anything about the life she's lived, they get tense, too. What they can't see is how this big dog loves and looks up to Cheryl, regardless of how many tough days she's had, and despite having a few bad days of her own.
"They assume that it's because she's a 'dominant' breed, not because she had a tough life," says Cheryl. "It's made me put aside a lot of my own self-doubt to be her best parent and advocate. There's a lot of misinformation out there that really hurts (big dogs), and I feel more responsible than ever to help disprove those myths."
A dog brings pure joy to her home
Cheryl's tattoo of Harriet reminds her that her dog taught her that she's a survivor. "Harriet brings something so pure and good into my life," says Cheryl. "She's helping me repair my relationship with myself."
Harriet has also given Cheryl the courage to speak out about her past so other survivors know they aren't alone.
"Harriet has taught me is that when you accept love from another person or animal you free yourself to enjoy things just for the sake of being happy," says Cheryl. "We cherish every moment for what it is."
Photos courtesy of Cheryl Chan