How Meow spent 22 years as the kitty queen of Piggy Paradise
For more than 20 years, Meow the cat was a legendary little figure at the Sanctuary.
By  Jen Reid and Sarah Thornton
If you've visited the pigs, goats and horses of Best Friends Animal Sanctuary in the last two decades, you have probably also gotten to know Meow, the calico cat who showed up one day more than 20 years ago, made herself at home and never left. She became a staple of the Sanctuary — beloved by staff, volunteers and even the pigs she watched over.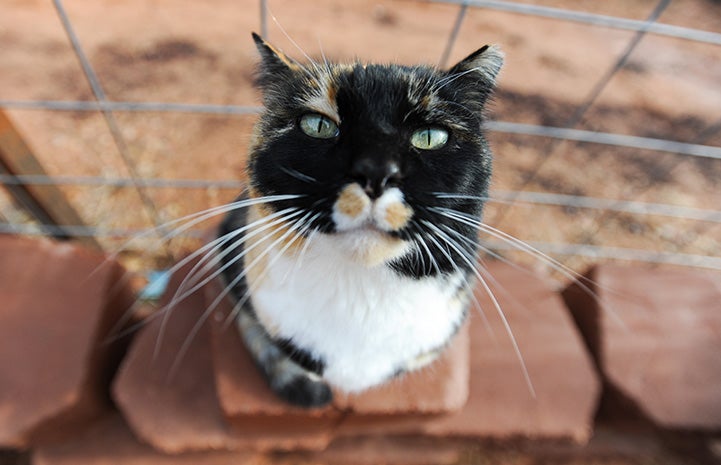 Last week, after battling with renal failure for some time, Meow finally let her friends (her family) know that it was time to say goodbye. She spent the morning relaxing in the sun, surrounded by the people who loved her most.
In Meow's memory, we'd like to share a few words from someone who knew her best,  ever since she was just a flash of fur in the shadow – Jen Reid, Horse Haven manager at Best Friends Animal Sanctuary.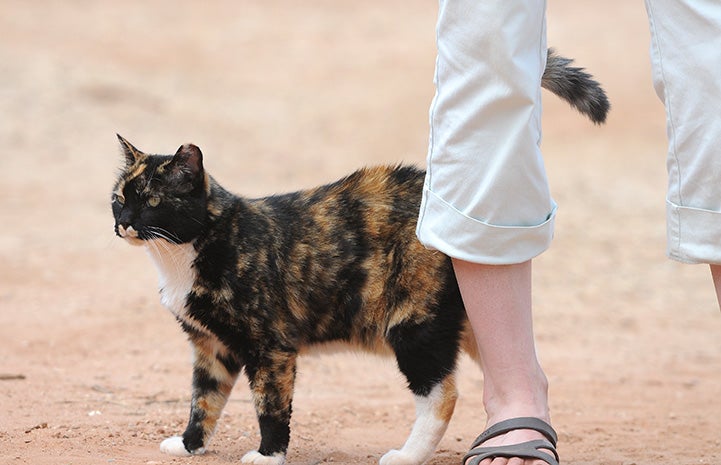 Meow
When I first started seeing fleeting glimpses of calico in the bushes around Horse Haven back in 1999, I never would have guessed that 22 years later I'd be trying to put into words just how cherished that calico blur would become.
For at least a decade, if you were paying attention you could occasionally see a beautiful calico cat napping under a sage brush or peering around a juniper tree. But try to approach and she was gone like a shot.
We might go months without seeing her, but she eventually would always show up. Back then, Piggy Paradise didn't exist. There were about 25 horses here, a couple of goats and just a handful of people around. We were busy going about our business and Meow, as she later came to be known, was busy going about hers.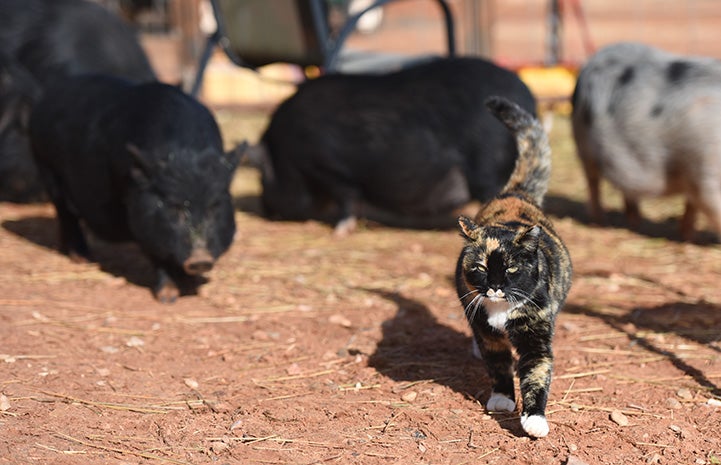 As Horse Haven and all of Best Friends began to grow and expand, Meow started to take more of an interest in what was happening. She especially gravitated toward the newest individuals to move into the neighborhood: the pigs.
Meow sightings began to get more frequent, and she wouldn't scoot away quite as fast as she used to. After a decade or more of observation, she seemed to have come to the conclusion that maybe we weren't so bad after all.
One human in particular (Brandi) made it her mission to make friends with Meow and around 2010 or 2011, the calico blur officially became "Meow." But just because she had a name didn't mean that she was willing to give up her sovereignty and become an indoor cat. No thank you! Absolutely not!
She adamantly declined any attempt to lure her inside. Piggy Paradise was now an officially recognized part of the sanctuary and Meow was its queen. And the queen got to do whatever the queen wanted.
Over the next few years, Meow became more and more friendly and took her role of queen of Piggy Paradise very seriously. She would greet every volunteer and especially seemed to know when a news crew or journalist would come to visit. She rarely missed the chance to get her mention in a story or article.
I never would have imagined just how much Meow came to mean to me, to Piggy Paradise and to all of the countless other people who loved her. And I truly believe she came to feel the same way about us, eventually. I am amazingly lucky to have known her for most of her long life.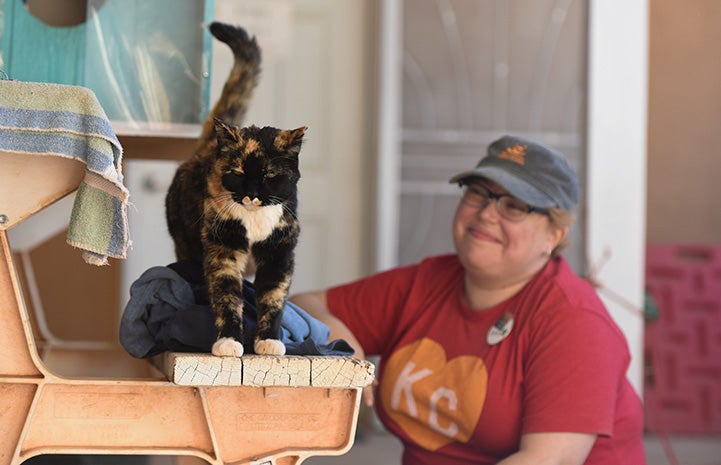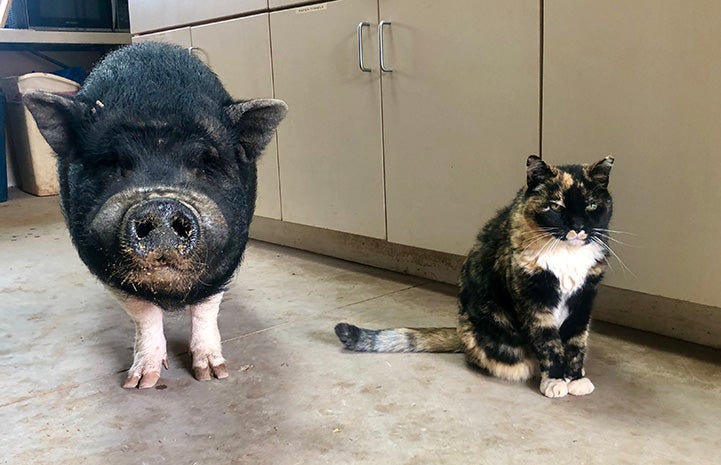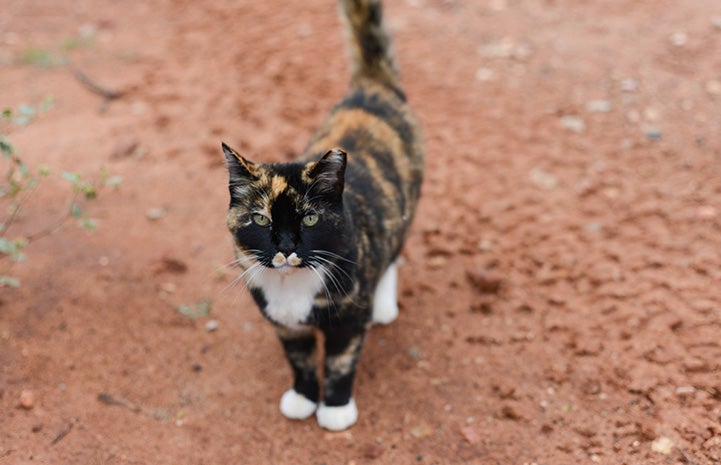 Read more:
Rescued cat comforts adopter during his panic attacks
Photos by Molly Wald, Ann Hepworth and Rosalie Wind