How a senior cat is changing the life of a senior adopter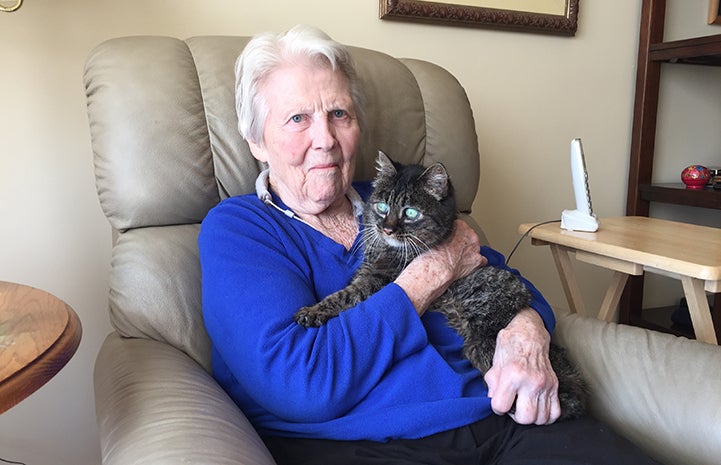 Friend of a woman who is 94 years old and in an assisted living facility adopts a senior 20-year-old cat for her to provide her with companionship.
By Nicole Hamilton
Best Friends in Utah works collaboratively with animal rescue groups, city shelters and passionate individuals who are all dedicated to the mission of making Utah a no-kill state. As part of this mission, Best Friends hosts adoption and fundraising events, runs the Best Friends Pet Adoption Center in Salt Lake City, operates two spay/neuter clinics and leads the No-Kill Utah (NKUT) initiative. Together, we will Save Them All.
At 20 years young, Daisy, a beautiful brown tabby cat, had already lived a very long life. She probably wasn't expecting to be dropped off at the North Utah Valley Animal Shelter, but that's where she found herself when she was surrendered by her family.
It's sad that Daisy lost her home at a time in her life when she should be basking in her golden years, but there was an incredibly happy life still in store for this senior cat. Soon after Daisy arrived at the shelter, she was transferred to the Best Friends Pet Adoption Center in Salt Lake City, where she met a woman looking to adopt a cat for her 94-year-old friend and mentor, whose life had just changed, too.
A place where elders are respected
Senior cats like Daisy are at a disadvantage if they find themselves at a shelter, where most of the other cats are younger and have long lives still ahead of them. Potential adopters gravitate toward kittens and young cats, and senior cats can be overlooked.
In Daisy's case, another obstacle had the potential to give an adopter pause: She has a mild heart condition known as hypertrophic cardiomyopathy, and while she doesn't need medication, her heart needs to be monitored on a regular basis.
At the pet adoption center, Daisy got the care and attention she deserved as a regal older kitty who's been around for two decades. She had plenty of space to explore and the room to relax. It didn't take long for everyone at the center to fall in love with the sweet and easygoing elderly cat. They could see wisdom in her eyes, the kind that comes with walking this world for a very long time. All she needed was an adopter who saw it, too.
How we're working with you to make the U.S. no-kill by 2025
Cats are family
Barbara had just helped her mentor and friend, Jan, move from Colorado to a senior living facility in Orem, Utah. At 94, Jan, a former professor at the University of Utah, wanted to be closer to her extended family.
Jan had always considered her cats as family, and she'd miss having one around when she moved to the assisted living community. Barbara thought that maybe she could help Jan adopt a cat, but quickly dismissed the idea. It wasn't practical, she decided, given Jan's limited mobility. But then she decided to try it anyway. She reached out to Mindy Hill, Covington Senior Living's general manager, to see if she'd permit Jan to have a cat. Her response surprised Barbara.
The many benefits of pets for seniors
Mindy not only approved Jan having a cat, she said they'd make it easy by feeding the cat and cleaning the litter box daily for a small monthly fee. "Multiple studies have proven that seniors greatly benefit physically, psychologically and socially from pets," says Mindy, who was already in the process of creating a pet therapy program at the assisted living community when Barbara approached her. "Since we already clean and maintain Jan's apartment every day, it was no problem adding a few extra responsibilities to the list."
Now all Barbara had to do was help her friend find the right cat. A rambunctious kitten wouldn't be a good fit, but a senior cat would be a perfect match.
A new beginning for a 20-year-old cat
"I fell in love with Daisy," says Barbara, recalling the first time she met her at the Best Friends Pet Adoption Center. "She had beautiful green eyes like little flashlights, and when I talked to her, she didn't run away."
She couldn't believe her luck when she learned that Daisy was 20 years old. To her, it was a sign that Daisy was the perfect cat for Jan. It was easy to imagine Daisy and Jan living together in the apartment, so she adopted her that day. As for Daisy's heart condition, Barbara made sure to find a veterinarian nearby who could provide regular checkups.
"We all wanted to see Daisy go to a home that we knew could give her the medical care she needed and a quiet, cozy environment to spend her golden years in," says Michelle Paramore, volunteer coordinator at the center. "The match could not have been more perfect."
Help cats like Daisy in your community
Senior cat adoption
Jan's face lit up the moment she first held Daisy, who quickly made herself at home by sleeping on the bed with her at night. The two became instant friends, and now Jan calls Barbara every day to give her updates about Daisy, who has recently begun jumping up into her lap.
For a former college professor known for her independence, life in a retirement community had the potential of being lonely for Jan, despite being close to her extended family. Adopting Daisy has given Jan something — and someone — to look forward to each day. "She tells me her life has changed now that Daisy is there," says Barbara. "She is such a joy."
Photos courtesy of Barbara Yerrington and the Best Friends Adoption Center in Salt Lake City