How a sweet senior cat found his way to treats, sunshine and a new home
After losing his home at age 20, Sam seemed ready to give up on life, but his foster mom wasn't about to give up on him.
By Ana Merkulova
These days, Sam leads a balanced life. A pounce or two at a wand toy is followed by a two-hour nap on the catio in the fresh air. His mom, Robin Reddy, diligently moves his bed into the shade as the bright Utah sun makes its way across her yard, "I worry about him getting too much heat," she says.
She talks fondly of her "foster-fail" — happy and relieved that he's thriving — but also fully admits that for a long time she wasn't sure if Sam would ever be able to adjust.
Back in February, Sam was in a pretty rough shape. His previous person had moved to a nursing facility. And in addition to the stress of losing the home he'd known for a long time, Sam was dehydrated, underweight and had stomach problems. He first ended up at a rural shelter before coming to the Best Friends Lifesaving Center in Salt Lake City.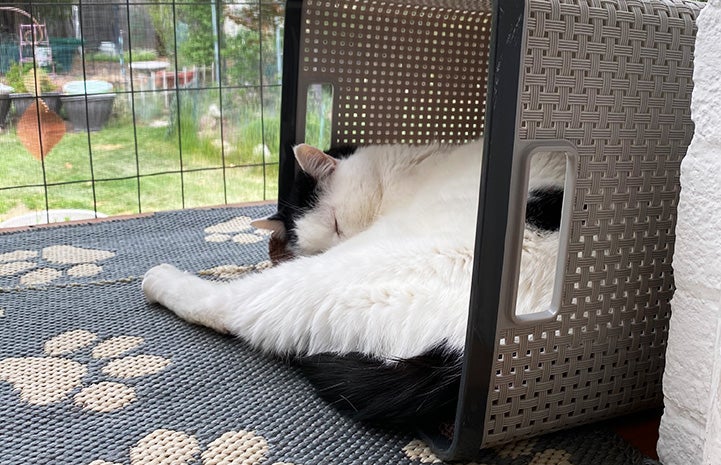 Saving Sam
The team at the center immediately went to work helping Sam (known then as Snowflake) feel better. He was given a special diet for his stomach issues and within a few days he was on the mend. But even though Sam's body was recovering, he was still having a hard time adjusting to life at the center.
Having spent most of his life in a home, the shelter environment was a shock. He began to sleep more and move about less, hardly eating and rarely leaving his kitty bed, "I would try to love (on) him and offer affection, but he was completely shut down and I knew we needed to get him into a foster home," says Rhoney Farrimond, volunteer coordinator. And she knew just the right person for the job: Robin Reddy.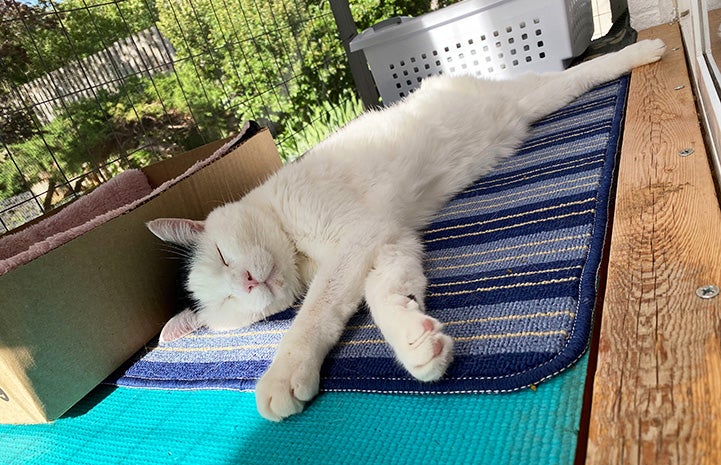 Volunteer saves the day
A volunteer veteran, Robin has been comforting, fostering and loving the center's cats for more than five years. Rhoney knew that if anyone could make a difference in Sam's life it would be Robin.
"She is drawn to animals who need the most care and has the patience and knowledge to take care of them," says Rhoney, who's hunch proved correct: Robin took to Sam and his trademark cute old man meow almost immediately.
After Robin brought Sam home, she decided to try and get him a new family. She really wanted to find a place where he could be the only pet and be spoiled with all the attention he deserved in his golden years. Robin thought that her own home, with two young cats and a dog already in the mix, didn't quite fit the bill. And though she tried to make some matches, none of them worked out.
Meanwhile, Sam had his own ideas of a perfect home (namely, Robin's) and he was slowly getting used to the comforts of his foster home. First, he stayed in his bed, then he slowly began to venture out into the rest of the foster room. It took weeks for him to feel confident enough to explore the whole house, but once he did, he had no plans to leave.
Seeing how well Sam was adjusting at her house, Robin knew that she simply couldn't make him go through yet another change ― not at 20 years old. She gave up looking for someone to adopt him, because it was clear that the sweet little old man had already decided that he was there to stay.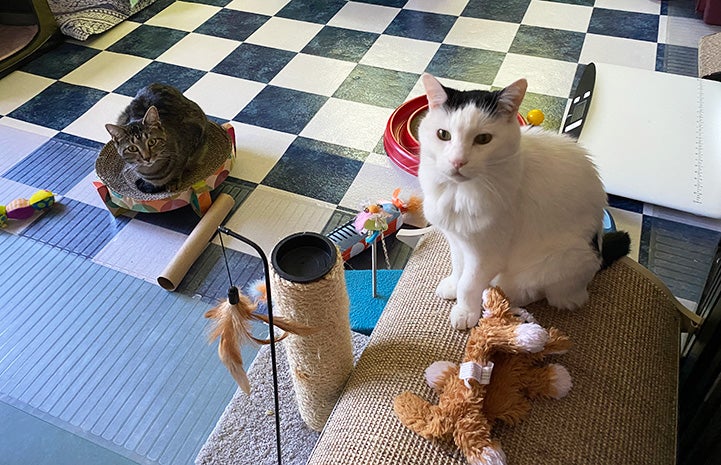 From wallflower to Velcro cat
Though Robin has been taking care of Sam since March, she decided to wait until May to make his adoption official. Now he's formally a member of the Reddy household. "My Velcro cat," Robin calls him. Sam follows her from room to room, always on the lookout for treats or a bit of catnip (his favorite) and always ready to disarm with his sweet meow.
Even though there's an 18-year difference between him and his younger brothers, Sam manages to hold his own and can still get quite peppery, "Yeah, he does a pretty good job of telling them he's had enough playtime," Robin says with a laugh.
Once in a while, he'll get the zoomies (usually at 3 a.m.) and rush about the house at a respectable speed. His favorite pastimes are naps, treats and watching the birds on the catio — in short, all the good things a cat should enjoy in well-earned retirement. He even gained a much-needed one and a half pounds, thanks to a good diet and plenty of relaxing in the sunshine.
Now Robin says she has a greater appreciation for adopting older animals, thanks to Sam. "As short as his life may be, it's still a worthy life," she says, adding that she encourages people to open their homes to a senior pets because they show us how precious every moment is and remind us to make each day worthwhile.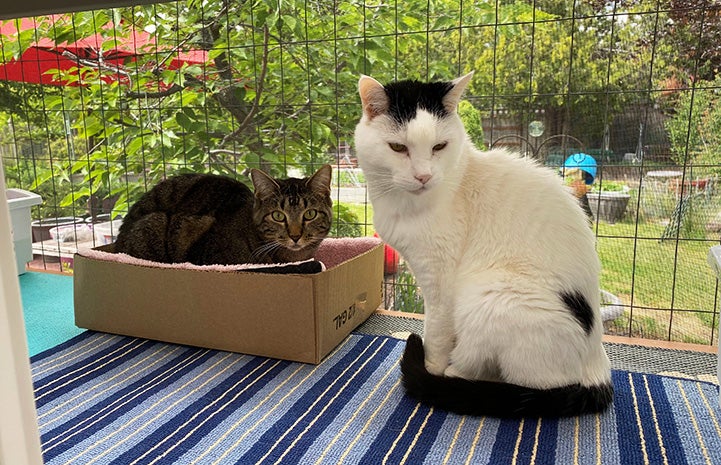 Best Friends in Utah works collaboratively with animal rescue groups, city shelters and passionate individuals, all dedicated to the mission of making Utah a no-kill state. As part of this mission, Best Friends hosts adoption and fundraising events, runs the Best Friends Lifesaving Center in Salt Lake City, operates a spay/neuter clinic and leads the No-Kill Utah (NKUT) initiative. Together, we will Save Them All.
Photos courtesy of Robin Reddy