How two cats become the best of friends
Image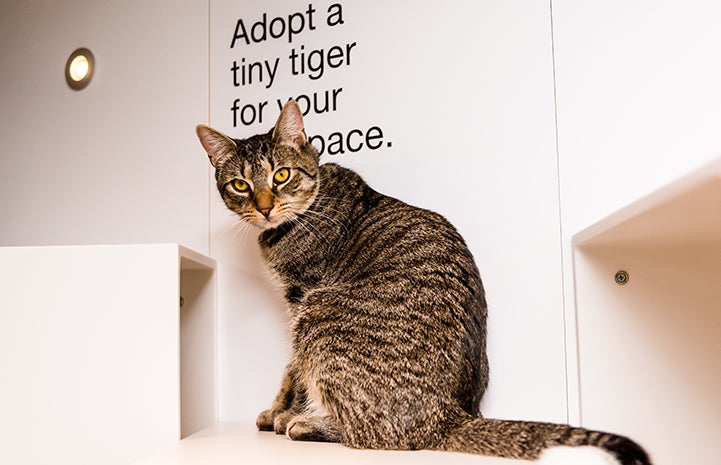 Cat from Happy Homes Animal Rescue comes to Best Friends Pet Adoption Center in New York City, where he meets another cat who becomes his best friend.
By Nicole Hamilton
Best Friends in New York works collaboratively with city shelters, local animal welfare organizations and individuals to save the lives of pets in shelters in New York City and the surrounding tri-state area. As part of this work, Best Friends has a national lifesaving concept space and pet adoption center in SoHo, hosts adoption and fundraising events, and runs a foster program in partnership with Animal Care Centers of New York City. Together, we will Save Them All.
When you're the new guy trying to fit in with the crew, it's good to have a friend who has your back. That's what a shy cat named Archie discovered when he arrived at the Best Friends Pet Adoption Center in New York City. Archie arrived at the center through Happy Homes Animal Rescue, a Best Friends Network partner, as part of the center's mission to help partners' pets get adopted.
At first, Archie was timid around people and other cats. He liked to keep to himself and would hide in a cubby until it was time to eat. As soon as he finished eating, he'd retreat again so no one could see him.
It's perfectly understandable and quite common for cats to be timid when they find themselves in new surroundings. But the longer Archie hid from everyone, the longer it would take for a potential adopter to see his sweet and gentle personality and decide to give him a home.
With gentle encouragement from the adoptions team, Archie started to feel more confident. And then one day a new cat named Gus arrived. He'd come to the adoption center after being surrendered to Animal Care Centers of NYC.
We'll never know why Gus chose Archie to be his new best friend, but that's what he did. And it made life happier for both cats.
More about Best Friends no-kill initiatives
The pounce that started it all
"Gus was very insistent on becoming friends with Archie," says Jeanette McManus, adoption center foster and adoptions coordinator. "He would follow him around the room and wait for him beside his cubby."
With Gus's help, Archie started spending more time out where people could see him, and when the adoptions team spotted Gus and Archie curled up together enjoying a nap, they knew Archie had turned an important corner.
Then one day, they saw Archie surprise Gus by pouncing on him as he came out of his hiding spot. "Since that day, they were together 24/7," says Jeanette. "It's a win/win. Gus got a buddy to play with, but it also helped Archie come out his shell and become more confident."
The two cats were helping each other's chances of being adopted. But that's what friends do: They bring out the best in each other so that they each can live the very best life possible.
Going home, together
One Saturday afternoon, Melissa and her husband Omar decided to visit the adoption center where they planned to adopt two kittens. There was just one problem with their plan: Kitten season was weeks away, and there weren't any at the center that day.
Instead, the adoptions team suggested they meet Gus and Archie, and it didn't take long for Melissa and Omar to see how different their personalities were from one another, and yet, how much they loved each other.
"Gus immediately came over to say hello," says Melissa. "He loved rubbing up on us and was clearly comfortable with people. Archie came out for a bit and quickly ran to his spot by the window, away from everyone. After some time, he came back out for some treats."
Archie took his cue that day from Gus. When he saw how comfortable Gus was with Melissa and Omar, he knew it was safe to come out and get to know them, too.
The adoption center turned out to be the beginning of a beautiful forever friendship between Gus and Archie, because that day, they went home together.
Two cats liven up the home
As soon as Gus arrived at Melissa and Omar's place, he strutted all over the apartment and made himself at home. Archie, on the other hand was nervous and hissed when the carrier door opened.
Within a few days, Archie began feeling more confident, but he would only come out from hiding when he saw Gus nearby. But by the second weekend, Archie felt safe in his new home. He doesn't hide any longer, and although he doesn't like to be picked up, he won't turn down a massage or the chance to be petted.
"Gus is the mayor," says Melissa. "He rules the home and enjoys playing with Archie. He loves to eat and get treats. Sometimes he can be a bit demanding, like waking us up at 4 a.m. to basically ask us for some grub."
Archie is still the shy one, but he's rekindled his love of pouncing on Gus, just like the good ol' days at the adoption center
"Gus and Archie have taught us that our home needed their craziness," says Melissa. "We are meant to be parents to these felines and truly love them."
Photos by Stacey Axelrod and courtesy of Melissa Santsteban