Humane Animal Treatment Society and an older dog named Sally
Image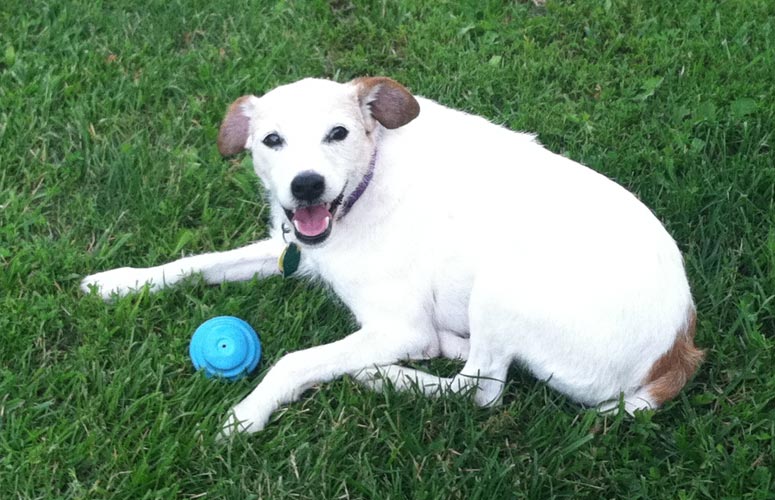 Humane Animal Treatment Society receives some financial aid from Best Friends. HATS helps a special older dog get adopted.
By  Denise LeBeau
Sally, a cute terrier-mix dog, had a not-so-happy ninth birthday. Her people, concluding that she wasn't getting along well enough with their new younger dogs, decided Sally was the one who had to go.
Humane Animal Treatment Society
Luckily for Sally, Humane Animal Treatment Society (HATS), an organization in Mt. Pleasant, Michigan, that helps owner-surrendered pets, received the down-on-her-luck pup with open arms. As a No More Homeless Pets Network partner, HATS is eligible for a variety of support from Best Friends Animal Society.
The Network is a Best Friends program that helps rescue organizations and municipal shelters across the country to end the killing of dogs and cats in our nation's shelters. And HATS really needed help.
Summer DuBois, HATS director of operations, explains that Sally's situation is a good example of HATS' work. "This sweet girl was displaced by two younger dogs," says Summer. "Understandably, when she entered the shelter she was withdrawn and depressed. Staff and volunteers gave her extra one-on-one time and she started to come around. But it wasn't the same as being in a home."
It can take longer for senior pets to find homes. So with space at a premium, Summer contacted Best Friends for help with placing some of their older pets. Best Friends supplied $750 in aid, which has allowed HATS to reduce adoption fees for pets seven years old and older. Their goal is to help 30 senior animals go home.
Older dog adoption
Although Sally may be a senior pet, she most certainly is young in spirit. Her spunky, charismatic, Jack Russell-like personality caught the attention of Charles, who after visiting HATS, decided to adopt and couldn't be happier. "Sally and I adore each other. She has bloomed into an absolute sweetheart in just a month, and is as sweet as can be to my wife," he says.
Funds to help pets in need
Marla Browne, Network specialist for the area, couldn't be happier about the way HATS has used the funds. "They go above and beyond to get the animals into the right homes. Helping HATS reach its goals is win-win for the whole community," says Marla. "If folks are on the fence about adopting a senior pet, the lowered adoption fee helps them make that decision."
Summer says: "Being a (Network) partner has helped us increase our lifesaving efforts through adoption, marketing incentives, spay/neuter assistance via grants, and member messages for some of our long-term residents."
As for Sally and Charles, the pair hasn't wasted any time becoming pals for life. "(Sally) rides on my tractor and quad. We go everywhere together," says Charles. "She has learned my directions, crawls and climbs on command and looks wherever I am pointing and calling, proving you can teach any dog new tricks."
Get involved to help animals
Learn more about how Best Friends helps shelters and rescue groups across the country.
Photos courtesy of HATS