Husky finds love on two paws
Grant's missing back feet never slow him down, especially when it comes to finding a family.
By Sarah Thornton
At first glance, you might not notice anything particularly different about Grant. He's a gorgeous gray husky with different-colored eyes and a gentle, friendly personality. He gets excited to meet new people and loves being the center of attention. It's easy to see how he quickly won over everyone at Best Friends Animal Sanctuary. But take a closer look — or simply wait for him to start walking — and you'll see another reason that his arrival caused quite a stir: Grant has no back feet.
Within a day of his arrival, word spread about the special newcomer. When he was a puppy, Grant lost his back feet in an accident, though he never let that slow him down. Like so many animals with different physical challenges, he adapted. At two years old, he was already a pro at getting around in his own way. He couldn't go on very long walks, but hanging out behind the front desk, in an office or in his yard all suited him just as well.
Grant quickly made friends with people and dogs alike. And it didn't take long for someone to find him and fall in love with him. Just two weeks after arriving, he was adopted and heading home with Leslie Carney, her son, Jacen, and the rest of his new family. He even got a delightful new name: Yeti.
'We can help him. We need this dog.'
Leslie was looking for a dog who would be the right fit for her family. Life was changing and she was preparing to be an "almost empty-nester," with just one of her three remaining sons still living with her. "My main thought was that Jacen needs someone to keep him company," she says. "And then I read up on Yeti's story and there was just something … It just stuck with me."
She showed Yeti's picture to Jacen and told him about his special situation. Jacen was immediately taken by the husky with two feet: "We can help him. We need this dog, mom."
[Adopted dog's health problems no match for his family's love]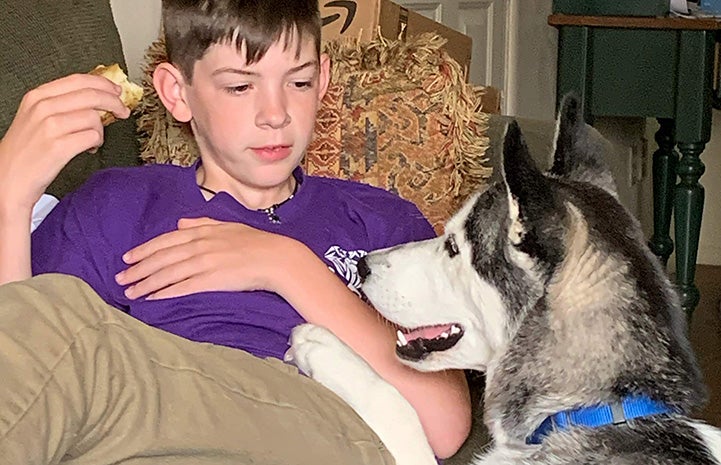 Leslie says Jacen stepped completely into his role as Yeti's person, taking his care seriously and striving to meet his every need. When it's time for Yeti's medicine (every 12 hours for pain), he doesn't want to be even a minute too late or too early.
"I had to talk to him because he was doing it on the dot," Leslie says with a smile (recalling a time Jacen was distressed because he had to go to school and there were still 20 minutes until the 12-hour mark). "I said we can fudge a little, but he was just so determined to be there for him."
Yeti has completely adopted Jacen as his boy, too. When Jacen goes to school, Yeti waits for him. If Jacen isn't feeling well, Yeti is there to snuggle up in bed with him.
Yeti's next best friend is Tigger, who was also adopted from Best Friends. Tigger was wary and just a little jealous of Yeti at first, but that only lasted a couple of days before he realized Yeti wasn't there to take his spot. Soon the two were playing and wrestling like they'd been together forever.
When they play, Tigger is mindful of his friend's back legs. "He's actually the calmer of the two, which is weird," Leslie says. "We didn't expect that."
Yeti sings with Leslie's niece, and Carly the bird tries to bark at him. "He's just part of us," Leslie says. "He knows his people."
Adopting a community
Leslie says it feels like she's adopted a whole community along with Yeti. "I didn't see that coming," she says, adding that she doesn't mind. "We're social people!"
The first member of their adopted community is an anonymous donor who helps provide prosthetics for Yeti. Leslie has looked into different prosthetic options for him and found a builder.
"My main concern was that I want to make sure we get that spine realigned while he's still young," she says. To that end, she's even made plans for rehab and ordered Yeti a swim vest so he can start hydrotherapy. And when Yeti gets his prosthetics, he'll have an audience waiting for him at Southern Utah University, where Leslie's sister works as a recruiter for the engineering and computational sciences department.
"She's talked to several of the professors there about Yeti," says Leslie. And, she adds, they are very excited to show Yeti off once he gets his bionic legs to demonstrate what science can do.
[Three-legged dog teaches young boy: What makes us different also makes us special.]
Everyone, it seems, wants to meet Yeti. Even a trip out in his wagon to get some fresh air (without wearing himself out) has people flocking to see the handsome husky and learn more about him. He certainly doesn't seem to mind all the extra attention, either.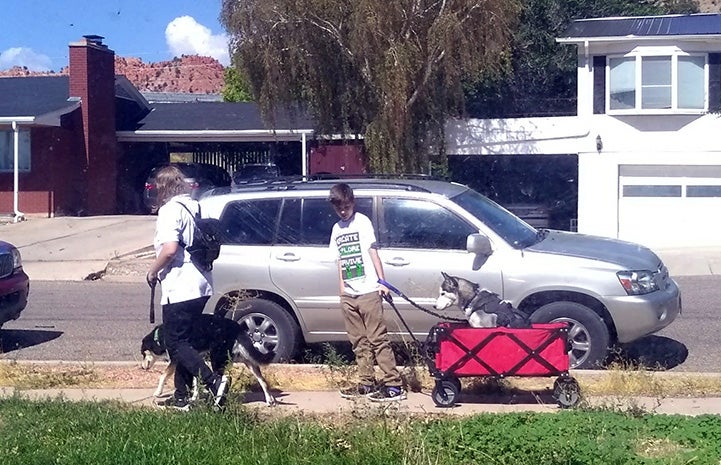 With Yeti stretching beside her, Leslie says: "He's a good dog. He is so awesome ... I can't believe how many blessings have come with him."
Sometimes Yeti needs helping going up the stairs or to be reminded to slow down a little so he's not achy later in the day. But he can jump up on a bed for snuggles as well as any other dog, and he's always down to throw some toys around. Yeti's got his own pack now and he loves each and every member of it.
Welcome a dog into your pack
All dogs deserve a good home and a pack to call their own.
Read more:
Three healthy holiday treats that your dog and all his friends will love
College students come to the Sanctuary and learn lessons in compassion caring for animals with special needs.
Luther the bloodhound helps socialize puppies.
Photos courtesy of Leslie Carney