Injured, abandoned dog loses her leg but not her spirit
Honey Bee was found alone in an empty apartment with a broken leg, but nothing could stop her from finding joy in the moment and loving everyone she met.
By Nicole Hamilton
If the news du jour has you feeling like you've got a chronic case of the Mondays, this story is for you. As Honey Bee's foster mom Christelle puts it, "Animals live in the present." And that's always a good idea, although in Honey Bee's case even when the present moment was positively painful, she still found a reason to wag her tail.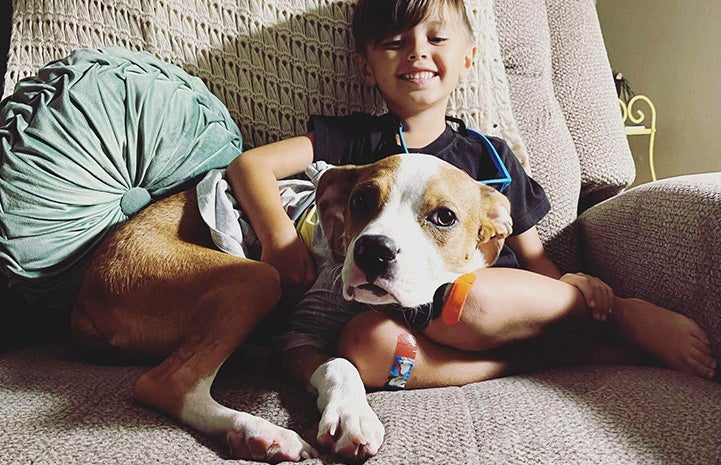 Help for an abandoned, injured dog
Police officers found Honey Bee in an abandoned apartment in Pine Bluff, Arkansas, with a broken front leg. Since there was no one there to tell her story, neither the officers nor the team at the Pine Buff shelter could determine just how her leg was broken or for how long she'd been living alone in the apartment while injured.
What was clear, however, was that Honey Bee needed immediate help for her leg injury, so the shelter contacted Best Friends in Northwest Arkansas for assistance. Within a few hours, a Best Friends volunteer was on the road to Pine Bluff to pick her up.
When she arrived in Bentonville, she went to stay with Ronni Weber, supervisor of lifesaving and care for Best Friends in Northwest Arkansas, who picked up on the dog's glass-is-half-full disposition right away. "Even with all she had been through, she was one of the sweetest and happiest dogs I've ever met," she says.
Honey Bee stayed with Ronni overnight. Then, early the next day, Ronni took her to see a veterinarian who determined that her leg, in addition to being infected, was broken in two places. The recommended treatment was amputation. At that point, Honey Bee wasn't using her broken leg at all, so without it she'd be able to get around even easier than she was already.
[Wanted: old pit bull to love]
From there, Honey Bee went to stay with Christelle Del Prete, a Best Friends development communications specialist in Northwest Arkansas, who offered to foster her for the few days leading up to her surgery and then after the surgery while she healed.
Like Ronni, Christelle zeroed in on Honey Bee's indomitable enthusiasm. "She was actually pretty happy," says Christelle, who was astounded a few days later when Honey Bee returned home following her surgery and in no time was back to her happy, loving self. "She totally changed my view of how animals recover. I was so impressed by how well she bounced back."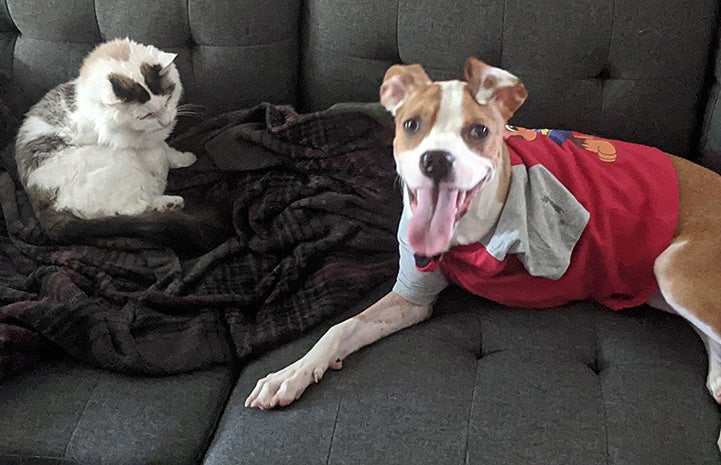 Fostering helps dog stand on her own three legs
At first, Honey Bee rested quite a bit in her crate, but once she was able to play again, she noticed that Christelle's senior crew (her dog Rusty, and cat, Ava) weren't up for playtime.
Luckily, Honey Bee was able to win over her younger dog, Mira, who was bit prickly toward her at first. But few (Mira included) have been able to resist Honey Bee's charm. Eventually, one of the biggest challenges Christelle faced was keeping Honey Bee from playing too much while her incisions healed.
[Dog's two families make life complete]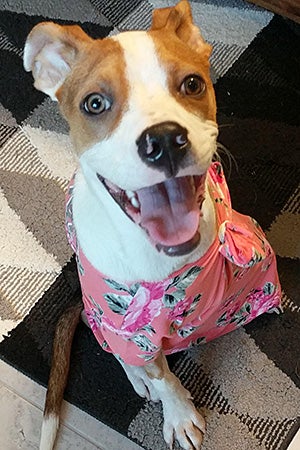 Then there was the risk of Honey Bee chewing on her stiches when they became uncomfortable. She managed to do this once prior to Christelle outfitting her in T-shirts made for toddlers.
As for learning how to walk without one of her front legs, Christelle says it came far more easily to Honey Bee than she expected. Watching Honey Bee fall a couple of times only to get back up and regain her balance reminded Christelle of how pets live in the moment.
Instead of feeling sad about losing her leg, Honey Bee's adjustment to life on three legs was more about to how move around again. In fact, Honey Bee didn't even use the dog ramp placed by Christelle so she could more easily get up on the bed. Instead, she jumped right up without missing a beat.
From left alone in an apartment to a loving home
A little more than two weeks after Christelle started fostering Honey Bee, she had recovered enough to be adopted. As soon as the word got out, Best Friends was inundated with inquiries about meeting the little dog who had been through so much.
[Dog goes from the big city to tranquil waters]
Emily Griffiths learned about Honey Bee from a friend who forwarded the dog's bio and photo. Although Emily had only just begun to think about adopting a dog, when she read about Honey Bee she kicked her plan into high gear.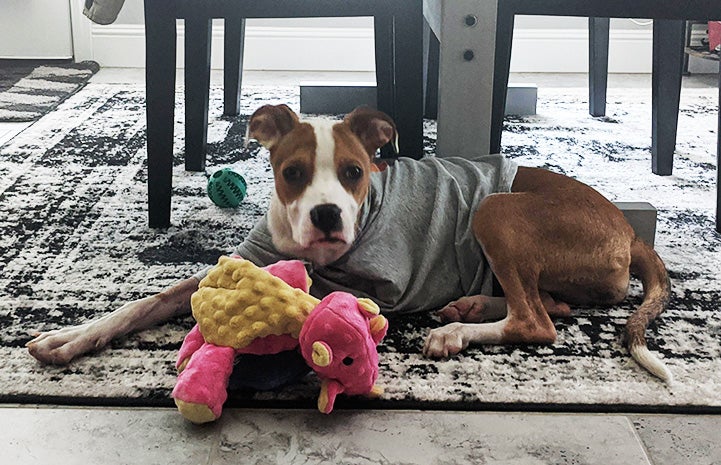 Figuring Honey Bee would be a perfect fit her family (which  includes two young boys), she made plans to meet Honey Bee, Ronni and Christelle a few days later. It took about 10 minutes after the meeting for Emily to decide to adopt.
[Dog learns how to trust people with a little help from a friend]
Today, Honey Bee goes by the name Twig. And it probably comes as no surprise that she's still a kissy cuddle bug who is bringing great joy to Emily and her sons.
"Knowing that she went home and has her own human kids to hang out with and play with makes me so happy," says Ronni. "It's a good reminder of why we do what we do here at Best Friends."
Perhaps she's a reminder, too, that no matter how bad the news du jour seems, everything will be OK.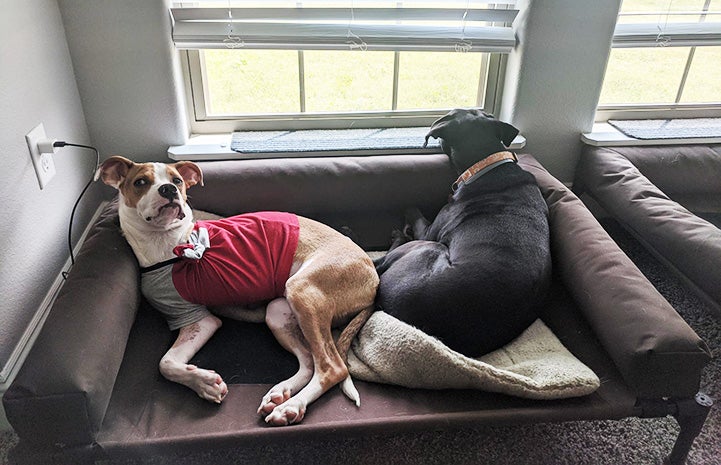 Give joy, get joy
Change a dog's life forever by fostering, even it's just for the weekend. It just might change your life, too.
Read more
Book review: Three summer reads for dog lovers
Foster sees beyond dog's heartworm status and adopts her
Photos courtesy of Christelle Del Prete