Injured kitten loses his leg but makes heroic comeback after life-threatening infection
Little kitten was malnourished and weak, with a broken hind leg that was infected and needed to be amputated. He's doing so much better now.
By Nicole Hamilton
Between television appearances, a magazine feature, photo shoots and adoring fans, Denzel the kitten has spent some time in the limelight — not unlike the Academy Award-winning actor he was named after by his adopters. Like many of the characters portrayed by Denzel Washington, Denzel the kitten triumphed over adversity, proving he's a tiny but mighty survivor.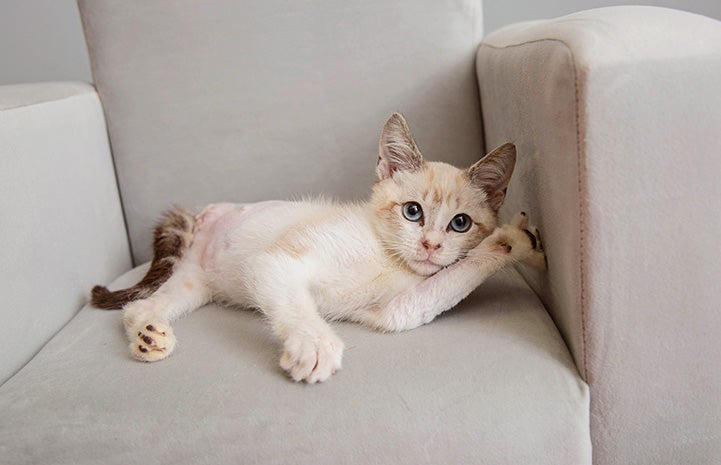 When Denzel arrived at the Best Friends Lifesaving Center in Los Angeles back in August, he weighed just one pound and was so small he could fit in the palm of your hand. Denzel was also in rough shape. One of his hind legs was injured, and he was weak and malnourished.
During an exam to determine the extent of his injuries, the medical team discovered that his leg was broken in several places, and it was infected. There was no time to waste. To save Denzel's life, Dr. Nicole Petshauer, the center's lead veterinarian, would perform surgery to amputate the leg, but Denzel's body was so weak from fighting infection that he could only be under anesthesia for a short amount of time.
It was following surgery, during the first days of his recovery that the team first saw the tiny kitten's fighting spirit. "He did amazing after surgery," says Arlette Keyes, a veterinary technician at the center. "He was still ill from the infection, but with supportive care, medication and lots of love he recovered so well."
In fact, after about three days of recovery, Denzel was already much stronger and healthier. Soon he was ready to get back to the very serious business of being a kitten, and in no time he was standing on his own three feet, playing and tumbling on repeat like the happy kitty he was finally getting the chance to be.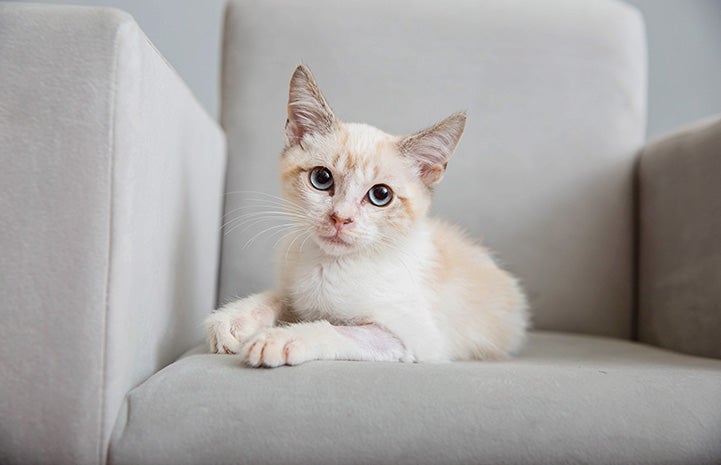 How Best Friends is helping Los Angeles become a no-kill city
A very special day
Luckily, by the time the big Best Friends Su-Purrr Adoption rolled around, Denzel was all better and ready to find a home. During the event held at the NKLA Pet Adoption Center, he met Alexandre and Maila Bourdois, who had stopped by looking to adopt a kitten.
It was Denzel's sweet face and gorgeous baby blues that first attracted them. But upon learning more about his past and how he beat the odds to become the playful kitten he is today, they wanted to bring him home even more. Soon, Denzel was on his way to a new life in their home.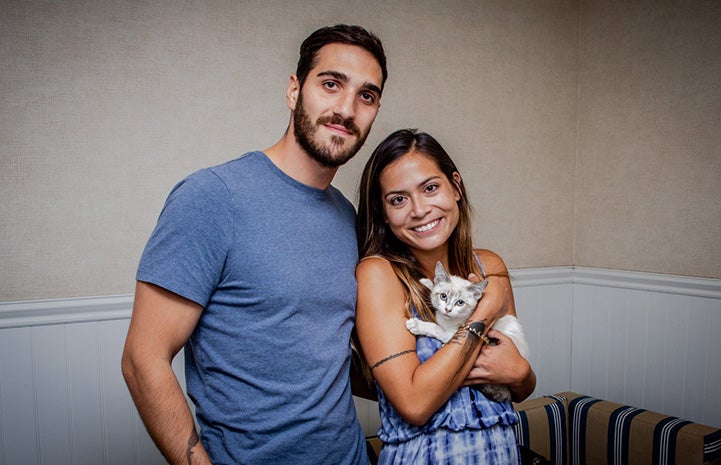 A fearless guy
Since getting adopted, Denzel (whose name at the center was Pelota) has graced the little screen with appearances on "Give a Dog a Home: Live!," a program on Animal Planet that features adoptable pets from Best Friends locations around the country. He's also been featured on People.com and has his own Instagram page. He may not have quite the same superstar status as his namesake, but give him time. Denzel, the kitten, is only six months old.
For now, Denzel is enjoying time away from the spotlight and is focused on spending time with his family. He enjoys curling up with Alexandre and Maila and loves his new little sister, a kitten named Zoe. "He's her big brother and is always cleaning her," says Alexandre.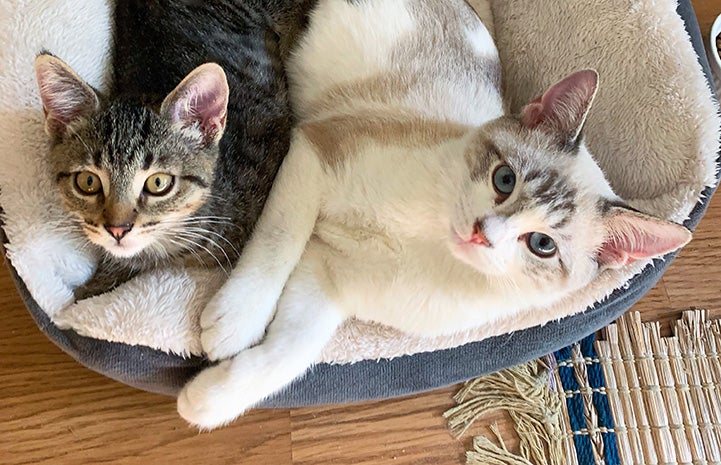 Denzel runs, plays, and tumbles just like a kitten with four legs and Alexandre says that compared to his little sister, the only difference is he doesn't climb quite as much. "It's probably for the best since his sister is already breaking everything," he says.
Alexandre says Denzel is living up to his name, too. "Just like Denzel Washington in all his movies, he's a fearless guy. Nothing will stop him."
Best Friends in Los Angeles works collaboratively with animal rescue groups, city shelters and passionate individuals, all dedicated to the mission of making Los Angeles a no-kill city. As part of this mission, Best Friends hosts adoption and fundraising events, manages two pet adoption centers, and leads the No-Kill Los Angeles (NKLA) initiative. Together, we will Save Them All.
Photos courtesy of Alexandre Bourdois and by Lori Fusaro and Todd Roisman