Johnsy the cat says FIV is no big deal, and so does his adopter
This orange tabby's new dad was nervous about adopting a cat with FIV, but then he got the facts and the two are living happily ever after.
By Ana Merkulova
Editor's note: We know the world is a scary place right now. If you're looking for information on pets and coronavirus, you can find that here. If you're looking for a break from serious news, we hope this pre-COVID-19 adoption story brightens your day!
You see that bright orange ball of tabby sweetness, complete with two perfect pairs of immaculate white socks? That's Johnsy. Suzanne Remito, pet care manager at Best Friends in New York, describes him as a "gentle soul, sweet and sensitive."
For a kitty who started out timid, Johnsy's had a pretty action-packed life. After living as an indoor-outdoor cat in the big city, he lost his home. Then, following a sojourn at the city shelter, he was brought to Happy Homes Rescue, a Best Friends Network partner organization, before finally making his way to the Best Friends Lifesaving Center in NYC.
There's one more thing about Johnsy. He happens to have the feline immunodeficiency virus (FIV), a condition that affects the immune system and makes him more likely to develop infections or have dental issues. Though most cats with FIV live healthy lives with a normal lifespan, a note in a cat's bio about being FIV-positive can make potential adopters uneasy.
Chris Langer admits that he shared that feeling. "I didn't know a lot about FIV before. I was a little nervous at first ― not so much of the disease, but more of the actual care and long-term effects."
Chris' cat of 15 years, fondly remembered as "surly, but sweet when he wanted to be," had passed away only six months prior and Chris was still getting used to the idea of a new pet in his life. "He (Johnsy) is a tabby like my old cat, and I didn't want to feel like I was replacing (him)."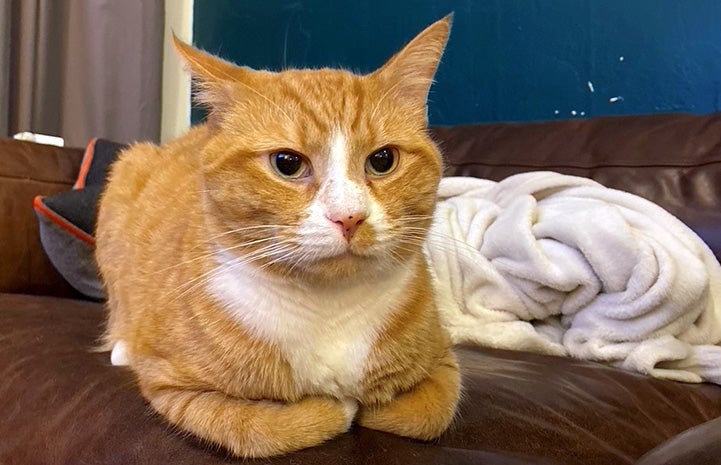 The cat in the 'hidey-bed'
When Chris stopped by the lifesaving center one Saturday, Johnsy wasn't a standout. While the other cats were vying to be petted, Johnsy was wall-flowering it in a personal kitty condo. After meeting briefly, they played for a little bit, but Chris wasn't sure. He decided to go home and think things over.
Suzanne says Johnsy was extremely shy and spent most of his first days at the center hidden away in his "hidey-bed." He was nervous around caregivers and did his best to stay away from the spotlight. Hiding doesn't help cats get adopted and the fact that Johnsy has FIV likely meant it would take longer for the right person to come along and choose him.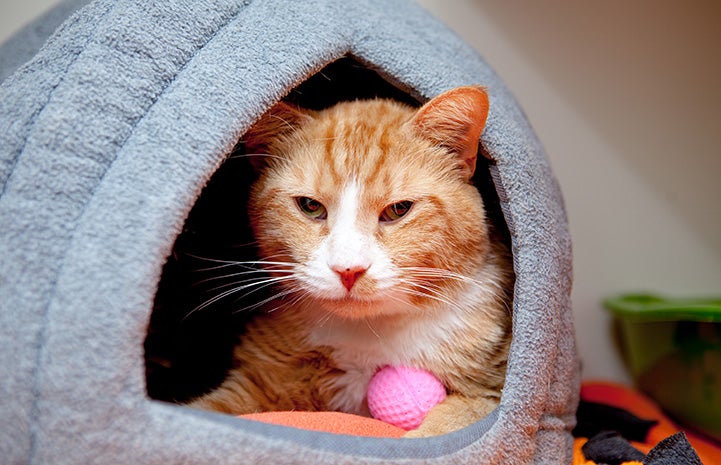 Then something changed. Maybe Johnsy concluded (after some observation) that people were OK after all, or maybe he just got bored being alone. Who knows? Whatever the reason, he decided to crank out charm stat by venturing out of his hidey-bed to check out the rest of the kitty condo and make friends with the caregivers.
Suzanne, who says it's always exciting to see a cat blossom, was over the moon as more people started to learn more about Johnsy. He gained fame as a catnip aficionado, enjoyed scratches under the chin, and with his growing networking skills things were looking up.
Adoption interrupted
By the time Chris came back a week later, Johnsy was ready to get out of that kitty condo. "We met him again and he was so sweet and gentle," he says. "I think this was the point I really knew that he was the one for me." But Chris didn't know that Johnsy also caught the eye of another adopter who had already filled out the paperwork.
A Best Friends staff member who checked on Johnsy's status returned with the heart-wrenching news: "I apologize. This normally doesn't happen, but he just got adopted."
Chris says the news was a bitter pill to swallow, but he was happy for Johnsy. "Devastation set in," says Chris, "but we understood. He was chill, happy and sweet. Anyone should have snatched him up. I left figuring I would keep looking." And so Johnsy went to a new home and Chris resumed his search. It seemed like the end of their brief friendship.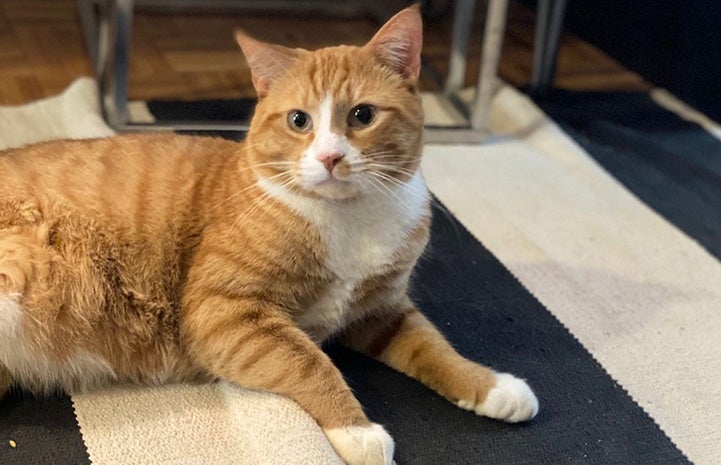 Adoption continued
The Monday after he said goodbye to Johnsy, Chris decided to browse the Best Friends website for new arrivals. That's when he saw a familiar face: Johnsy was back. "I called immediately, thinking it was a mistake," he says. "They said he had been returned that morning. The previous adopter was allergic."
It was 6:30 p.m., but the staff told Chris if he got there in 45 minutes they could complete the adoption that day. "I wavered a bit," he says. "It was a little too good to be true." But after letting Johnsy get away once before, Chris wasn't about to take another chance. He rushed to the center and ran straight for the adoption desk. By closing time, Chris and Johnsy were on their way home together.
Fighting FIV with facts
Asked about why he decided to adopt Johnsy even though he was nervous about an FIV diagnosis, Chris says talking with his vet and doing plenty of research to get the facts made all the difference. "It really is more about keeping him healthy and making sure that if he is sick, he sees a vet right away — which I would most likely do, FIV or not."
For Chris it all boils down to being a good cat parent by doing some extra due diligence, staying on top of wellness checks, keeping Johnsy indoors and promptly addressing any health issues.
And Johnsy? He's not in the least bothered by having FIV. After overcoming his shyness, his next goal is to enjoy life as much as possible, and so far, it looks like he's crushing it. He hangs out with his new dad, basks in attention from visitors, does back flips and chases wand toys. When he wants to indulge in some "cat TV," he heads for the window to observe Chris's garden and chirp to his neighbors.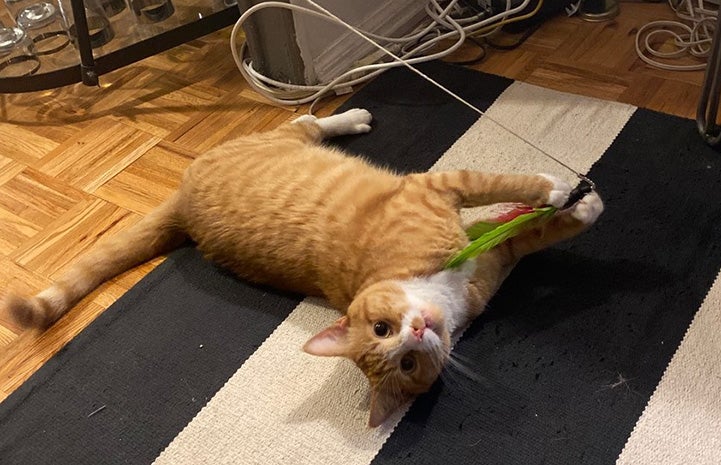 "I've been calling him the mayor, as he seems to make friends with all the neighborhood cats through the window," says Chris. But Chris also notes that as friendly as Johnsy is, he did not get along with a mouse he met on his first day (no mice in Chris's house since then).
It's clear that this pair includes one happy cat and one happy cat dad. Johnsy has appointed himself as Chris' alarm clock, a duty he does not take lightly and performs with great zeal. "I thought it was because he wanted to be fed, but I think he just likes company", says Chris.
His message to other adopters: "FIV is nothing to be scared of and (if scared) chances are you are missing out on a really great friend."
Homeless pets need help right now: Find out what you can do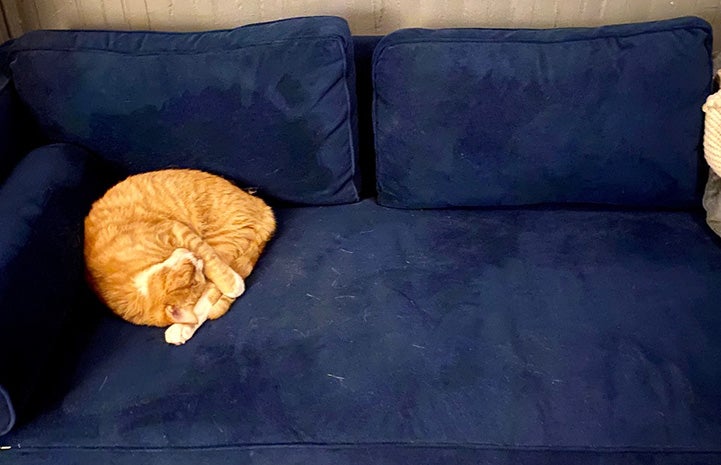 Photos courtesy of Chris Langer and Robert Stoetzel