Keeping the youngest cats safe during kitten season
Safe at Home program in Los Angeles teaches people how to foster and care for kittens at home until they are old enough to be adopted.
By Nicole Hamilton
Dale Wagner was taking her dog on a walk through a park in South Los Angeles one afternoon when she stumbled across a familiar scene: a stray kitten, wandering alone and lost in the park.
"It happens around here all the time," says Dale. She asked others in the park if the kitten was theirs and when they told her it was not she gathered him up and walked home with her dog and kitten in tow. "What else was I going to do? I couldn't leave him there."
She took the kitten to the Los Angeles Animal Services (LAAS) shelter near her home where she planned for him to join other kittens for adoption. But what Dale didn't know yet was how risky that would be. It would be weeks before the kitten could go up for adoption, and that changed everything. Luckily, when she arrived at the shelter she met Vania Campos, a Best Friends kitten intervention specialist. And that's when the little kitten's luck would turn around for the second time in his short life.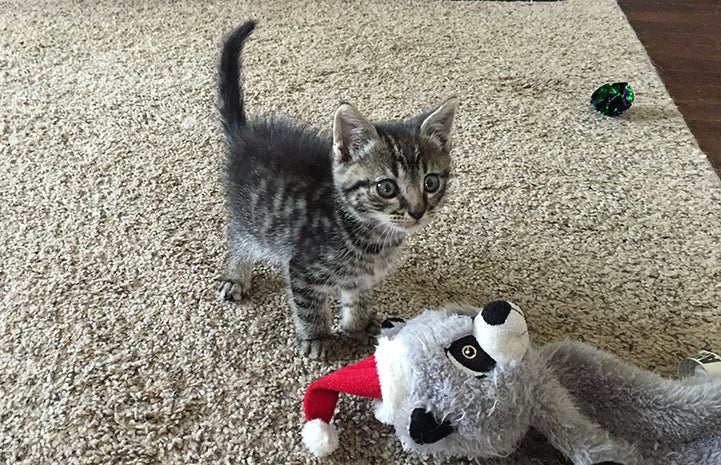 New tools for tackling kitten season
What Dale learned from Vania was that many people who find stray cats take them to shelters with the same goal — to get them adopted. Only that's often not what happens in the end (especially not for kittens). That's because LAAS, like most shelters, lacks the space and personnel to adequately care for young kittens until they reach eight weeks old, the age at which they're big enough to be spayed or neutered, then adopted.
In fact, kittens brought in under eight weeks old, healthy or not, are at risk of being killed by the end of the day if the shelter's foster homes are full and the kittens aren't pulled by a rescue group. It's during the summer that shelters are inundated with cats, and they quickly run out of cage space to house them.
That problem is the reason Vania is stationed outside of the shelter, as part of Safe at Home, a program of Best Friends Animal Society in partnership with Los Angeles Animal Services and Stray Cat Alliance, which began earlier this year. It is part of our No-Kill Los Angeles (NKLA) initiative, an effort to make Los Angeles a no-kill city by 2017. The program is for kittens just like the one Dale found, because while they almost always get adopted quickly once they're old enough to be fixed and placed for adoption, those weeks between birth and adoption are when kittens need the most help.
At the shelter, Vania talked to Dale about an alternative to leaving the kitten there. If Dale could take the kitten home and foster him until he was big enough to be neutered, the staff at Stray Cat Alliance, an NKLA Coalition partner, would supply her with everything she'd need for kitten care, including food and a litter pan, as well as help and advice. When the kitten was big enough, they'd also arrange for him to be microchipped, vaccinated and neutered so that he'd be ready for adoption.  
Dale said yes, and she received ongoing help with kitten care from Karla Quijada, one of three community engagement counselors with Stray Cat Alliance. She dropped off food and other supplies so Dale had had everything she needed quickly. Next, all she had to do was take care of an adorable kitten for a few weeks.
"Programs like Safe at Home are at the heart of what Best Friends does every day," says Marc Peralta, executive director of Best Friends–Los Angeles. "We bring our coalition members and the public together so that we can, collectively, save our homeless pets." Launched in March of this year, Safe at Home has already helped save more than 120 kittens by preventing them from entering the shelter.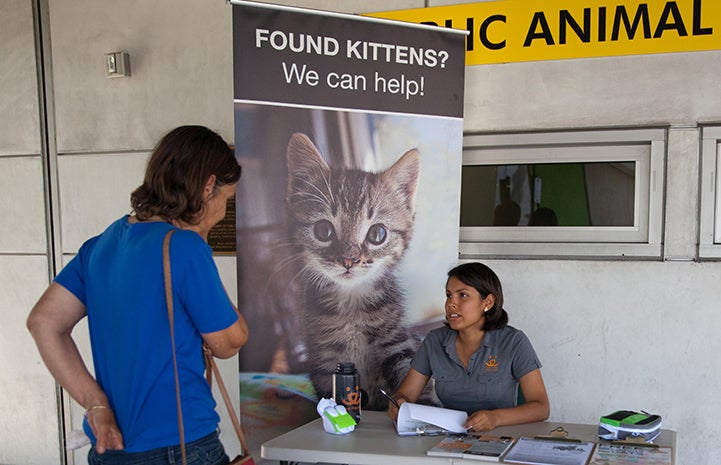 Hailey gets a home
Once the kitten turned eight weeks old, he was big enough to be neutered and was ready to find his forever home. And luckily, that was just in time for the NKLA Super Adoption. He was one of many cats and kittens brought by Stay Cat Alliance to the event, in the hope that he'd get adopted. It was a record-breaking weekend with more than 675 pets finding homes. One of them just happened to be the kitten Dale saved and fostered. His new family named him Hailey.
"It's an example of what happens when we all work together to save an animal's life," said Karla, of Hailey's journey. "Because of the Safe at Home program, Hailey got a chance to find a loving, forever home."
Save the lives of homeless pets
Photos courtesy of Dale Wagner and Vania Campos