Kitten with a fighting spirit goes home for the holidays
This kitten diagnosed with feline leukemia (FeLV) may have a short lifespan, but her life will be filled with fun and joy in her new adoptive home.
By Nicole Hamilton
The first thing you notice about Apple is her sweet face, beautiful round eyes and striking coat that reflects a red sheen when the light hits it just right. But there's something else that makes Apple such a special kitten — something invisible to the eye.
Best Friends–Utah works collaboratively with animal rescue groups, city shelters and passionate individuals who are all dedicated to the mission of making Utah a no-kill state. As part of this mission, Best Friends hosts adoption and fundraising events, runs the Best Friends Pet Adoption Center in Salt Lake City, and leads the No-Kill Utah (NKUT) initiative. bestfriendsutah.org
You see, Apple was born with the spirit of a graceful fighter — able to beat tough medical conditions like a champ. And ever since she came to the Best Friends Pet Adoption Center in Salt Lake City, Utah, and was diagnosed with feline leukemia, this fearless kitty has been teaching others to live for the moment.
Adopt from Best Friends Animal Sanctuary
Kitten beats the odds from day one
Apple arrived at the Best Friends Kitten Nursery with a long list of health issues. Not only did she have ringworm, but then she fell ill and tested positive for feline panleukopenia (distemper), an often fatal virus that attacks the immune system and intestinal tract.  
Both medical conditions would require intensive (and extensive) treatment. And, as if these two diagnoses weren't tough enough, Apple also tested positive for feline immunodeficiency virus (FIV). The tiny kitten seemed to have just about everything wrong with her.
While cats testing positive for FIV are sometimes more susceptible to illness than cats negative to the virus, they can certainly live long and healthy lives. But first, Apple had to survive panleukopenia, and with intensive care from Best Friends veterinarians, she did. Then she had to be clear of ringworm, and with the right medication and plenty of time, she was.
Finally, Apple was healthy enough to be spayed, and then, ready for her forever home, she joined her fellow kittens in the pet adoption center.   

FeLV diagnosis
It looked like smooth sailing ahead for sweet Apple, until a checkup with the vet revealed the feline leukemia, a disease that significantly weakens the immune system. Worst of all, when kittens contract the virus, they often don't live very long because their bodies aren't able to fight off other infections.
While the diagnosis meant that Apple's lifespan would most likely be short, that didn't cause the adoption team to lose hope that Apple would be adopted. In fact, it took the hope factor up a few notches.
"She had a rough start," says Jessica Pollitz, pet adoption center supervisor. "But that doesn't mean she can't have a great life."
It wasn't long before that hope became a reality for the little kitten with a fighting spirit.
A new beginning for a special cat
Wendy and Justin Bylsma weren't planning on adopting a pet during a recent visit to the pet adoption center with their two young children. In fact, it was supposed to be strictly an educational trip for the kids so they could learn more about Best Friends and the importance of rescuing homeless pets.
The family soon noticed Apple, resting peacefully in an area by herself. Drawn to her beautiful, soft coat and sweet face, they took turns holding her and listened as Jessica told them about Apple's history and health conditions.
The thought of leaving Apple that day at the center made Wendy and Justin a little teary-eyed, so they decided to bring her home.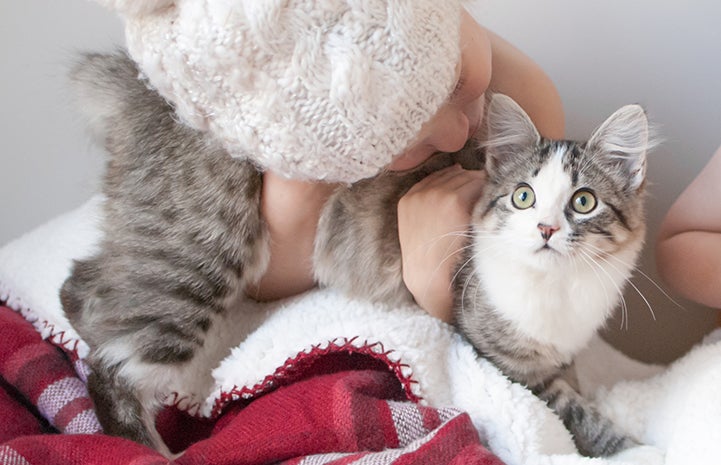 Learning compassion from a kitten
Others might have been overwhelmed at the thought of caring for a kitten with a potentially terminal condition, but Wendy and Justin saw a chance to give a special kitten the life she deserves.
It also was an opportunity to teach their children how to be loving, compassionate people. "They're learning that sometimes we have to put ourselves in uncomfortable situations to make others feel better," says Wendy.  
Today, Apple is feeling good in her new home. Turns out, she's got a real playful side and loves sneaking up on people when they least expect it. Mornings, for example, provide the opportunity to hide under the bed for a surprise attack when someone's feet first hit the floor. "She's definitely livened up this house," says Wendy. "She's the source of a lot of laughter and fun."
When Apple's energetic nature sometimes gets to be a little much, it reminds everyone how important it is to be patient. "Our time with Apple may be short, there's never a guarantee of tomorrow," says Wendy. "She reminds us to enjoy the moments we have together."
Donate and help kittens like Apple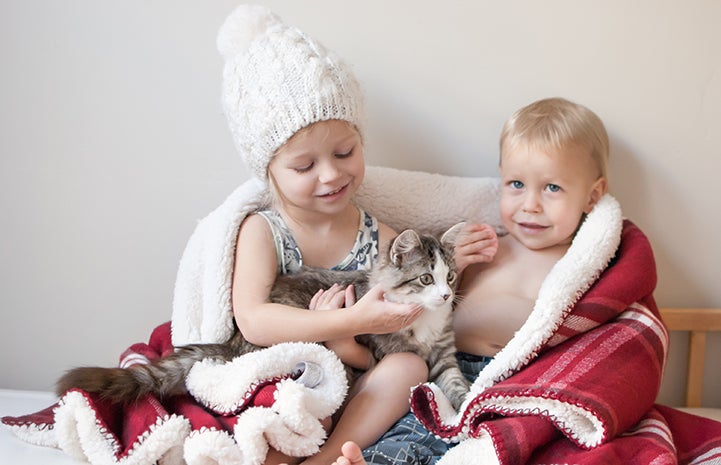 Photos by Wendy Bylsma