Kitten helps dispel myth that living with feline leukemia is a 'cat-astrophe'
Perry the kitten is positive for feline leukemia, but he is living his best life despite his diagnosis. He's playful, polite, and loves dogs.
By Younjee Kim
Meet Perry. He's just one of many cats available for adoption at the Best Friends Lifesaving Center in Atlanta. A playful and polite kitten, Perry happens to have the feline leukemia virus (FeLV), a viral infection in cats that affects the immune system. Despite the condition's serious-sounding nature, cats with FeLV can live perfectly happy lives, and Perry is proof of that.
Move over Miss Manners because Perry's in the house
Soon after Perry arrived at Best Friends from a partner shelter in the Atlanta area, staff members noticed that he was coming down with an upper respiratory infection. They felt he'd benefit from some time in a home where he could rest and recover. While FeLV is contagious to cats, it cannot be transmitted to humans, dogs or any other animal, so he'd need a foster home where he'd be the only cat. That's how Perry's foster mom, Erin Granados, experienced the sweet kitty's charming personality firsthand.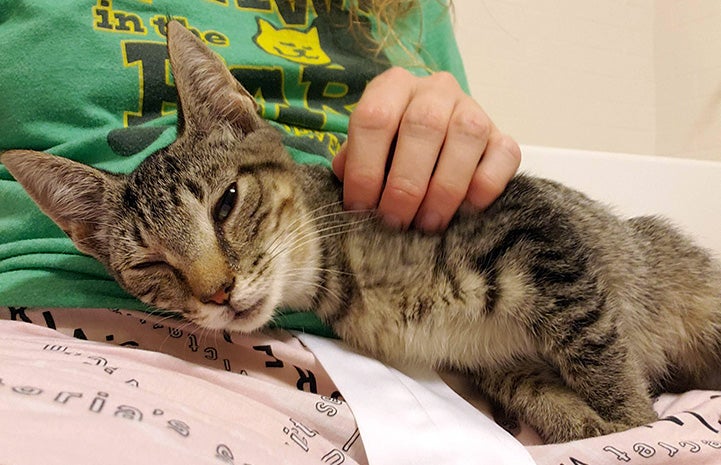 When Perry first arrived at his foster home, Erin kept him downstairs away from Obie, her dog, until she could get to know him. She put up a baby gate to keep him in the designated area. Of course, Perry could have easily jumped over the gate, but nope — the courteous kitty remained where he was asked, which soon led to free reign of the entire house. That's a pretty big deal in the Granados household, because Perry is the very first of Erin's foster cats to earn this honor.
"Perry is a playful kitten who's well-behaved and easy to care for," says Erin. "I was continually impressed with his manners, especially since he was the only cat in the house and didn't have another cat teaching him."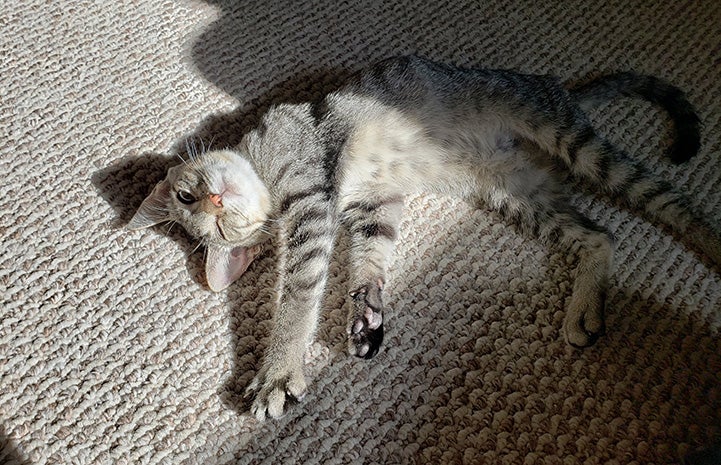 Making furry friends
During Perry's stay with the Granados family, he also displayed an affinity to Obie. A senior dog recovering from a recent medical procedure, Obie wanted to rest in solitude. But Perry slowly inched his way over to keep the dog company and eventually ingratiated himself to his new canine companion — even using Obie as a pillow. "I was most impressed with how Perry interacted with our dog," says Erin. "He was so patient and respectful of Obie." When he wasn't cuddling with Obie, he soaked up the warmth of a sunbeam and learned about the joy of watching TV.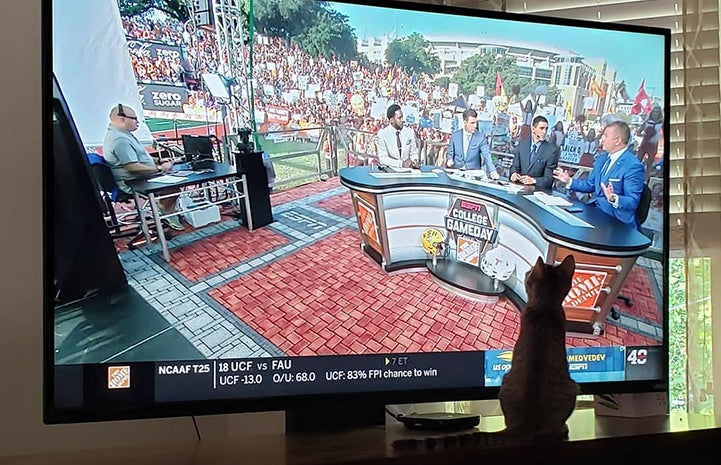 Once Perry recovered from sniffling and sneezing, he was cleared to come back to the lifesaving center. Now that the staff knows how much Perry likes dogs, he's been sharing an office with cat-friendly pups and charming everyone he meets.
Special cats, special considerations
Although cats and kittens with FeLV require special consideration and may have a shorter lifespan than kitties without it, they can be wonderful companions for humans and other animals outside of their species (dogs, for example).
Because there is no cure for FeLV, cats with the virus should be kept indoors to avoid spreading the disease, and they cannot live, mix or mingle with cats who don't have it. FeLV can compromise the immune system, so cats with the condition should have regular veterinary exams to keep them as healthy as possible.
While it's true that Perry has FeLV, he doesn't know he's any different from other cats. He just knows that his time in a home was pretty great. Though he hasn't yet been adopted, one day soon he'll get the ultimate gift — a home of his own. If he's extra fortunate, he'll have a dog to be his new best buddy.
Adopt a new feline family member near you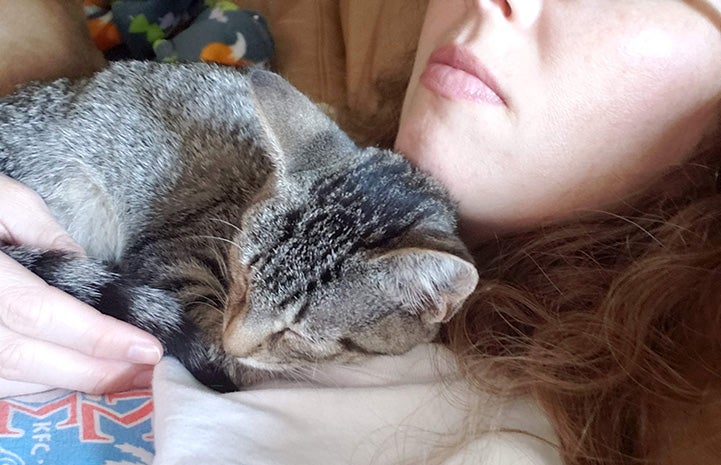 Best Friends in Atlanta works collaboratively with area shelters, animal welfare organizations and individuals to save the lives of pets in shelters in the region. The Best Friends Lifesaving Center is a hub for animals and a base for local programming and coalition-building to help the metro-Atlanta area in its final push to achieve no-kill, while strengthening the movement in the Southeast. Together, we will Save Them Al
Photos courtesy of Erin Granados