Kitten kits prepare the public to save lives
Grant from Best Friends provides enough kits to support 1,800 kittens in southern California.
By Liz Finch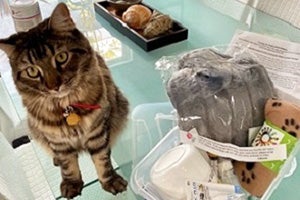 Dawn, who has worked at a rural Iowa animal shelter for about five years recently shared her experience about being in the thick of "kitten season," which typically runs from May to September. During this time, kittens of all ages flood through the doors of most shelters around the country. They are often brought in by good Samaritans who trust that animal welfare organizations can find homes for all of them.
"They don't understand that we are overwhelmed," Dawn says. "The other day, when probably the 20th person that morning approached the counter with a box of orphaned kittens, I blurted out: 'Shelters are the worst place for these delicate kiddos. These babies would have such a better chance at surviving and finding homes if you just took them back home and took care of them.'"
Dawn says to her surprise the woman said she would be willing to do that if someone showed her how. "I was so happy to hear that, I nearly burst into tears," says Dawn.
Though the experience was a novel one at the small organization where Dawn works, it is becoming increasingly common at shelters of all sizes around the U.S. In fact, many shelters have started stocking prepacked kits of supplies to care for kittens and make the process of recruiting new foster volunteers as smooth as possible.
[10 videos for National Kitten Day]
"Shelters have really shifted their mindset around whether they need to take in every kitten," says Kaylee Hawkins, Best Friends Pacific region director. "They realize that they haven't been able to provide the support and lifesaving outcomes they would like."
Kaylee says that COVID has made people realize that they actually can lean on the community to a degree that animal shelters have not historically been comfortable with. "If we just ask people for help, they often say yes. Kitten kits are a simple but effective tool that can be part of that ask."
Setting up SoCal kittens for success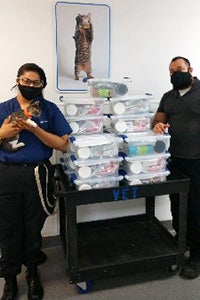 Since 2016, the Helen Sanders Cat Protection and Welfare Society (CatPAWS) has been building and supplying kitten kits to Long Beach Animal Care Services (LBACS) in Los Angeles County.
Deborah Felin, CatPAWS co-founder and board member, says the kits (costing $55 to $60 each) consist of plastic bins filled with powdered formula, bottles, syringes with miracle nipples, a tube of the probiotic Benebac and a warming disk or hot water bottle with a fleece cover. They also come with a guide on how to care for kittens that haven't yet been weaned and a list of online resources.
"Having these kits on hand has led LBCAS to be very successful at encouraging the public to foster kittens," she says. "Best of all, people become so invested that many kittens are adopted by their foster families or to friends. They never come back to the shelter at all."
[Kittens give foster dad more reasons to be thankful this Father's Day]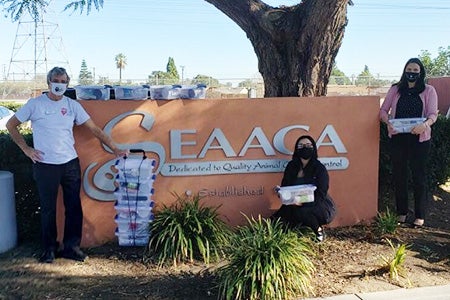 The success of the kitten kits inspired Best Friends to present CatPAWS with a $50,000 grant to build enough kits to help 1,800 kittens from the beginning of this year to the middle of 2022. (The target figure was based on the average litter size of three kittens.) Those funds are allowing the organization to expand beyond just supplying LBCAS, and now kits are also being provided to Orange County Animal Care Services, Los Angeles County Animal Care and Control and SEAACA.
LBACS director Staycee Dains says that during a Zoom call many shelter directors showed interest as she spoke about the success of her program.
"It may surprise some people to learn that shelters in the same state, county or even city may not frequently connect," Staycee says. "With COVID, shelters throughout Los Angeles County began meeting monthly to share strategies about how they were navigating the mandatory closures. Naturally, the conversation turned to kittens and everyone started to realize that they could successfully change the way they work with kittens in their communities."
Denise Woodside, executive director of SEAACA, which began receiving kits from CatPAWS in March, says: "Kitten programs that enlist the community as a solution are a proven model that has an incredibly positive impact on the feline population, on shelter staff and on members of the community. It's past time that shelters stop being afraid of enlisting the public in saving these littlest lives."
Based on her recent positive experience, Dawn is hoping her shelter will do just that. "I always wondered why people who cared enough to bring these absolutely adorable babies to us wouldn't want to take care of them," she says. "As it turns out, they do. We just never asked."
Become a kitten crusader
Kittens of all ages are flooding into shelters right now, and they have a greater chance of thriving and getting prepared to join loving families if they are fostered in homes.
Find foster opportunities near you
Read more
Rescued cat comforts adopter during his panic attacks
5 everyday heroes helping animals
Photos courtesy of CatPAWS