Kitten lends a helping paw to her blind brother
Byron may be completely blind, but he's thriving today thanks in part to his partially blind sister, Shelley, who's always nearby to show him the way.
By Kelli Harmon
Life is always easier when you have a friend. Two kittens figured that out after losing all or most of their eyesight when they were just a few weeks old. They arrived at Best Friends in New York with terrible eye infections, and even though veterinarians prescribed antibiotic eye drops right away, the damage had already been done.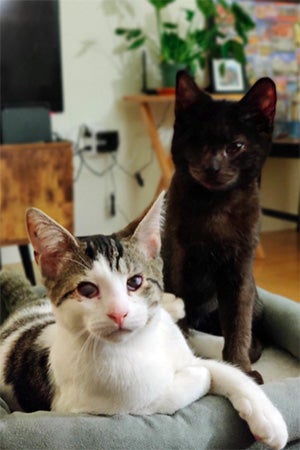 Byron and Shelley were safe in a foster home and beginning to feel better with each passing day when their foster mom noticed that Byron, who is completely blind, relied on Shelley, who retains limited vision. He sometimes felt lost, calling out with tiny meows to his sister. Shelley would come to his rescue, trotting over to him so he could follow her around.
That's how they grew up together, and once they received medical care and lots of love, they thrived and eventually were adopted together. There are two other cats in their new home, and Byron and Shelley fit right in with them.
[Fate and friendship lead to a new start for injured kittens]
With Shelley to show him the way, Byron gained confidence and he no longer gets lost and stranded. Today, he's embraced a love for catnip toys, and Shelley has risen to ruler of the household, playing chase with her new brothers (much to their delight and hers). Yes, life is good with one friend and it's even better with more.
Give pets someone to lean on
Volunteering, whether it's for a few hours a month or a few days a week, can make a huge difference for pets in shelters.
Read more
Not all cats who wander are lost
4 fabulous stories from Best Friends Network partners
Catching up with the poster dog of No-Kill Los Angeles
Photos courtesy of Luiza Helena Santo Nunez