Kitten with rare and serious lung condition is thriving thanks to adopter's persistence and unconditional love
Kitten with rare condition - a nonfunctioning left lung lobe - has a lobectomy to remove it. Now recovered from the risky surgery, he is thriving.
By Nicole Hamilton
A veterinarian found and treated Paco's rare medical condition, which saved the kitten's life, but it never would have happened without his adopter's unconditional love. Paco came to Best Friends in Houston after landing at the Harris County Animal Shelter with his mother, Tawny, and four siblings. But shelters can be stressful places for nursing moms and also aren't ideal for neonatal kittens, with their still developing immune systems. So, Best Friends found them a foster home where they could thrive and grow until they were ready to be adopted.
When that time came, Danielle Regensburger saw a photo of Paco. She had been wanting a Maine coon cat for as long as she could remember, and with his long hair and big, round eyes, Paco fit the bill. So, she made arrangements to meet Paco and adopted him.
Paco filled Danielle's home with kitten energy from day one. He loved playing with Meowth, his big sister, and only took breaks to cuddle with Danielle or lap up his food. But soon after the adoption, Danielle noticed that Paco had a cough.
At first, she figured it was an upper respiratory infection (URI), which is very common in kittens. In fact, Paco and his siblings were treated for URIs while they were in their foster home. When Paco's cough didn't resolve, she took him to a veterinarian, who gave the little kitten antibiotics for what he, too, thought was a common URI.
At first, the medicine helped alleviate Paco's symptoms, but then he started coughing again. All the while, Danielle was in contact with the Best Friends team, which was ready to support her with whatever she needed. She and Paco were part of the Best Friends family after all.
About upper respiratory infections in cats
Determined to find the right diagnosis
Again and again, Danielle took Paco to the vet, who kept giving Paco antibiotics for what he was sure was a URI. Eventually she tried a different vet, who came up with the same diagnosis. But Danielle knew her kitten. Something wasn't right. She was sure of it. Danielle decided to drive Paco to the same vet who had cared for her pets when she lived in a different part of town. It didn't matter that it would take more than an hour to get there. At that point, she would have driven anywhere to get Paco healthy again.
Paco handled being poked and prodded during his visit with the new vet like a little champ. After tests (and more tests), plus a couple of X-rays, the veterinarian thought Paco had a diaphragmatic hernia that likely was a birth defect. He'd need surgery to correct it.
These are the times when friends are essential, and Danielle reached out to everyone she could for support, including the team at Best Friends, which provided a second opinion from a staff veterinarian. After looking at the X-rays, the doctor agreed that surgery was the best option.
Deyra Galvan, events and adoption coordinator with Best Friends in Houston, remembers the update on Paco. "Our hearts broke," she says. "The surgery he would be undergoing was a rare one, but he'd need it to grow and thrive."
That support made all the difference to Danielle. "Best Friends stood my side," she says. "I felt like I was part of the community."
Danielle was both worried and relieved. She didn't like the thought of Paco having surgery, but she knew it was necessary so he could go back to being a fun-loving kitty.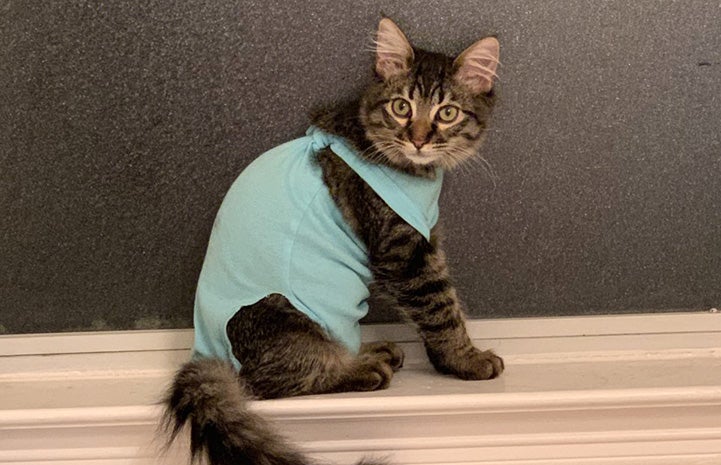 An extremely rare condition
Danielle took Paco to a veterinarian who specializes in soft tissue surgery for his hernia operation. But during the procedure, the veterinarian discovered that Paco didn't have a hernia at all. After some exploration, she saw the issue: Paco's left lung looked completely different than his right. He had a nonfunctioning left lung lobe. Luckily, his right lung was completely healthy, but he'd need a lobectomy to remove the other one.
The vet explained to Danielle that Paco's condition is extremely rare and difficult to diagnose. In fact, it was the first time she'd seen anything like it.
Since the surgical procedure was very invasive, Paco would need 24/7 hospital care until he was healthy and strong enough to go home. Paco proved to be a little fighter, and after just a couple of days, he was able to go home.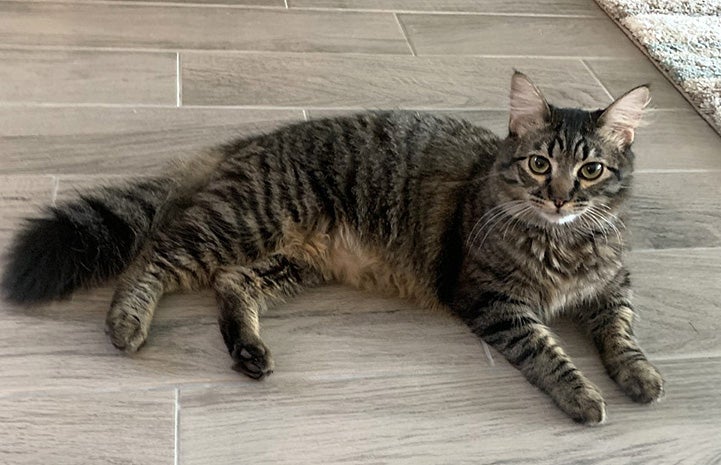 12½ pounds of inspiration
Back home, Paco took it easy with Danielle's help. To make sure he healed completely, Paco wasn't allowed to run, jump or play for two weeks — tough stuff for a little kitten. On top of that, his incision had to be protected, so Danielle made him some special onesies, adapted from baby clothes.
With Danielle's love and attention, Paco began to get stronger and stronger. Is a good life possible if you only have one lung? Judging by Paco, yes, it is. "He's not afraid of anything at all, and he loves all people and animals," says Danielle. "He's got the best personality."
Paco has even been a source of inspiration to others, including Danielle. "He helps lift me up," she says. "He is so resilient and shows me that everything is going to be OK."
At Best Friends, Paco and Danielle are sources of inspiration, too. Deyra says Danielle's recent updates are a reminder of how vast our capacity for unconditional love really is. "Danielle is inspiring," says Deyra. "She's determined to make sure Paco has the best life possible."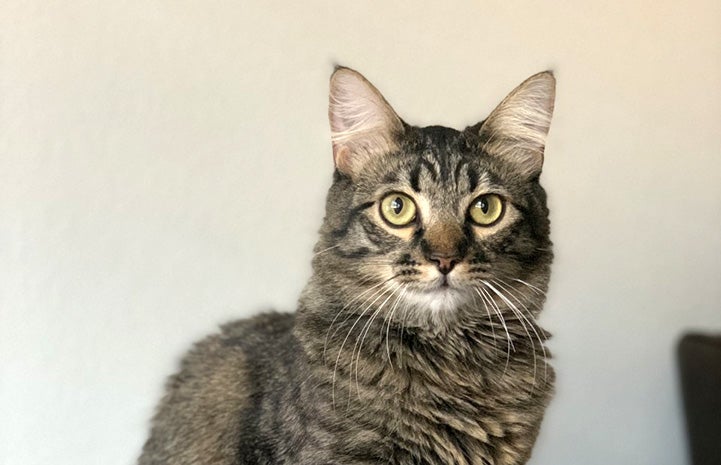 Best Friends in Houston is working collaboratively with city shelters, local animal welfare organizations and passionate individuals to save the lives of pets in shelters in Houston and the surrounding areas. To help Houston become a no-kill city for cats and dogs, Best Friends launched the Coalition to Save Houston's Pets in April of 2018 followed by a community cat program, foster programs for dogs and cats, local adoption programs and an out of state transport program. Currently, Best Friends has fulltime staff embedded at the Harris County Animal Shelter, one of Houston's largest shelters. Together, we will Save Them All
Photos courtesy of Danielle Regensburger