Kitten survives a mystery illness and overcomes her fears to get adopted
Tiny tabby Peyton came to Best Friends in bad shape, underweight and sick, but with veterinary care and love, she healed and got a home of her very own
By Sarah Thornton
From a sick little kitten looking for help to a beloved house cat, Peyton has made quite the journey. She first showed up where a kind person had put out food for some outdoor cats on a winter day. It was clear that she needed help — fast.
She was skinny, her fur was dirty, she had a cold and one of her eyes was far too big. She looked to be only about two months old — and so sick that the odds were against her. The kind person who found her brought her to the Best Friends Animal Clinic, where veterinarians started working to save her.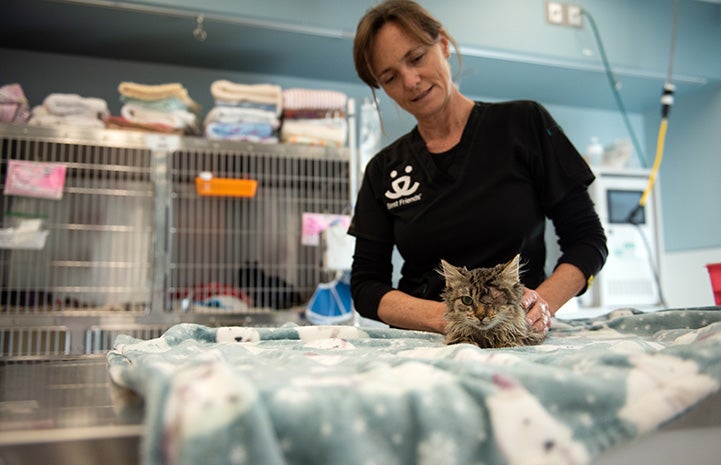 Little Peyton had so many issues that veterinarians had to decide what to address first. She needed her eye removed, but that couldn't happen until her upper respiratory infection cleared and she could breathe properly. And she was losing weight because she wasn't interested in eating while she was so sick.
Fluids, antibiotics and the tastiest kitten food did nothing to help her. Everyone was doing everything possible to help this tiny tabby, but she wasn't doing well — that is until vets found the hidden source of her respiratory infection.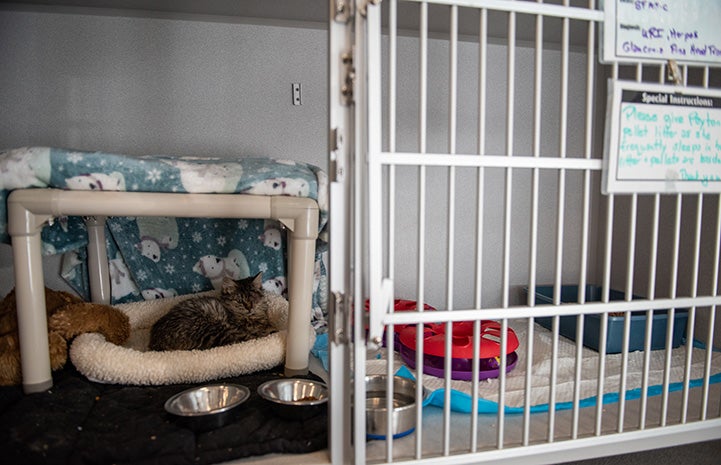 Kitten's chronic cold explained
As veterinarians did more diagnostics hoping to find out why Peyton wasn't getting better, they found a growth in her nasal passage. It blocked everything, which explains why none of the previous treatments had helped. Peyton underwent surgery to remove the growth and it changed everything for her. Her infection cleared up, she gained weight and she started to perk up and enjoy seeing people's friendly faces each day. Prior to that, she was too sick and scared to care.
Now that the tiny kitten was finally doing better, it was safe for her to be spayed and have that troublesome eye removed. Once she recovered from those surgeries, she was ready to move out of the clinic and into a place where she could start meeting people who might want to adopt her.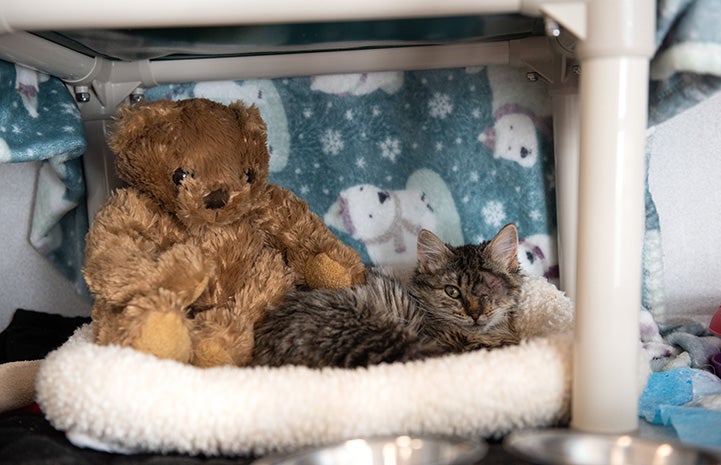 Moving and making friends
Because so much of her potential socialization time had been spent either out in the cold by herself or in the clinic as she fought for her life, Peyton was shy around people. When she first moved into an adoption room at the Best Friends Visitor Center in Kanab, she was nervous. She'd never met so many new people in her life, so she found a hiding spot and stayed there.
One morning when staff arrived, there was Peyton curled up next to Buzz, another cat in her room. Until Peyton arrived, Buzz had been a bit of a loner, but he took to his new kitten friend, grooming her and sharing his bed.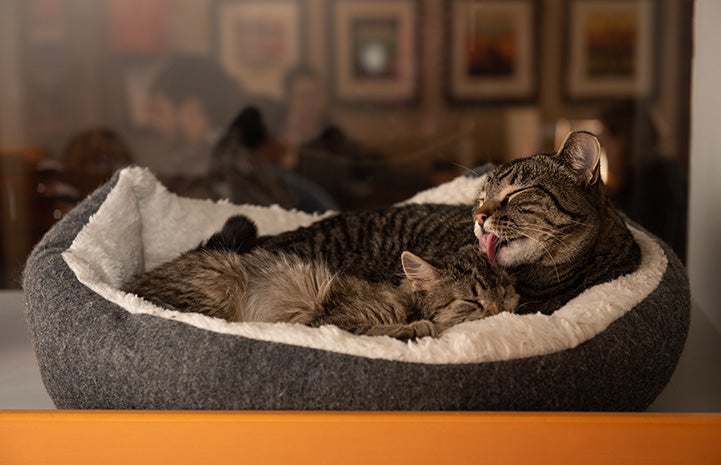 Buzz became a source of comfort for Peyton. She came out of hiding to snuggle with him in a window bed and started playing while he was keeping an eye out for her. Having that chance to relax and feel safe, Peyton for the first time got to enjoy moments of true happiness.
Buzz wasn't the only one going out of his way to help Peyton blossom and feel comfortable. Local volunteer Pollie, who loves working with shy cats, also recognized Peyton's need for security and wanted to give her a helping hand on her road to recovery. She spent hours with Peyton, getting her used to quiet play and a gentle touch. The one-on-one attention worked wonders. She started to play more — like happy kittens do.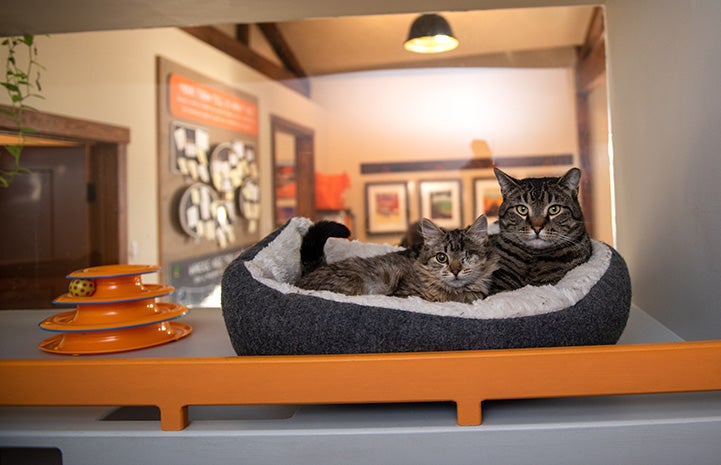 Going home
With her newfound confidence and happiness (thanks to Pollie and Buzz), Peyton was brave enough to play with new people. She'd play with visitors, chasing after her favorite feather toy and even leaving the safe enclosed space of the cat room to sit on people's laps in the sun. Her body had healed and now the rest of her was healing. All that was left was to find a home.
She didn't have to wait long. When Jordan Ray visited the center one day, the little one-eyed tabby kitten reminded him of a favorite cat from his past. After talking with staff at the visitor center, he decided to adopt her. He brought her home and gave her a new name — Ava — to go with her new life.
Little Ava is still shy and adjusting to her new home but, one step at a time, she's settling in. And best of all, she has feline friends to show her the way.
"My cats are getting to know her," says Jordan. "She plays with my oldest kitten, and she loves when I go to bed. She sleeps under the crook of my arm now. She is doing well and will be the dominant cat in a house full of boys soon."
Join Best Friends and help save more kittens like Peyton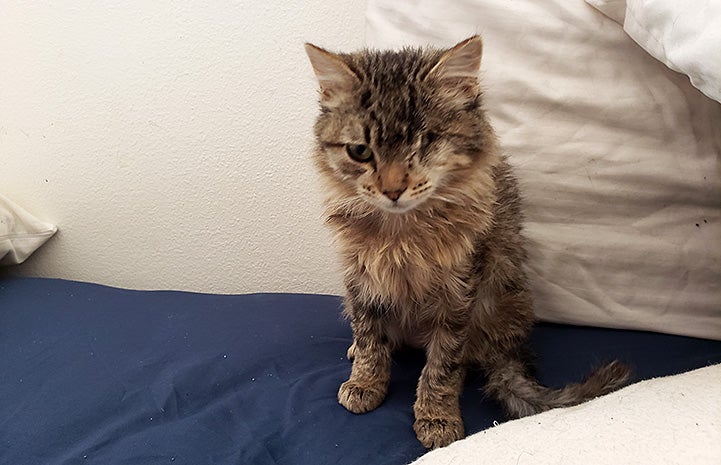 Photos by Molly Wald and Jordan Ray