L.A. Dodgers help a dog with cancer have an epic day at the ballpark
Los Angeles Dodgers third baseman Justin Turner helps a dog with terminal cancer cross an item off his bucket list by playing catch with him.
By Nicole Hamilton
Trip to the firehouse? Check. Spa days and walks on the beach? Check and check. An awesome foster family? Check.
Tyson's been one busy pup ever since being diagnosed with terminal cancer after arriving at the Best Friends Lifesaving Center in Los Angeles. Knowing that he has limited time, staff at the center drew up a bucket list for Tyson, and since then he's been living it up every day.
Recently, he got to check a major item off the list — as in the major leagues — when he got to play catch with none other than Los Angeles Dodgers third baseman Justin Turner.
"Tyson had a really good day," says his foster mom, Bea Alba. "Sometimes he doesn't like stairs, but at the stadium, he went down them no problem. Everything just worked out so well for him."
Bonding through baseball
Tyson walked into Dodger Stadium like a champ, ready to play. Since he's been working on his chasing and catching chops almost all his life, he held his own on the field while his fans cheered him on. And he and Justin formed a quick bond. With Justin having been named co-MVP award (along with teammate Chris Taylor) at the 2017 National League Championship Series, it's easy to spot another talented prospect.
"Tyson took to Justin immediately, and was very playful as soon as he met him," says Bea. In fact, when Justin went to get some water, Tyson followed his new friend into the dugout. That's an area usually reserved for the team, but Justin's a big dog lover, so he just laughed and got Tyson some water, too.
Lucky dog
There's good reason to believe Tyson may have helped Justin out that day as well. The Dodgers were down one game in a three-game series against the Yankees in an epic interleague matchup of division leaders. In order to do the West Coast proud as top one team in the National League West Division, the Dodgers would have to win the second game later that day.
Not only did the Dodgers go on to beat the Yankees (who are in first place in the American League East Division), but it was Justin's two-run homer that carried the Dodgers to a 2-1 victory. Did a certain dog named Tyson have anything to do with this? We think so.
Way to go, Tyson! And a big thank you goes to Justin Turner and the Dodgers for helping this shelter dog have the time of his life.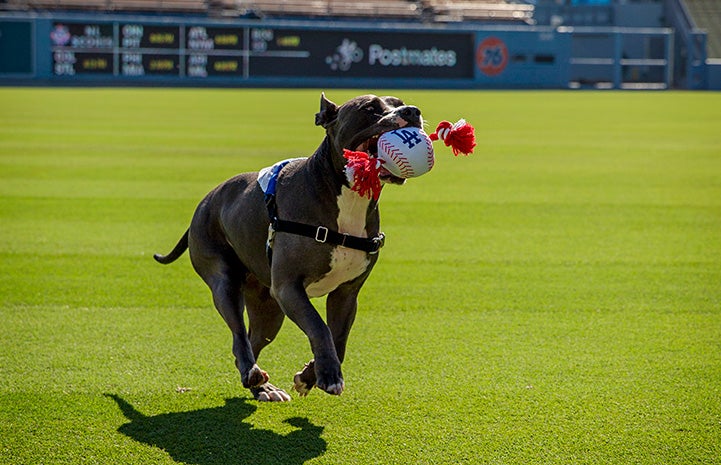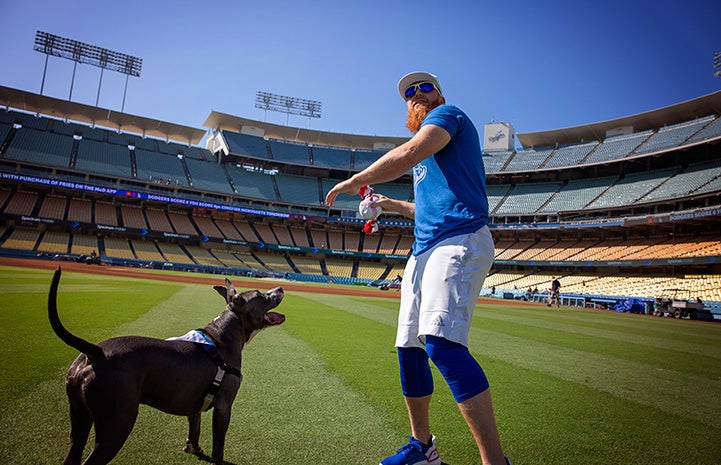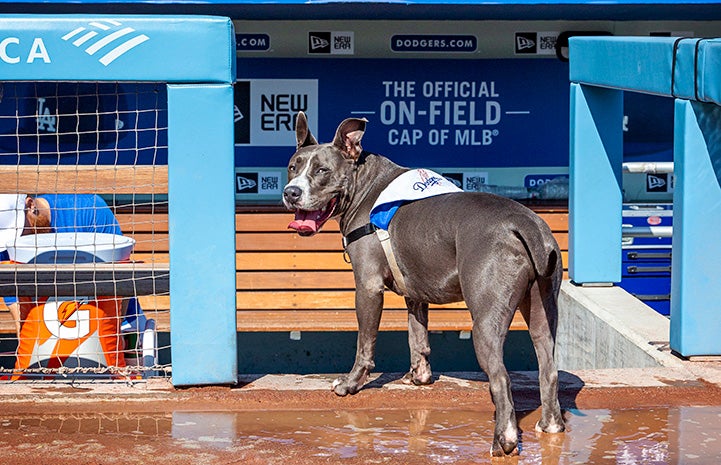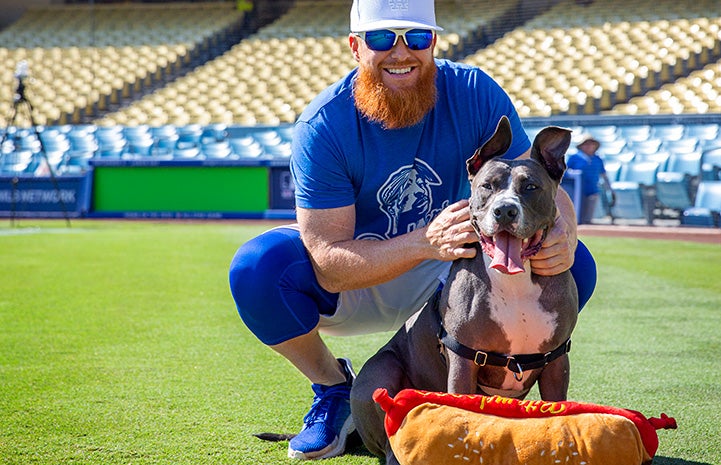 Be a hero. Foster a pet near you
Best Friends in Los Angeles works collaboratively with animal rescue groups, city shelters and passionate individuals who are all dedicated to the mission of making Los Angeles a no-kill city. As part of this mission, Best Friends hosts adoption and fundraising events, manages two pet adoption centers, and leads the No-Kill Los Angeles (NKLA) initiative. Together, we will Save Them All.
Photos by Lori Fusaro