Lasting care
Often the love a person shows in her lifetime lingers in the present and spreads for years to come. June 17, 2010
By Best Friends Animal Society
Some friends leave an impression on your heart that never fades. Marilyn Spangler, a cat caregiver at Best Friends for over seven years, was one such friend. She passed on to cancer some time ago, leaving behind many people and animals who knew and loved her. Several cats at the Sanctuary, for example, have never fully accepted anybody else since. "She could bring cats around that nobody else can get close to even today," explains Best Friends' caregiver Michael Bzdewka.
Truly, Marilyn loved the cats in her care with all she had. She spent hour after hour of her own time creating special toys for the cats and making sure each felt important. Before passing on, she arranged funds in her will to build a cattery for the lobby cats in Morgaine's, the cat building she worked in at the Sanctuary.
At Best Friends, some cats don't get along well with others and end up in the lobby areas where they can have a little more personal space. This situation works out well, except they don't have the same outside access as the other cats at Best Friends. Marilyn wanted a cattery specifically for these lobby cats, so she decided to leave them a gift.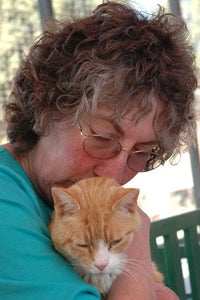 Marilyn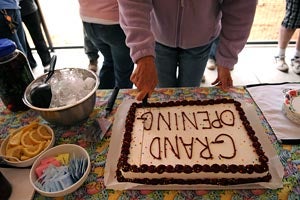 Morgaines Cattery Grand Opening
Michael Bzdewka, one of Marilyn's close friends, spoke at the grand opening ceremony of the recently completed cattery. He explained that before Marilyn passed on she made it clear she didn't want any kind of memorial service. Accordingly, the remarks about her were kept short during the ceremony. The main focus became the cats, which is what Marilyn would have wanted.
Best Friends' Animal Care director Patty Hegwood spoke for a few minutes about the importance of this project. "Choice is the cornerstone of emotional health," Patty explained. Meaning, all animals need to be given as many options as possible in day to day living. Things like different beds to sleep in, multiple toys to play with, other people and cats to visit with, and even indoor/outdoor access.
Another generous supporter out there caught Marilyn's vision. Franz "Bud" Goehring and his wife Lil became Best Friends members in 1998. When Lil died, Bud was heartbroken. They had been married for over 50 years. Bud began making donations to Best Friends in Lil's memory, as she was a devoted cat person. When he heard about the cattery project he was excited to contribute.
The best part is, this is only the beginning. All five lobby areas will have catteries before long. Marilyn set something in motion that will benefit the cats at Best Friends for years and years to come. A true legacy of love and kindness.
During all the festivities, Ayesha the cat set the perfect tone. Mid-speech, as Patty was talking about the importance of choice, Ayesha zoomed across the room and scaled one of the gigantic climbing trees in the new area. The whole audience swiveled over and collectively ahhh-ed at (the totally-adoptable) Ayesha. (Well really, how do you compete with that?) Goes without saying that the cats are already taking advantage of the new choices available. Thanks Marilyn and Bud, your gift will not be forgotten.
Watch a video of Ayesha.
Written by David Dickson
 
Photos by Molly Wald and Jennifer Hayes
There are many ways to give to Best Friends. Click here to see the options available to donors.