Learning about pet rabbits
Family researches bunnies as pets before adopting to ensure they are prepared. A nine-year-old girl will be primarily responsible for their care.
By Christelle L. Del Prete
​If you've ever been charmed by a pair of soft, velvety ears or a twitching little pink nose, you know how irresistible bunnies can be. And they seem to be especially appealing to young girls.
Of course, we've all heard cautionary tales about bringing home bunnies at Easter time. Many of these adoptions (or purchases) are impulse buys that people later come to regret, and many rabbits end up relinquished at shelters as a result. But the Easter weekend adoption of bunny siblings Flora and Fauna by a nine-year-old girl and her family has been a huge success.
That's because the Campbell family carefully researched critical considerations before adopting a pet bunny. They worked with the Bunny House staff at the Sanctuary to make sure they chose the right bunnies for their household, and that they knew how to properly care for them.
Now, months after the novelty of having bunnies might have worn off for others who were less prepared, the Campbell family is still happy to do whatever it takes to give their furry family members a great home.
More about the Bunny House at Best Friends

Researching bunnies as pets before adopting
Although her family already had adopted other pets from Best Friends, young Siddha Campbell desperately wanted pet bunnies. But her parents knew that bunnies need special care, and they wanted to make sure that Siddha understood what she was getting into. The rabbits would be more than just cute and snuggly friends. They would be family members, and their daily care would require a lot of hard work from the little girl.
"Since the bunnies would be her responsibility, I wanted her to thoroughly understand what the experience would be like," says Siddha's mother, Jenny.
To prepare, the family began doing its homework by researching bunnies as pets before adopting. Siddha checked out several books from the library and did internet research. When they finally made the trip to the Sanctuary on Easter weekend, which also happened to be the weekend of Siddha's ninth birthday, Jenny talked extensively with staff at the Bunny House to ensure that she could find the right match for the family.
Siddha and her mom even volunteered at the Bunny House to get some hands-on experience before taking the bunnies home. And, back at home in Salt Lake City, a rabbit enclosure was already set up, ready and waiting for the new family members.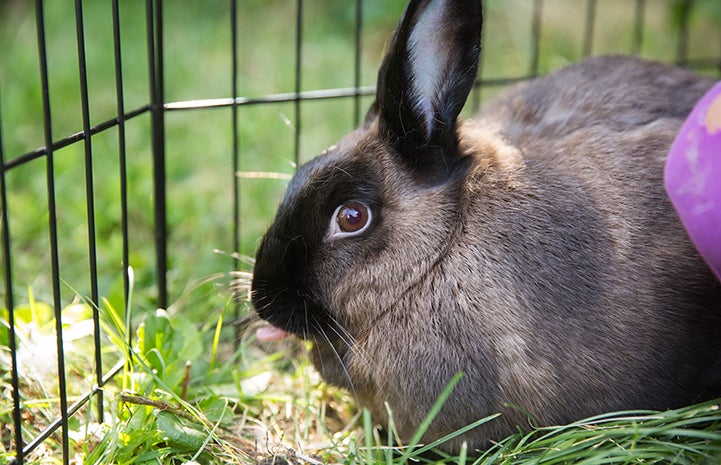 Role models of bunny adoption
"The little girl knew her Bunny 101 and all that is involved in caring for rabbits," said Samantha Watson, Bunny House team lead. "Her mom said they've been planning on adopting a rabbit for months. What role models! We always stress how important it is to do your research and get your home and family ready for a new addition."
Learn about caring for bunnies
Learning about pet rabbits before taking the plunge and adopting them has really paid off for the Campbells — and for Flora and Fauna. The three-year-old bunnies have settled in and become comfortable in their wonderful new home. They've also really warmed up to their new people.
"I am quite fond of these sister bunnies," Jenny says. "They are very cute and slowly becoming affectionate in their own bunny way. I especially enjoy having them in the play yard where they can jump and dig, and we can watch them groom each other."
As much as she enjoys Flora and Fauna, Jenny never downplays the work involved in keeping them happy and healthy. "It does take a great deal of time and dedication to care for bunnies," she says. "They were supposed to be solely Siddha's responsibility, but I think it has turned out to be too much work for her. What I would say, as advice to other parents, is that the adults will need to be integral in caring for the bunnies. Just like our own kids, the bunnies are ultimately our responsibility. So, we continue to make adjustments and improvements to our routine to make caring for them less stressful so we can enjoy them more."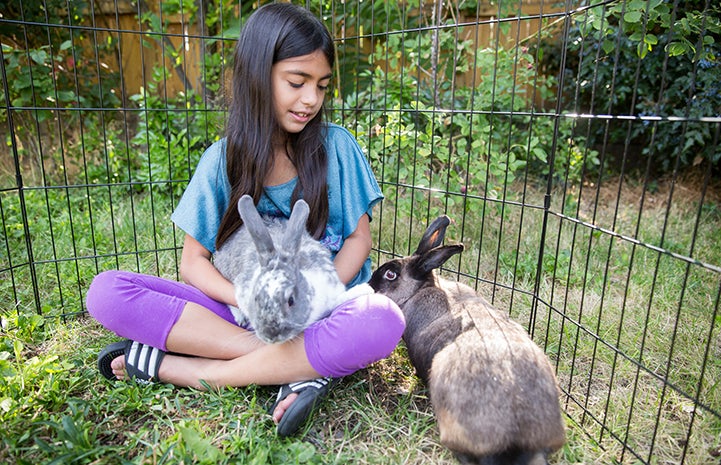 The best bunny care
One adjustment the Campbells are planning to make is to build the bunnies a custom-made, climate-controlled play area to give them more space to hop around and play.
The Campbells' focus on providing the best bunny care doesn't mean that there isn't plenty of time for snuggles and cuddles with their furry friends. It means that they'll get to enjoy those soft ears and twitching pink noses for many more years.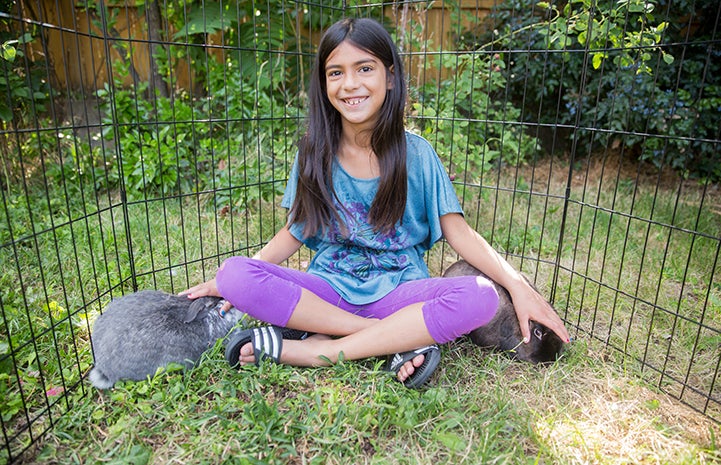 Photos by Sarah Ause Kichas