For the love of dogs: U.S. Navy veteran tackles animal shelter's yuckiest jobs
Image
Navy veteran Faye Robinson volunteers at Best Friends in Atlanta cleaning dog kennels and doing any other dirty or yucky jobs that need doing.
By Nicole Hamilton
There's no denying that volunteering at your local shelter is a lot of fun. Who wouldn't want to play with kittens or walk a dog? But the fact is, volunteering at the shelter can sometimes be a downright messy, albeit necessary affair.
That's where people like Faye Robinson come in. From her very first day as a volunteer at the Best Friends Lifesaving Center in Atlanta, Faye has been rolling up her sleeves, ready and willing to do whatever it takes to help save lives — even if it means getting a little dirty in the process.
Faye, who spent 15 years in the Navy, does it all without hesitation. As she puts it, she's the kind of person who goes all in. "Either I'm going to do it or not," says Faye. "There's no gray area for me."
It's this approach that has made a huge impact on the lives of pets at the center. "Faye's willingness to help with dirty jobs is important in so many ways," says Brantlee Vickers, volunteer coordinator at the center. "Not only do clean kennels help keep animals safe and healthy, but the cleaner our facility is, the better the chances are for pets to be adopted."
In the following interview, Faye tells us what motivates her to help pets in Atlanta.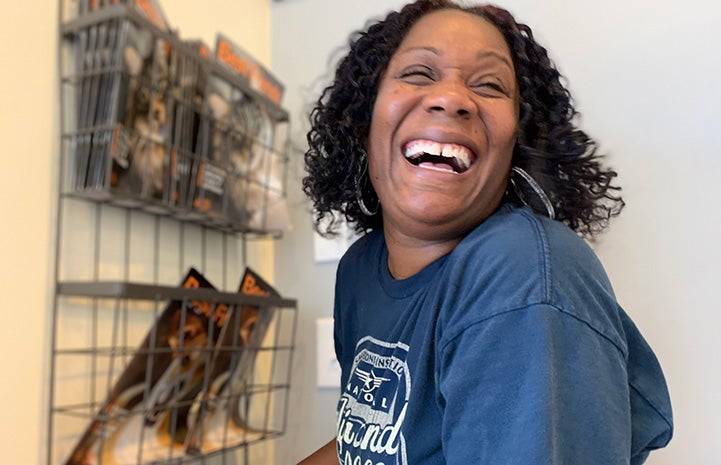 Why did you decide to volunteer and what keeps you going?
I decided to volunteer at Best Friends because in August of 2017 I lost my beloved dog of 15 years — Mozart. I was really torn up about the loss and it took me about a year to recover from it. My son, who is on active duty in the U.S. Air Force, told me about Best Friends. He knew I needed to be doing something with my love for animals and Best Friends was an excellent option for me because of the love I get to give to the fur babies.
What motivates me to continue is the fact that I love all these guys in all their uniqueness. The staff is awesome and it felt like I fitted in from my first day there. I have formed bonds with the animals, who just want to be loved and taken care of, just like you or I would want to.
What inspires you most in your volunteer work?
What inspires me the most are the happy wagging tails I see when I walk in. The dogs seem to know me and will stop doing whatever they are doing, hoping I am coming in right then and there to give them treats.
I also like when I go into their kennels to give them attention or clean, because they sometimes give me kisses or will jump on me to show their love and affection or to say thank you. It's like a symbiotic relationship: I give to them and they give to me what I need to keep going. I know they need me as much as I need them, and as long as Best Friends will have me, I'll be there.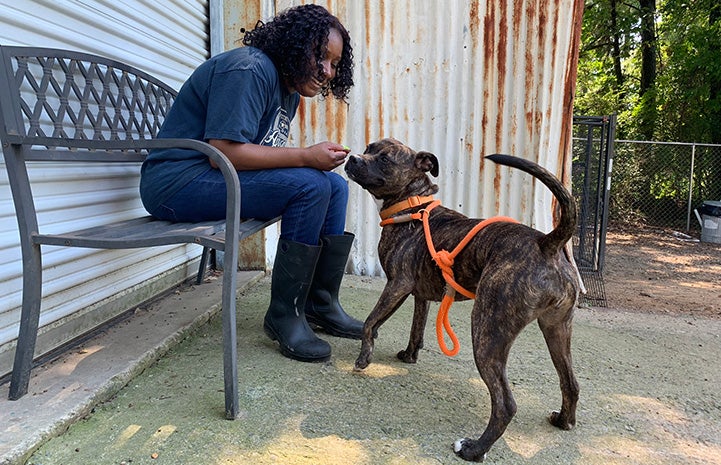 What makes you so willing to do any job at the center, even the messier ones, like cleaning kennels?
I love the dogs so much and I put myself in their shoes. I wouldn't want a dirty kennel. I want to make sure when I am there that they are getting what they rightfully deserve, which is respect and love.
My motivation is the rewarding feeling I get from being of service. No amount of money can give me this feeling and these guys (the dogs) have no voice, so I get to help give them a voice. I need them just like they need me and it's the best feeling to have this type of relationship where there's no judgment, just constant love between us.
What would you tell others who are thinking of volunteering?
I would tell them if you're going to volunteer, be a good volunteer. Put in the time, because it's very rewarding and these dogs depend on us.
Since becoming a volunteer, what have you learned and do you see anything differently now?
Since becoming a volunteer, I have learned there is always something to do that can be of help, whether it's a donation, doing dishes, mopping, cleaning poop, walking dogs or spending time with them. I definitely see things differently now because there's so much work that goes into running this facility. There's a lot to do each and every day — all 365 of them!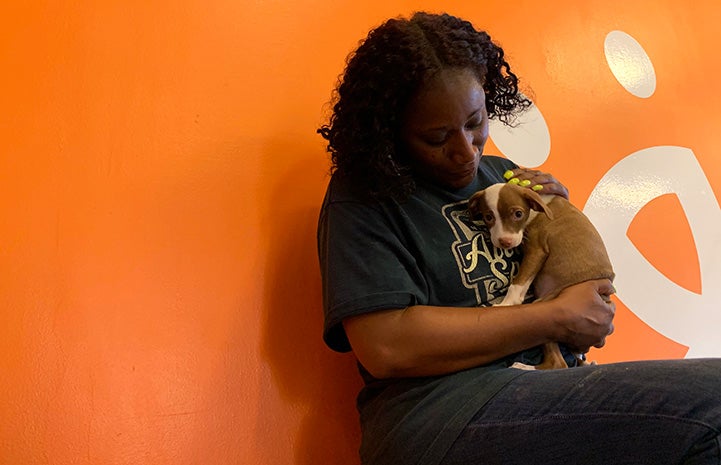 What part of your volunteer work is your greatest source of pride?
I am most proud of the bonds I have formed with staff and the animals. It makes things easier as a volunteer and it makes me want to be there all the time.
Besides volunteering for Best Friends, how else do give back to your community?
I mentor two teenagers from my previous job.
What does volunteering mean to you and why do you do it?
Volunteering to me is being selfless — not thinking about myself and putting someone else first and doing right for them. I make sure that dogs are trusting of me, comfortable, and have clean areas like I would want to have. I do it for the love and respect I have for them.
Roll up your sleeves and volunteer with animals near you
Best Friends in Atlanta works collaboratively with area shelters, animal welfare organizations and individuals to save the lives of pets in shelters in the region. The Best Friends Lifesaving Center is a hub for animals and a base for local programming and coalition-building to help the metro-Atlanta area in its final push to achieve no-kill, while strengthening the movement in the Southeast. Together, we will Save Them All.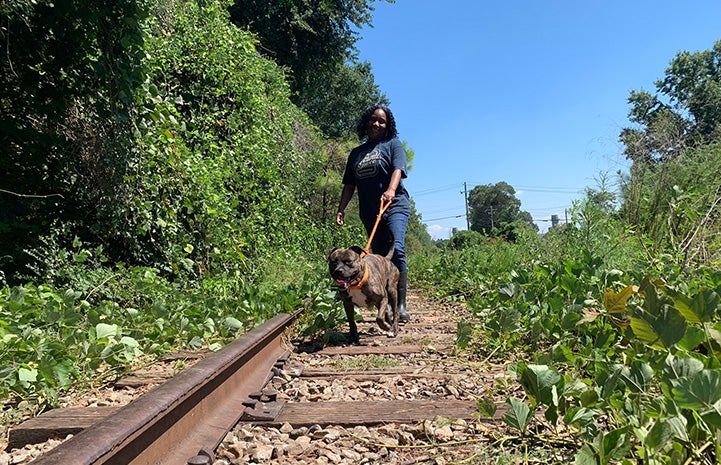 Photos courtesy of Harley Kemp