Magazine article on the Vicktory dogs, former Michael Vick fighting dogs
Image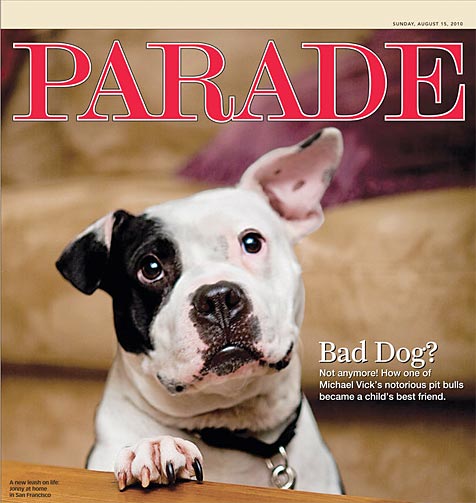 Bad dogs? A feature article about the Vicktory dogs (former Michael Vick fighting pit bull dogs) runs in Parade magazine and sets the record straight.
By Best Friends staff
In this past weekend's Parade magazine (August 15, 2010), there's an article by Jim Gorant called 'Can You Teach a Bad Dog New Tricks?' It focuses on the dogs seized from the Michael Vick property. In a groundbreaking decision, rather than being euthanized after their time as evidence was up, they were released to animal organizations that were qualified to take them. Best Friends was awarded custody of 22 of the dogs in January 2008. The title of Gorant's article begs the question: What bad dogs are you talking about? Dogs who faced a life of neglect and suffering and then were allowed to start anew, ready to be accepted as the companion animals they were always meant to be?
Correcting myths about pit bulls and pit bulls forced to fight
The Vicktory dogs have captured a nation like almost no other group of animals has. Their hard-scrabble beginnings are difficult to imagine and their ability to move beyond their past has broken myths about pit bull terrier type dogs.
They have new names and new lives. A few of the Vicktory dogs were an important part of the "DogTown" series on the National Geographic Channel. For the first time, the public got to know some of them personally and see what kind of dogs they were. They found out they were individuals! They were like dogs -- a lot like the ones in your living room.
Anyone who works for Best Friends is often asked how the dogs are doing now. Co-founder Faith Maloney sat down with the stars of "DogTown" to talk about the latest on how America's favorite dogs are improving.
Of course, all of their the dogs' days are filled with kindness, affection and love. Turns out that's all they wanted all along, and in turn they give it all back in spades. Watch John talk about his favorite dog, Georgia, and hear Ann share Meryl's latest progress -- it's the dedication of the staff that has enabled many of these dogs to go on to live normal, happy lives, whether at the Sanctuary or in a forever home.
Updates from Vicktory dog adopters
Best Friends often gets updates from the adopters of Vicktory dogs. Cherry recently attended a wedding reception, when his new guardians tied the knot in late July. His day planner is full -- he attends doggy day care, where he's a star, and he has a penchant for loving on his favorite sibling, who happens to be Walker, a cat.
Oliver was once on the shy side, but is now just coming out of his shell; Halle is giving the neighbor calves kisses! This is just the tip of the iceberg on the improvements all the dogs have made and how they were just misunderstood from the beginning. They could never understand how much they've changed hearts and minds, nor could their former owner, but the rest of the country is riveted to how far they've come and will continue to go. America's dog is back to being America's sweethearts.
Find out about Best Friends' pit bull terrier initiatives.
Photo by Best Friends staff