Mama dog was sad when her puppies grew up, so she took on eight more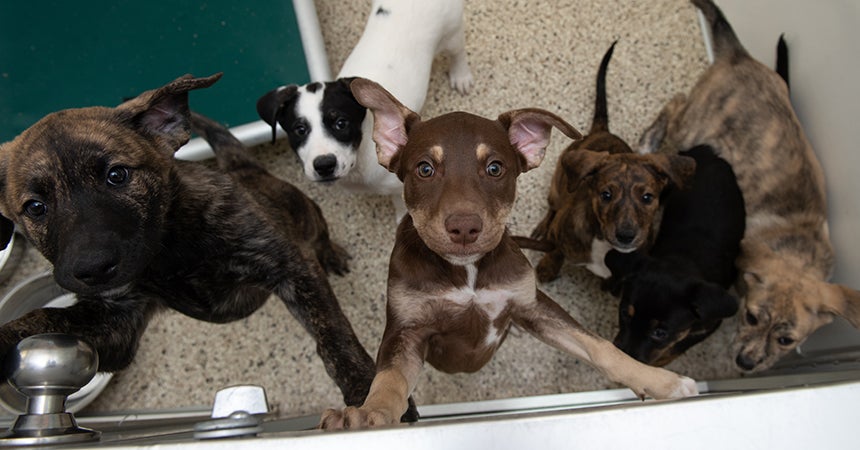 A sweet, attentive homeless dog mother was done raising her own puppies, and then became a surrogate for another litter of pups.
By Christelle L. Del Prete
When it comes to puppy moms, some of them go above and beyond. That's certainly the case for a dog named Marsi who recently earned the title of Supermom. She came to Best Friends Animal Sanctuary from a local partner rescue organization with six three-week-old puppies of her own. The family settled in at Dogtown's puppy admissions, a cozy space where Marsi stayed with her puppies until they were ready to move on and be adopted. But it wasn't quite time for Marsi to move on from motherhood.
Different experiences for puppy mamas
Marsi really loved being a mommy. She gave her all to her puppies and it showed. Dogtown team lead Erin Menard says that the six puppies Marsi came in with were the fattest, healthiest puppies she'd ever seen. "Even when they were beyond weaned," she says, "she still kept trying to nurse and baby them."
It was as if Marsi still needed the puppies to need her, even as they became more and more independent. Meanwhile, another puppy mama named Sweet Roll arrived at the Sanctuary with a litter of eight nursing pups. Unlike Marsi, Sweet Roll didn't find it easy or fun to be a parent. In fact, she was struggling. Having come from an overcrowded home, she was extremely malnourished and was struggling to feed her puppies. Even with supplemental bottle-feeding, Sweet Roll's puppies were losing weight when they should have been steadily growing and gaining.

Success for a surrogate mom and pups
Sweet Roll's undernourished body needed a break if she was to get healthy again, and the puppies needed a mum. Erin and the puppy caregivers decided to introduce Marsi to Sweet Roll's pups to see if she would like to nurse them as a stand-in.
Of course, there was no guarantee this would work. Just because Marsi had loved mothering so much didn't necessarily mean she'd be willing to take on another dog's puppies as a replacement for her own; however, if it worked out, they'd have two happy moms and eight thankful puppies.
Caregivers brought Sweet Roll's puppies, one at a time, over to Marsi and watched closely to see what she would do. Things went even better than expected. And as puppy caregiver Lyesha Spencer says, "It was like Christmas morning when we brought her those puppies. She was super excited."
Marsi immediately pulled the tiny new pups close to her and encouraged them to nurse, while washing them all over. "She cared for these little pups just like they were her own and is just the most amazing mom ever," says Erin.
Happy pups thankful to mama Marsi
Marsi spent several weeks caring for Sweet Roll's pups until — just like her own puppies — they, too, were weaned and ready to move on to puppy preschool and then to homes of their own. This time, Marsi seemed satisfied with a job well done. She had been an incredibly loving mother to all 14 puppies, but it was time for her to move on to the next chapter of her life.
Like all those thankful, healthy puppies — and like Sweet Roll, who recovered and was recently adopted — Marsi will now have the chance to find a home of her own and learn what it's like to be a much-loved pet. And she will go down in history as one of the best puppy moms Dogtown has ever known.
Help more dogs and puppies at Best Friends
Photos by Molly Wald