Mass TNR project outside Atlanta in DeKalb County, Georgia
Image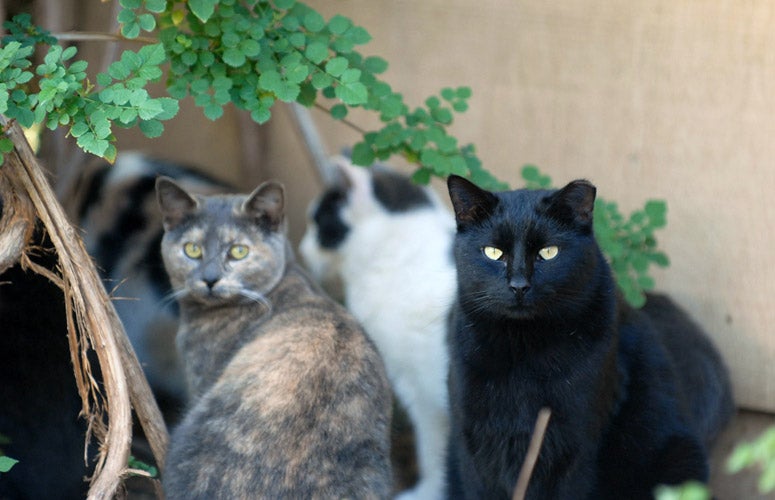 Trap neuter return (TNR) program fixes nearly 60 feral and stray cats outside low-rent apartment complexes near Atlanta in DeKalb County, Georgia.
By Denise LeBeau
Best Friends has been officially helping the cats of DeKalb County, Georgia, through our cat initiatives by funding spay and neuter surgeries and providing a local community cat coordinator since August 2011. The cornerstone of this community cat program is a public/private partnership. The municipal animal shelter, DeKalb County Animal Services and Enforcement, releases the community cats (aka feral cats) to a private program, Lifeline Animal Project, which fixes them, and then they are returned to the community from whence they came. The program also brings other animal welfare organizations to the table to strategically address the situation as a whole. A recent mass trap/neuter/return (TNR) project united forces to help spay and neuter almost 60 cats, where help was desperately needed: low-rent apartment complexes outside of Atlanta.
Trap/neuter/return fieldwork in DeKalb County
Back in April, the DeKalb community cat program added "fieldwork" to their services. Previously, Lifeline Animal Project was just taking cats that had already been picked up by animal control and transferred into the program from the shelter. Now, program staffer Janet Samuel and volunteers are working more closely with the community by going out to address cat nuisance calls, picking up the cats directly from the streets, getting them spayed or neutered and returned. By foregoing the shelter system altogether, they're streamlining the process, while keeping the shelter's cages open to help more cats and cultivating relationships with the people who will, ultimately, make the program a sustainable success.
"The fieldwork will allow us to work more cohesively in the community and have a greater impact on the number of cats we reach," says Janet Samuel, community cat coordinator. "To ramp up our efforts, we're also doing some mass TNR projects. Our first one was done at the beginning of July and went without a hitch thanks to partnering with SNAP-2 IT. They provided the logistics, brought volunteers, and also paid for the trapping food and recovery services post surgeries, while we paid for the surgeries; it is a wonderful partnership for the cats."
High-volume TNR project
The mass TNR project, which saw dozens of cats fixed and returned, went beautifully thanks to the work of Kyla Jones, director of SNAP-2 IT. Their organization is dedicated to increasing the save rate for the area's municipal shelters through spay and neuter services, which they offer for free to the public. Since their inception in 2009, they have trapped, neutered and returned over 1,500 cats, and Kyla understands the importance of focusing resources to get a whole colony fixed at once.
"This high-volume TNR project targeted five apartment complexes, all under the same management company," shares Kyla. "They were very cooperative. They've been doing spot trapping, where two to seven cats have been fixed per week by a colony caregiver, but it wasn't making a dent in their cat populations."
SNAP-2 IT also brought some amazing volunteers to make the most of the event. "I came out to help because cat overpopulation is a problem that has to be addressed, and trap, spay/neuter, (and) release is the most realistic way to control this," shares volunteer Farrar Seymour. "To ignore these innocent animals, in my eyes, is just as cruel as killing them. If we do not work to control the rate of reproduction in feral cat communities, we are absolutely giving them a sentence of suffering and death."
"TNR helps (stop) the process of overpopulation, and it is very rewarding to know that is the service I am helping provide these animals," says Helen Preston of why she volunteered for the event.
The program will continue to have more mass TNR projects and build on its success. In 2012, 539 cats were fixed, and January 2013 was the first month when no healthy cats were killed in the shelter.
Photos by Best Friends staff and Kyla Jones