Mayim Bialik, Fox, Best Friends team up to save cats
If you love cats, you'll love the new comedy, Call Me Kat.
By Amy Wolf
Off screen, actress Mayim Bialik is a mother of two human sons (Frederick and Miles) and three rescued cats (Addie, Frances and Nermal). She's also a neuroscientist with a Ph.D. from UCLA and an author of four books. With her upcoming podcast, Mayim Bialik's Breakdown, set to launch in the new year, she can add "podcast host" to her extensive list of accomplishments. Mayim's latest television project, Call Me Kat, premieres January 3.
In Call Me Kat, Mayim's on-screen persona shares her love of cats as well as a few other like-minded personality traits. The new Fox comedy, inspired by the BBC comedy, Miranda, stars Mayim as Kat, a single, 39-year-old woman who bucks conventional societal expectations (as well as those of her mother), quits her job and uses her life savings to open a cat café in Louisville, Kentucky.
Kat is a strong, independent woman who forges her own path to happiness, wherever that leads, and embraces the trials and tribulations along the way. As Mayim recently told TV Insider: "She's the closest thing to me that I've ever played." And in an interview with Today, she talked about quarantining during the pandemic and the ways in which her cats (one of them with special needs) are such an important part of her life.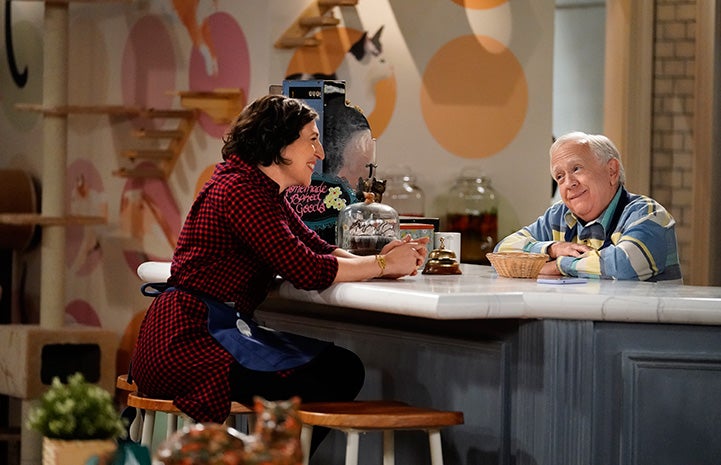 Mayim Bialik's remarkable roles
During her career, Mayim has charmed audiences by playing memorable characters with quirky sensibilities and unflappable attitudes. She burst onto the big screen in 1988 as a young Bette Midler in the classic tear-jerker, Beaches; made a name for herself on the long-running 1990s family comedy, Blossom; and more recently played Amy Fowler, Sheldon's love interest and eventual wife on the acclaimed comedy, Big Bang Theory.
Her character, Kat, is no different. Viewers will no doubt relate to Kat's dueling confidence and insecurities as she confronts common struggles so many of us face ― unrequited love, fear of failure and not living up to the expectations of others.
Stars align to fill out the cast
Call Me Kat reunites Mayim with her Big Bang Theory co-star and former on-screen husband, Jim Parsons, who serves as the show's executive producer, while TV legends Swoosie Kurtz and Leslie Jordan respectively co-star as her loving but meddling mother, Sheila, and Kat's recently dumped senior citizen friend and pastry chef, Phil. Adding an interesting wrinkle to Kat's new endeavor is Max, her friend and former crush, played by Cheyenne Jackson, who recently returned to their hometown and is bartending at the piano bar next door. Actors Kyla Pratt and Julian Grant round out the cast.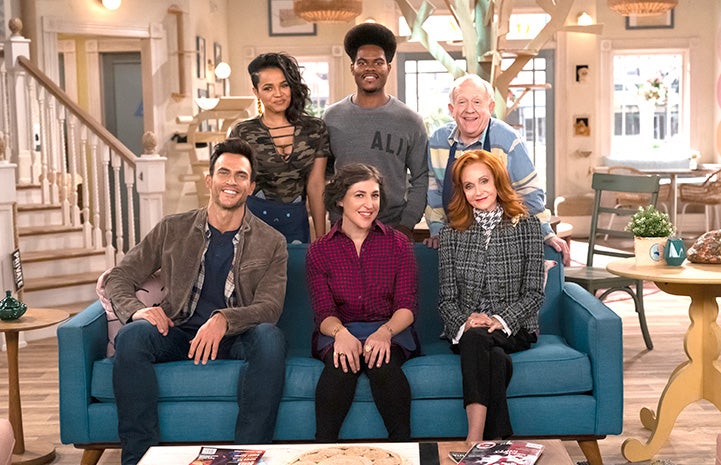 Cats are ready for their closeups
There is no shortage of fondness for felines among the cast and crew. Earlier this fall, Leslie Jorden, Mayim's fellow cast member and cat lover, appeared in this adorable video showing him reacting to kittens in Best Friends' "Purrfection" kitten perfume parody. Leslie has also fostered kittens in need. Series creator, writer and executive producer Darlene Hunt also has rescued cats.
On set, the show features about a dozen different cats in various scenes accompanied by their trainers, who are off camera. The show capitalizes on the growing popularity of cat cafés, which feature adoptable cats roaming among the customers. After getting their start in Japan, cat cafés have recently taken off in the United States with many opening in major cities, including Los Angeles, New York, Atlanta, Philadelphia, San Francisco and others.
A self-professed cat lover, Mayim has for several years supported the work of Best Friends. In 2018, she visited the Sanctuary and documented her experience in this video on her YouTube channel. She also participated in our February 2018 Pledge Your Love campaign and regularly promotes Best Friends on her social media channels.
Fox is also doing its part to Save Them All by partnering with Best Friends, donating $25,000 to support our mission and producing this video featuring Mayim, who encourages others to support our work.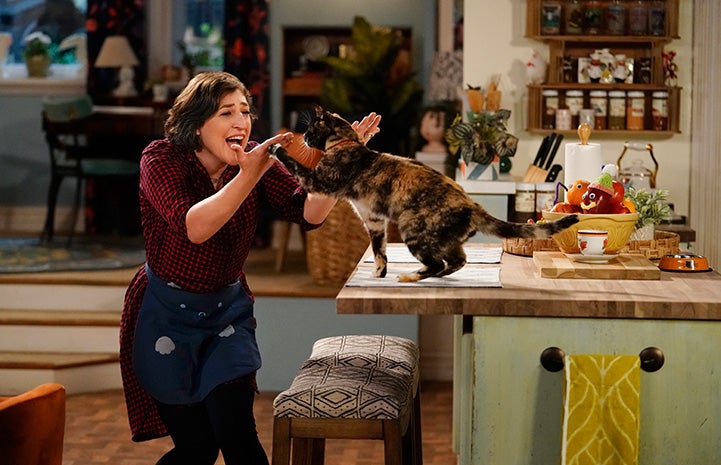 Watch Call Me Kat
You can catch Call Me Kat and all the co-starring fabulous felines when it premieres on Fox, Sunday, January 3, at 8 p.m. Eastern time/7 p.m. Central, before settling into its regular time slot on Thursday, January 7, at 9 p.m. Eastern, 8 p.m. Central.
Read more
Ebenezer the cat brings joy to his family in a bah-humbug kind of year
Survivor cat Poppy has a knack for helping foster other cats
Senior cat's meme helps him find a home
Photos courtesy  Lisa Rose/FOX