Missouri 500, a rescue to remember
Over 400 dogs, mostly pitbulls, were rescued from a multi-state dog-fighting ring dubbed the Missouri 500.
By Denise LeBeau
In July 2009, after a year and a half of investigative work led by the Humane Society of Missouri (HSMO), FBI, Missouri Highway Patrol, and USDA, the bust of a multi-state dog-fighting ring brought worldwide media attention. Dubbed the Missouri 500, over 400 dogs, mostly pit bull terriers, were taken to an undisclosed location to be held as evidence. What happened next - the sheltering, triage, evaluations and re-homing of hundreds of the canine victims facilitated by hundreds of volunteers and over 40 organizations from around the country - was truly remarkable.
"We were humbled by and grateful for the response from all the organizations and individuals who stepped up to help," says Debbie Hill, vice president of operations at HSMO.
Looking beyond the scars of the pit bull terrier dogs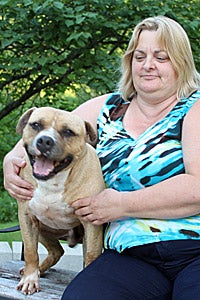 "(These were) dogs that had been forced to fight, but when given the chance would seek love and attention from our handlers," shares Debbie. "Some dogs were so frightened of human contact (that) just getting them to trust us enough to help them was memorable. Every dog that was transferred out of the temporary shelter (dubbed the Pit Palace) for adoption was a triumph of good over evil for us and the dogs."
Gale Frey, founder of Mutts n Stuff, has been rescuing pit bull terriers, especially those most at risk, for many years. She was one of the first people to get the call about the need for assistance. Her group took in Fay, who became a poster pup against dogfighting, along with Farnsworth and about 50 other dogs. "Farnsworth's body was broken, and he was so shut down, but we've seen him come around," says Gale. "He loves being with us, and he loves snuggle time. He's still a little anxious inside, but he's like a different dog now."
Gale explains how another situation helped pave the way for this rescue: "The publicity surrounding the Vick dogs (the animals rescued from NFL player Michael Vick's dogfighting ring) gave these dogs a much greater chance at going home."
Lifesaving connections for dogs from dogfighting bust
Ultimately caring for over 500 dogs (since many of the dogs were pregnant when they were seized) was a labor of love. Through our pit bull initiatives, Best Friends joined the efforts by sending experienced dog-handling staff, arranging a second trip to move about a dozen dogs to other groups, and taking in four of the dogs. A life-changing connection to come from the endeavor was a recruitment of Lynn Frischmann to the extended Best Friends family.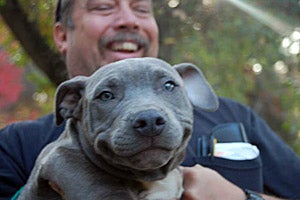 "I just see a need and fill it," shares Lynn, longtime animal advocate. She was introduced to Best Friends during the rescue, though she had been aware of our work for many years. It was her chance encounter with Dogtown staff there that encouraged her to volunteer for Best Friends and visit the Sanctuary. She has been back to the Sanctuary every year since to visit for a week and work with a special dog from a hoarding situation named Racer.
"HSMO did an excellent job in helping the dogs," says Lynn. "Everybody worked so hard, and no one complained. It was very inspiring to work with other groups, and we were all there working towards the same goal - saving the dogs. My visits to Best Friends are a similar experience. All the caregivers are there to support the animals and continue to find ways to enrich their lives and get them ready for their forever homes."
She and her husband transported Blueberry and 16 other dogs and puppies who were part of the Missouri 500 to rescues. They still get updates on how the dogs are doing. She says her experience with that rescue created relationships that have changed her life - for the better.
Get involved to help animals
Of all the Missouri 500 dogs taken in by Best Friends, only Joy remains.
Volunteerism is calling you. Check out the many opportunities to join the Best Friends volunteer family, both at the Sanctuary and in your area.
Find out how you can do more for pit bull terriers.
Photos courtesy Mutts n Stuff & Lynn Frischmann