My story: Best Friends volunteer Heather Ramsey
Image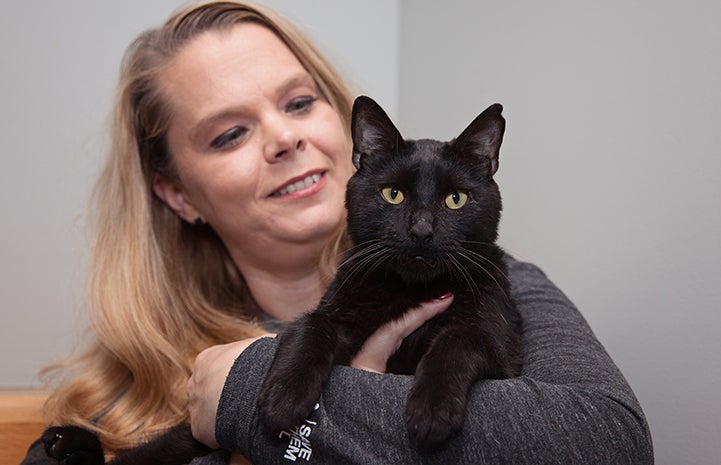 Q&A with Heather Ramsey who fosters terminally ill cats for Best Friends in Los Angeles.
By Nicole Hamilton
Heather Ramsey not only spends lots of time helping all sorts of felines, from wide-eyed kittens to worldly-wise senior cats, as a volunteer at the Best Friends Pet Adoption and Spay/Neuter Center in Los Angeles. She is also a dedicated foster parent.
Recently, Heather welcomed a very special cat named Emily into her home. Emily has an untreatable illness and won't get better. But because of Heather, the sweet kitty will spend the remainder of her life in comfort, surrounded by love.
As a foster parent to a cat at the end stages of life, Heather loves seeing Emily after coming home from work or volunteering at the center. It reminds her that every day she spends with all the pets she cares for is special. It's also a chance to celebrate Emily's life and enjoy the time they have together.
Heather's big heart and positive perspective is a source of inspiration for everyone at the center, but most important of all, it helps make the lives of some very deserving cats a whole lot better.
In this Q&A, you'll learn more about Heather and her work as a volunteer with Best Friends — work that is helping Los Angeles become a no-kill city.
About Best friends in Los Angeles
Q: What motivates you to volunteer with Best Friends?
A: Simply, I believe in what Best Friends is doing. I love the cats and the excitement everyone feels when cats are adopted. It doesn't matter if they have been with us one day or three years. Everyone is excited to find their human.
Q: What inspires you to be a "fospice" (hospice foster) and help terminally ill cats at a very critical time of their life?
A: The cats inspire me to do it. I think of what I would want for my own cats at the end of their lives. I just can't see leaving an animal in a shelter for the last part of life, when I have room for them at my place. Yes, it requires some extra work and I will be super sad when the time comes for him or her to leave. But, until then, they will have a warm home, a soft place to sleep, and people (and cats) who love them until that time.
Get the facts about pet fostering
Q: What would you tell others who are thinking of becoming a "fospice" volunteer?
A: Just jump in and do it. I hear a lot from people that it would make them too sad. It would make me sadder to know that animals spent their last days in a shelter. I totally get that maybe hospice isn't for you. But then find what is. Kittens, adult cats, dogs, medical cases — there is always an animal who would love to hang out with you for a while.
Q: Since becoming a Best Friends volunteer, what have you learned and how do you see things differently?
A: Thanks to the staff here, I have learned a lot about cat behavior, which has helped me with my own cats. My "middle child" can be a handful, and I can see how he could be written off as unpredictable. However, through my volunteering I realized that there were a lot of things I was doing that caused him to react in certain ways. He is not at all unpredictable. In fact, he was perfectly predictable once I knew what I was seeing.
I have also learned that there are still a lot of misconceptions out there about cats. However, most people are willing to be open-minded and listen to what you have to say, as long as it is done in a respectful manner.
Q: In terms of your Best Friends volunteer work, what are you most proud of?
A: It's about how many kittens and cats we have been able to save. I love it when a kitten who came to the nursery as a tiny bottle baby finally makes it to the adoption floor. Having a personal connection to the daily care of that kitten and seeing the struggles to make it to adoption time is amazing.
It is always nice to be able to talk to an adopter about how the kitten they are about to take home. This includes how their kitten was a tiny two-day-old when the kitten came into the nursery and all the life stages that I saw that kitten go through — or when a scared adult cat arrives at the center not so sure of people or the new situation they find themselves in. Through time and patience they become more comfortable and begin to come out of their shells.
Q: What does volunteering mean to you and why do you do it?
A: Volunteering is a time when I can put aside whatever is going on in my life and just focus on cats and kittens for a while. It is one of the best stress relievers there is.
Q: Could you tell us something we don't know or some interesting fact about yourself?
A: I played coed ice hockey for three years when I lived in Dallas. I was born and raised in Southern California but I lived in Texas for eight years after college. My eldest cat is a Texan. And, I always considered myself more of a dog person until I started volunteering at Best Friends.
Q: If you have a super power, would it be?
A: I find cats forever homes. I am actually pretty good at matching people with cats, especially if they are open to suggestions.
Photos by Lori Fusaro