National Pet Food Drive a huge success
National Pet Food Drive a success because of PETCO, the PETCO Foundation, Hill's Science Diet, Best Friends Animal Society, volunteers and donors.
By Denise LeBeau
Cooperation is often the key to success, and one shining example of working together for a common good was the second annual National Pet Food Drive. The collaborators who helped reach dizzying new heights of accomplishment were PETCO, the PETCO Foundation, Hill's Science Diet, and Best Friends Animal Society.
National Pet Food Drive
During a two-week stint that ran from October 30 through November 13, each partner brought something unique and vital to the table. PETCO supplied the venues, Hill's matched the food donations, and Best Friends supplied the volunteer power. All worked on spreading the word to fans, colleagues and friends, near and far.
PETCOs across the country had donation tables set up with volunteers to help the event run smoothly. Hill's matched the donations, pound for pound, and this year they forked over 40 tons of pet food. The final tally of dog and cat food donated is upwards of 169 tons. Hill's matched Science Diet donations, and the National Pet Food Drive gratefully accepted any donations, big or small, of any brand of food.
Help for pets during the holidays
This year's National Pet Food Drive was just in the nick of time for the holidays. With over 230 volunteers, nearly 100 of whom came from Best Friends, PETCOs around the nation were abuzz with altruism.
It's no secret that a major issue the public is facing today is the tough economy. People are finding it harder to make ends meet, and sadly their furry family members are increasingly finding themselves victims of the crunch. The National Pet Food Drive allowed folks to help out in their own communities, a true testament to brotherly (and sisterly!) love.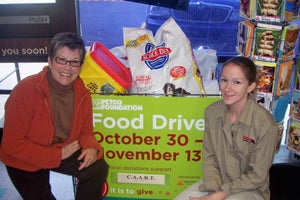 Susan & PETCO staff in Topeka: Teamwork helps more pets!
Susan Schmitz of Kansas says, "I heard about the event from Best Friends first. I get your e-alerts, and I have a great relationship with the general manager of my local PETCO. So I approached Josh and asked if they would like to be involved. He said, 'Sure, but we'll need volunteers,' and I already had a committed volunteer in mind."
Susan volunteered at the PETCO in Topeka and was amazed by the response. She shared that her community was like every community in that they have a lot of homeless pets. Susan also volunteers once a month with Capital Area Animal Rescue Team (C.A.A.R.T.), a local organization that has a pet food pantry (when resources are available). She said that a lot of people rely on the pet food donations. When the organization opens its doors at 8 a.m. on the designated Saturday, there is already a line stretching down the block. Susan said this event was like "a drop from heaven." Now there's an additional 1,900 pounds of cat and dog food available that C.A.A.R.T. can distribute locally.
Susan's experience of running the donation table went smoothly. She got there early on the first day to start staging, and to her delight, it was already set up. When the doors opened, the people came through, and, more often than not, they donated.
Susan pointed toward the donation-matching as a huge incentive: "The match from Hill's Science Diet was a great hook to customers. Also Hill's is in Topeka, so it felt like we were supporting our own."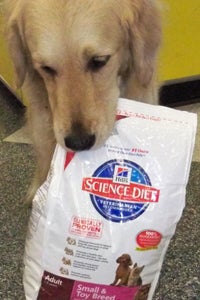 Hill's doubled the donations!
The joy of giving
During the event, all kinds of people gave what they could. On the final weekend, there was an incident that moved everyone within earshot to tears. Three developmentally challenged adults from a local assisted-living group home came to the PETCO and approached Susan to ask about the table and what the food was for. She explained it to them. After they listened carefully, they went off to look at the fish. After a while, Susan felt a tap on her shoulder. The three of them were waiting in the checkout line, each holding one can of food. They exclaimed, "We (are) helping the animals!" And with that, the store exploded in lots of hugs and hand clapping as they dropped their cans into the collection bin and walked proudly out of the store.
"That's what this food drive is about — the pure joy and giving hearts," says Susan. "Everyone wants to do what they can, and thanks to the National Pet Food Drive, we were able to give just a little more to people in need who love their pets. This was the perfect example of getting together to help the animals. It's been exceptional, and it was my privilege to work this event."
Get involved to help animals
You can help make a difference in your community by joining the ranks of Best Friends volunteers. Our volunteer opportunities run the gamut of animal welfare. You don't have to come to the Sanctuary to help create a time of No More Homeless Pets.
Images courtesy Susan Smith and Best Friends volunteers