Never giving up on a senior pit bull with a challenging past
How education, training, and patience helped a senior pit bull finally land just the right home after several false starts.
By Celia Soudry
Lola, a charcoal grey lowrider pit bull terrier, is evidence of the amazing resilience of dogs, and how incredible things happen when you've got people in your corner who believe in you.
In Lola's case, it was the dog behavior team at Best Friends in Los Angeles and her new adopter, Rosemary Brown, who joined together to help Lola learn the skills needed to thrive in her new home.
Today, Rosemary and her family can't imagine life without her. "We saw something in her eyes from the picture and knew she was special," says Rosemary, who knew as soon as she saw Lola's profile on the Best Friends website that she wanted to meet her. And when she found out there were a few extra steps she'd need to take before adopting Lola, she was perfectly fine with it because she knew it would help set them both up for success.
[Outgoing dog is an expert at making friends]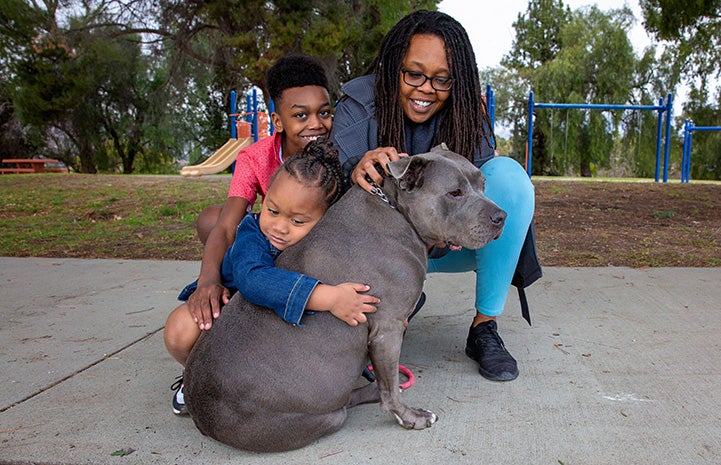 Relationship-building sessions help dogs and adopters
For some dogs, the journey home isn't a direct route. Instead, it's full of detours and maybe even a few big roadblocks. In Lola's case, she was adopted and returned three times. She needed to be the only pet in the home, and that narrowed her options because so many animal lovers already have other pets. But the dog behavior team knew that as long as they kept her headed in the right direction, they could find her the right home. Besides, every time an adoption didn't work out, it helped them get a better idea of her needs and the types of homes that would work best for her.
Understandably, however, the third time Lola came back, the team could tell she was feeling a little defeated. Sure, it broke their hearts to see her sad, but it also made them even more determined to roll up their sleeves and try again.
This time, to help make sure Lola's next adoption would stick, the dog behavior team decided to implement three mandatory relationship-building sessions with Lola, the team and anyone serious about adopting her. When Rosemary inquired about Lola and heard that, she thought it was a great idea.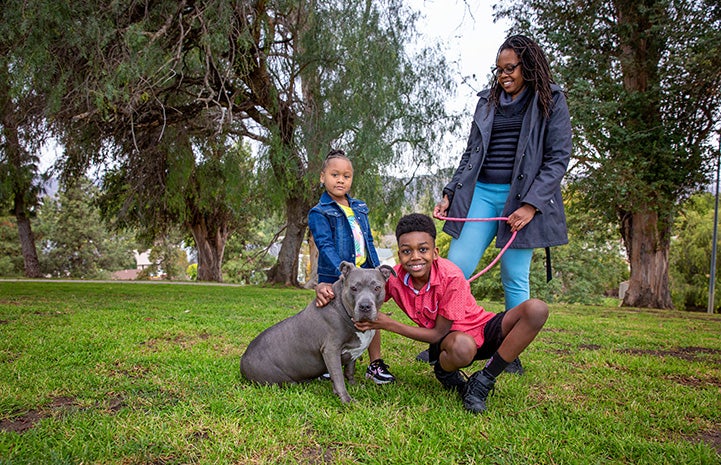 The dog behavior team introduced Lola to Rosemary and her family, and at first, Lola was shy and distant; but with the team's help, Lola learned there was no reason to be afraid of Rosemary. By the end of the first session, real progress had been made. Lola had started to reveal the loving (and fun-loving) dog she is underneath her timid exterior, and the Brown family was even more smitten than when they first saw her online.
In fact, when Rosemary's nine-year-old son started playing with Lola, she says you could really see Lola's anxiety decrease. And Lola became more and more relaxed with every visit. "We could not wait to bring her home," says Rosemary.
Even though Lola had been through a lot, she was patient and gentle in her sessions. says Ariana Hill, Beast Friends lifesaving and care supervisor, who helped with the sessions. And she says that everyone on the team loved seeing the wonderful relationship develop between Lola and the Brown family.
[Scared, shy dog just needed a chance, or two]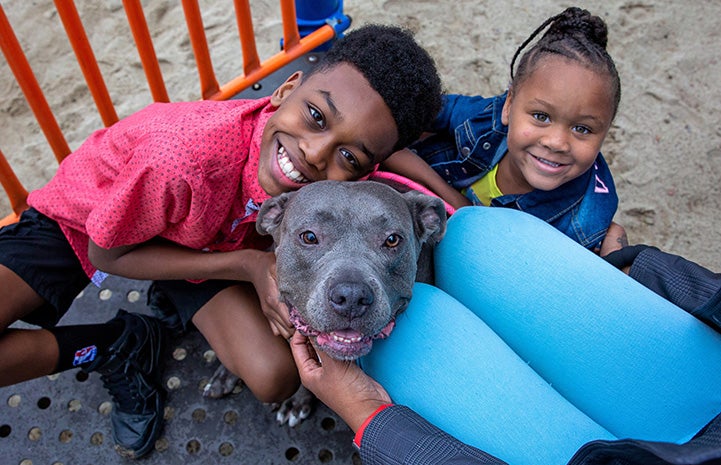 Dog turns a corner and heads for home
At some point during the three meetings, Lola really began to open up and even started accepting belly rubs and taking treats from the Browns. This was a sure sign that she was ready to go home with her new family.
Today, Lola has managed to melt everyone's heart, and Rosemary says she's become their regular family travel companion. "All of our neighbors stop and rub her when they see her as she wags her tail crazily," says Rosemary. Now, when Lola gets home from her walks, there's a race to the couch to make sure she snags her favorite spot. If she's not lounging there, you'll find her under the heap of blankets that adorns her bed.
"Lola will wake up from a heavily snoring slumber when she hears a bag being ruffled open in the kitchen, hoping it's some food for her," says Rosemary, who describes Lola as a blessing and, in fact, believes the best years for the sweet senior pittie are yet to come.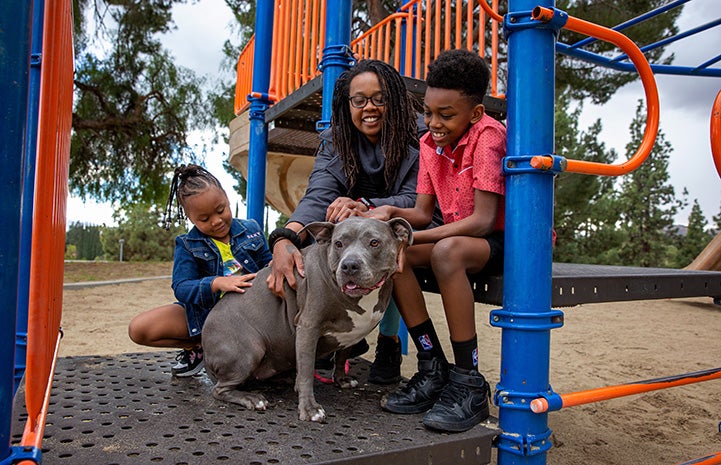 Ready to make a difference?
Whether you adopt, foster or volunteer, you can help make a big difference in the life of a pet, no matter where you live or how much time you have to give.
Read more
Florida shelter challenges what's possible and turns the tide for pets
Not all cats who wander are lost
Horse named Peanut finally comes out of his shell
Photos by Lori Fusaro