New York Rangers score for homeless pets
Image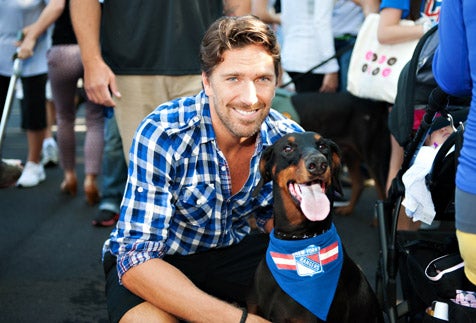 New York Rangers coach John Tortorella encourages fans to volunteer, adopt and donate for pets in need.
By Denise LeBeau
Expanding the reach of the compassionate animal welfare circle, National Hockey League New York Rangers coach John Tortorella put his best foot forward for homeless pets at the Rangers Dog Walk on September 9 at Riverside Park in New York City. He brought the team together to educate and encourage the 800-plus fans who showed up to "volunteer, adopt and donate for pets in need." He also provided a platform to help Westchester Humane Society (WHS) further their mission to rescue, rehabilitate and adopt out companion animals.
New York Rangers coach speaking from the heart
During the event, Coach Tortorella made the correlation between a player's character off the ice and how it translates to success on the ice. It's clear from the day that the Rangers are a winning team. Fifteen players, including the highly acclaimed goalie Henrik Lundqvist, participated in the walk. Everyone was beaming as they generously shared their time and energy on a beautiful Sunday morning.
The coach, his wife, Christine, and their children can be found walking dogs for hours on end at WHS, so it makes sense that they would find the perfect vehicle to help garner more support for the organization by staging the Rangers Dog Walk. Their nonprofit organization, the John and Christine Tortorella Family Foundation, is dedicated to protecting children, animals and the environment, cementing their philanthropic roots to the causes that mean the most to them.
The team came out to support the effort.
One of the most moving segments from the event was when the coach shared some sentiments during the Q&A, including the need for fans to get involved with their local shelter. He closed the session by sharing the Best Friends' mission of No More Homeless Pets.
Coach Tortorella wants to have a greater impact on the number of animals' lives saved across the nation, and by working with Best Friends, he is exploring ways to make that happen. The day's event is a testament to that teamwork and the beginning of further-reaching endeavors, which he announced during the event. The coach also thanked John Iannuzzi of Shelter/Rescue Partnership who has helped save thousands of animals.
Pet lovers unite
"It is wonderful to see such a diverse community come together," says Eric Lobel, president of WHS.
Dr. Jamie Wells attended the event with her dog, Mollie-Joe. She shares why living with an adopted pet is important: "I think animals are critical to people's happiness. As a doctor, I can say for certain they lower blood pressure, and as you can see from today, they also break down barriers and help give a community a common ground."
Rangers right wing Arron Asham came out with his wife, Kim, and their dog, Big Rhonda. "We're dog fanatics and big supporters of animal welfare, including Bulldog Rescue of Long Island. We're here today because helping save lives is a goal for all of us."
The whole family are Rangers fans.
Head to toe in Rangers gear, Nicole Jensen and Joe Guellnitz with their dog, Puck, found the event to be the "greatest combination of things: hockey and animal welfare." As Nicole puts it, "Hopefully this is awareness that people are really going to get. If you want a dog, there's one that needs you at the shelter. I feel it's so important to support (animal welfare), and I'm so happy John and his wife are doing something so good. And the day has been great – the people are so nice and the players are with us – it's just like hanging out with family."
The day was also supported by Dr. Steven Immerblum and his team from Goldens Bridge Veterinary Care Center who provided free vet care for the event. He is a true friend of the rescue community.
What it means to the animals
Eric is ecstatic with the event and what the Tortorellas' involvement with their organization means to the homeless pets of their area. In addition to all their contributions, they adopted Blaze, a wonderful pit bull terrier from WHS. He's also excited about WHS participating in the New York Strut Your Mutt.
"The Tortorellas are so inspirational – they are hands-on in getting our dogs socialized, in addition to helping spread the word. Today's event is huge; their reach is tremendous.
"We also want to thank Best Friends and New York programs manager Jamie Lyn Rubin for providing so much help in making the event a success. From working on the painstaking backend logistics to bringing 25 Best Friends volunteers to help things run smoothly, we are so appreciative to everyone who worked on the event to help us save more lives."
Jamie Lyn echoes, "What I think is so meaningful about this day is that we're reaching a whole new audience and introducing them to spay/neuter and adoptions. We also have a booth to provide more educational material, and we're signing people up for the third annual New York Strut Your Mutt."
Get involved to help pets
Help homeless animals wherever you are by joining Best Friends for Strut Your Mutt.
Find out how you can support Westchester Humane Society.
Get more information about the John and Christine Tortorella Family Foundation.
Photographs courtesy of Tischman Pets