Nine lives cat didn't give in to feline panleukopenia
Cat with panleukopenia is rescued from a hoarding situation. Things were touch and go for a while, but Danny the cat recovered and has been adopted.
By Christina Green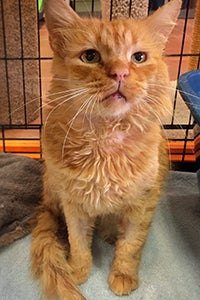 Cat hoarding, lumps, bumps and feline panleukopenia virus — how many lives does Danny have left?
It doesn't matter, because this kitty will be spending the rest of his many days beloved and spoiled by his new family. And no animal deserves it more after all he's been through.
Any one of his speed bumps along to way to happy town could have spelled the end for him. But thankfully, he landed at Best Friends Pet Adoption and Spay/ Neuter Center in Los Angeles and got the best possible care. And, yes, that care included the lifesaving power of love.
Cat rescued from animal hoarding
Danny was just a young lad when he was rescued along with 28 other animals from a hoarding situation in the Los Angeles area. The poor guy was a hot mess on the outside. He had a scar across one side of his head and a lump that misshaped the other side. He had just one tooth.
But on the inside, Danny was pure gold and everyone could see it, starting with his friends at L.A. Animal Services, where all pets at the Best Friends Center in Los Angeles come from. Even so, all the other cats from the case had been taken in by rescue groups or adopted from the shelter. When a spot opened up at the center, Danny came to Best Friends.
It didn't take long at all for him to win the hearts of the cat care team and volunteers. It also wouldn't take long for the veterinary team to join Team Danny either. Because when cats come down with an often fatal feline virus with no known cure, they need medical care on the double.
What is feline panleukopenia?
Best Friends cat caregivers noticed the moment when something wasn't right with Danny. One morning he was just a bit lethargic, but then he threw up his breakfast. When there was loose stool in Danny's litterbox, his caregivers alerted the veterinary team. A lab test confirmed the bad news. Danny had come down with feline panleukopenia.
Dr. Christine Holter, Best Friends veterinarian at the center says, "The panleukopenia virus attacks both the intestinal tract and the immune system, lowering of all of the body's white blood cells," she says. "This means that the immune system is now unable to fight off the virus, which is why it can be so deadly."
The other reason is that veterinarians can only treat the symptoms. Unfortunately, treating the feline panleukopenia virus is a matter of doing the best you can medically, and hoping for the best. "We give them supportive care through fluids, antibiotics for secondary infections, nutritional support and yes, TLC," she says. "We can't cure this virus."
Love can save a life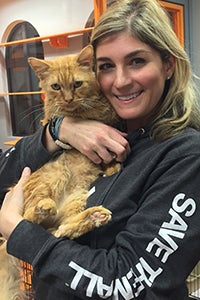 It was a long stretch of rough road for poor Danny. He became so weak, there were days when he couldn't lift his little head. But Samantha Bell, cat behavior and enrichment lead at the center (and self-appointed president of Danny's official fan club), says her colleagues pulled off nothing short of a miracle of love.
"The cat team would not only syringe-feed him, but they would hug him and clean him up," she says. "They gave him warm baths and talked to him every day."
"While my work focuses on the well-being of the kitties so they stay happy, the cat team works hard all day on many other important tasks, like cleaning and medicating all of the cats," she says. "Yet they all made sure to spend quality time with Danny and give him the love he needed to get better." Samantha stayed late every night to spend an hour or so with Danny, so he never felt alone.
Dr. Chris agrees that all of these efforts made a big difference in the fight for Danny's life. "Giving animals (or people for that matter) affection and decreasing stress can accelerate healing" she says.
It's also a waiting game. Cleaning, feeding, medicating and loving Danny was a daily effort for weeks. And then he turned a corner.
Knead for love
Samantha recalls the very moment she knew Danny was going to get better. Any time Danny came into contact with something soft, like a cat bed, he would go to town with high-stepping kneading and loud purrs — but not when he was too sick to move.
"When I visited him every evening on my way out, I brought him nice fluffy beds, but he could barely lift his head, and there was no kneading," Samantha says. "Until one evening when I went to tell him goodnight and he was sitting up. I opened his kennel door and he immediately put his paws around my neck and started kneading on me and purring."
Samantha floated home on cloud nine that night.
More great news
Danny made a full recovery. And Dr. Chris says, "If there is a silver lining to panleukopenia, it is that once cats recover from the illness they are forever immune. They will not need additional treatment nor can they catch it again even if exposed to this virus."
As if his recovery wasn't a sweet enough ending to the story, just a week after Danny was fully recovered and made available for adoption, the right person came in and met him. She'd recently lost her cat of nearly two decades, and decided to give Danny a forever home — with his single tooth, lumpy face and all.
It's one thing to nurse a sick cat through a life-threatening illness, and when that cat gets adopted, as Samantha says, "There are so many emotions." Let's just say there was quite a bit of cheering at the center that day as Danny headed off into his new life of health and happiness.
Get involved
To bring hope and healing to more animals like Danny, support our work.
Learn more about how Best Friends is working to make Los Angeles a no-kill city by 2017.
Photos courtesy of Samantha Bell