Nothing can stop this dog from loving life
Image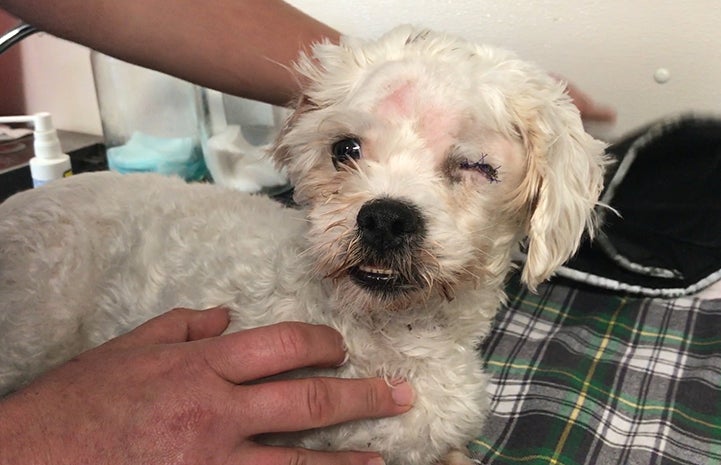 Stray dog hit by a car sustains injuries that require surgery, but nothing stops this girl from loving life and embracing her bright future.
By Nicole Hamilton
When Georgia saw her new family for the first time at the Best Friends Pet Adoption and Spay/Neuter Center in Los Angeles, she bounded toward them with her tail wagging, so ecstatic that she tumbled over as her new mom reached out for her. It's a moment that Jamie Lampton, an adoption specialist at the pet adoption center will never forget. That's because she remembered all too well what Georgia looked like the day she arrived, and how far she had come to finally be able to go home.
Immediate help for an injured dog
Georgia came to Best Friends after someone found her on the side of a road and brought her to a Los Angeles city shelter. "By the looks of her injuries, it appeared that she had been hit by a car," says Jamie. "Besides cuts and bruises, especially on one of her front legs, one of her eyes had been badly damaged."
The shelter knew Georgia needed medical attention right away, and so they reached out to the medical team at Best Friends, which immediately made space for the four-year-old dog. When she arrived, the team examined her and determined that with immediate surgery the tiny dog could one day be healthy enough to run straight into the arms of her new family.
As sweet as a Georgia peach
In addition to an injury on her left front leg (consistent with road rash), Georgia's left eye was badly damaged. "We determined that significant trauma to the eye was causing her pain and that the eye was not able to be saved," says Dr. Nicole Petschauer, a Best Friends senior veterinarian in L.A. who oversaw Georgia's medical treatment.
Once Georgia's eye was removed and the rest of her wounds treated, she began her journey back to feeling good again, and it didn't take long for her sweet personality to emerge. "The day after surgery, she was more loving and wonderful than the first day she was here," says Dr. Petschauer. "And that's because she wasn't in pain anymore."
Even during the first days of her recovery, Georgia would trot down the hall for her medical treatments, bandage changes and incision checks. In fact, her personality is what inspired the medical team to give her the name Georgia. "She was as sweet as a Georgia peach," says Dr. Petschauer. "Even when she was hurting and scared."
Soon, it was time for Georgia to have another kind of surgery ― this time to be spayed. And that could only mean one thing: The worst was over for Georgia. The only thing left to do was find her a loving home.
Best Friends is helping L.A. become no-kill. Learn how.
Capturing a special moment
The Mendiola family came to the pet adoption center looking for a small dog who could be comfortable with both children and adults. As they discussed with Jamie all the characteristics their ideal dog would have, she realized the dog they were describing was Georgia.
Jamie arranged for the Mendiolas, that day represented by mom Ana and several other family members, to meet Georgia. She took them to an outdoor meet-and-greet area, where they waited for her to return with Georgia.
"I just had a really good feeling about it," says Jamie.
Turns out, she was right. As soon as Georgia saw Ana and her family, she ran gleefully toward them, as if it was the moment she had been waiting for her whole life.
A spirit that never wavered
Georgia is now officially a member of the Mendiola family, and those difficult days spent in pain and fear as an injured homeless dog are long behind her. Now, her biggest worries include whether or not she'll be able to sneak a few treats off the dinner table, and if she'll be able to squeeze in one more run through the yard before bedtime.
She even loyally protects the baby who lives with her. "We never hear her bark," says Ana. "But when someone new comes to the house, she stays by the baby's side until she knows the baby is safe. It's very sweet."
Ana says that, besides missing one eye, there is no way of telling that Georgia was once in a very serious accident. She's made a full recovery and appears fully determined to let the past be the past. "She's just a happy dog," says Ana. "We love her so much. She brings us joy and makes us laugh every day."
When Jamie heard how happy Georgia is, she wasn't surprised. And when she thinks about the young dog with one eye running happily to her new family, she can't help but think of the Georgia spirit that never wavered ― even when she was feeling her worst. "Her resiliency was so inspiring," says Jamie. "Nothing was going to stop Georgia from loving life."
Help Save Them All. Join Best Friends.
Photos by Lori Fusaro and Ana Mendiola