Nothing (not even chronic belly blues) outshines this cat's personality
Iggy may have inflammatory bowel disease, but that doesn't to stop him from winning over every person he meets.
By Ana Merkulova
It's not hard to spot Iggy on a Zoom call. The first thing you see popping up on the screen is a pair of cat ears, framed by delicate, long brow whiskers. They're promptly followed by the rest of Iggy in all his tuxedo cat beauty, complete with a perfect white spot on his nose. (Though according to his new mom, Sarah Brotzel, Iggy is just as likely to start his Zoom appearances with the tail end.)
"My kids love Iggy," says Sarah, a middle school teacher. Often, Iggy joins her while she teaches online classes.
His exuberance is no act. Iggy loves to command attention in real life. He follows Sarah and his new dad, Zach Hanze, from room to room trying to catch their eye. His looks are pure love. "I think he wants to pet us," says Zach with a laugh. Forget the stereotype of an aloof, independent cat. If Iggy meets you, he loves you.
[Fluffy cat Fern adjusts to life in the great indoors]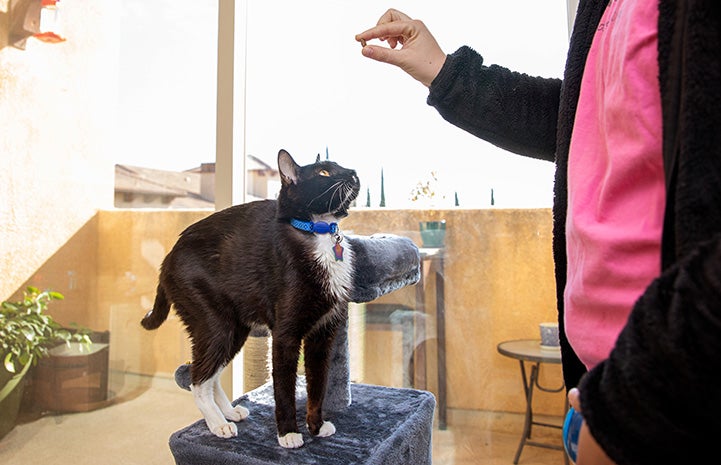 A kitty with a personality no kennel could hold
Despite being a natural lap cat, Iggy had a hard time when he arrived at Best Friends in Los Angeles. Meredith Hazan, who worked with him, says he struggled more than most because he simply loathed being cooped up in his cat condo. That, combined with the fact that he wasn't feeling his best, was a situation sure to make anyone cranky.
You see, Iggy has inflammatory bowel disease (IBD), which can upset his stomach and lead to weight loss and vitamin deficiencies. The medical team immediately transitioned him to a prescription diet and gave him medication to ease inflammation. Because stress can make IBD worse, they also decided to get him out of the kennel and into a space where he could roam free.
That's how Iggy was transferred to the office of Liz Anderson, cat program lead. Now that he had better food, the right medication and unfettered access to doting humans, his true personality came shining through.
He quickly worked his way from a humble intern to office administrator by climbing shoulders, lounging on laps and conquering hearts. Meredith and Liz both have fond memories of Iggy. "When I was working (trying to work) in his office, he liked to climb onto my shoulders, smush his face into mine and fall asleep," says Meredith. "He absolutely loves everyone he meets."
[Senior cat's meme helps him find a home]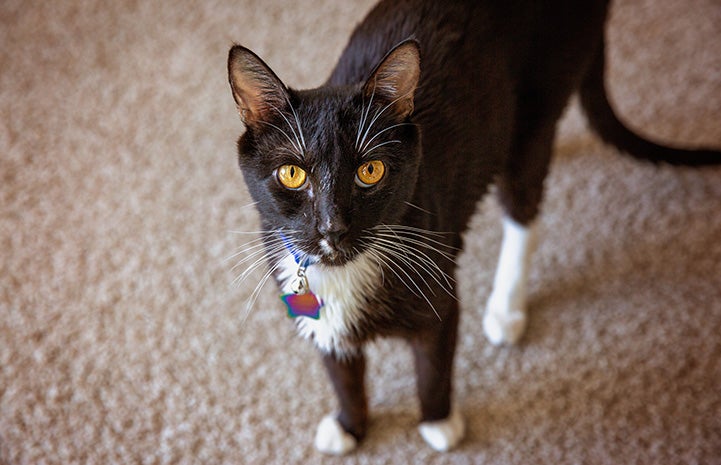 New laps and hearts to conquer
Once his health improved, the team found him a foster home with Diana Rodriguez and her family, who took to him right away. Even though Iggy was on three different medications (no small challenge for a first-time foster), Diana says everyone in the household stepped up to care for him. They even made an adorable video.
"He was the cat that made my dad a cat person," Diana says, explaining how when Iggy finally got adopted, her dad carried him from room to room asking if it was really Iggy's last day with them. Though they loved him very much, everyone was excited to see him matched up with the perfect family.
From shelter cat to member of one big happy family
Iggy appears to be a perfect match for Sarah and Zach. Aside from a cortisone shot every few months and an occasional nausea pill for his "off days," Iggy's life is like that of any other happy cat: chasing sunbeams, playing and chilling with his cat parents.
You can tell right away that Sarah and Zach care. They don't mind the little extras in Iggy's daily routine. Zach got a little water fountain for Iggy that encourages him to drink more water. With Iggy having trouble keeping on weight because of his IBD, Sarah frets about him being skinny. These days, they are on a quest to "chunk him up."
In fact, their whole extended family fell in love with Iggy. Their parents have cats and Iggy is now the "grandkitty" of the family cat clan, who's showered with gifts and attention. "We're really happy to have him. He's made our lives so much better," Sarah says. "It's nice waking up to a little purring fur ball."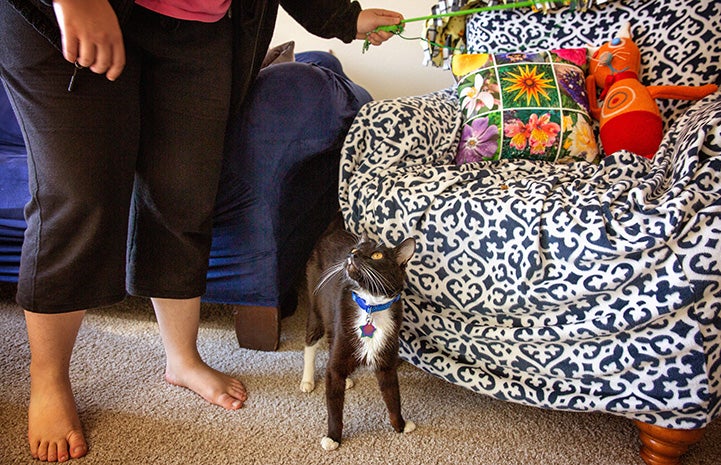 Want to find a little purring fur ball of your own?
Start the year off right by adopting a new feline friend from your local shelter.
Read more
After wandering streets of Los Angeles, sweet senior dog finds the good life
Long-lost dog reunited with family after six years
Shy bunny finds a friend, all on her own
Photos by Lori Fusaro